Sunday's meeting between Liverpool and Manchester City at Anfield pits the Premier League title hopefuls against its current holders in a Merseyside contest that feels incredibly significant.
In the week-long build up to the game, Liverpool manager Jurgen Klopp and City boss Pep Guardiola have been exchanging unpleasantries through the media, though their watery back and forth could hardly be described as a war of words.
The pairs' skirmish of sentences is more akin to flicking pebbles over each other's low walls rather than hurling rocks through each other's windows, though the always interesting topic of "tactical fouling" was once again prevalent in their tête-à-tête.
In a press-conference earlier this week, Jurgen Klopp responded to Guardiola's suggestions that Sadio Mane was prone to a dramatic flop or two, by saying:
"I am not too sure if I want to put oil on the fire. I am not interested in these kinds of things. I promise not to mention tactical fouls. That is maybe already too much, but that is the only thing I say about it."
It takes a special skill to break a promise while still making it, though it seems Klopp has mastered the art of simultaneously saying nothing and an awful lot all at once.
That tactical fouling epithet is one that City maintain is an unfair black mark on their reputation – but what do the numbers say?
Let's take a closer look.
Looking for Liverpool vs Manchester City predictions and betting tips? Read our expert's detailed match preview of Sunday's titanic tussle.
Man City & misleading statistics?
To counter the tactical fouling accusations and insinuations, Pep Guardiola often presents the argument that a team with as much possession as City cannot possible commit more fouls than anyone else – and the Citizens do enjoy more of the ball in the Premier League than any other club.
City's average possession figure per game of 61.7% this season is the highest in the division ahead of Sunday's opponents Liverpool (58.6%) and Frank Lampard's Chelsea (56.5%).
When it comes to fouls committed per game, Guardiola's men are among the league's best-behaved teams in terms of the raw numbers.
City stopped their opponents illegally 10.2 times per 90 minutes on average, a figure that puts them 7th in the Premier League in the badly timed challenges stakes.
And really, that relatively low figure shouldn't come as too much of a surprise – any team that enjoys as much possession as City does will give fewer overall fouls away than most.
At the risk of stating the obvious, the vast majority of fouls are committed are made by players trying to win the ball back.
But before you start ranting about unjust reputations, the danger of anecdotal evidence and the like, we recommend you hold your horses, because an analysis of the prevalence of City's fouling sans possession throws up some really interesting and damning numbers.
Liverpool's clash with Man City features in our Premier League Weekend Stat Attack article this week complete with a 38/1 acca!
Fouls without the ball – the Premier League's biggest offenders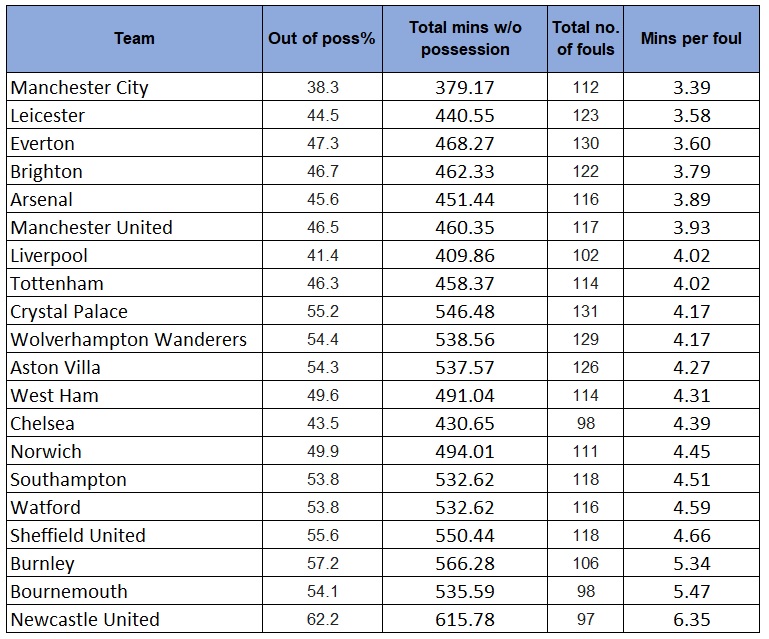 The table above displays the percentage of time that each Premier League team has spent WITHOUT possession, the total minutes they have spent this season without the ball, the total number of fouls each team has committed and finally, the number of minutes per each individual foul made.
Sitting (not so) pretty at the top of that table, as the Premier League's most prolific purveyor of fouls without the ball so far this season, are the tactical fouling deniers themselves, Manchester City.
The Citizens have broken play up illegally a remarkable once every 3.39 minutes in the Premier League since the summer – that's quite a jump from the league average of one foul every 4.35 minutes.
High-flying Leicester City are the division's second most cynical team without the ball, fouling their opponents once every 3.58 minutes when out of possession, while struggling Everton come in third having committed an offence every 3.60 minutes without the ball.
Liverpool's meeting with City is just one of the televised games that features in our Premier League cards and corners betting tips this week, which contains a huge 47/1 5-fold acca!
What constitutes a "tactical foul"?
While there is no concrete definition that explains the term "tactical foul", the general idea behind them is pretty uncomplicated.
If the ball is given away inside the opponent's half, a foul is committed as quickly as possible to stop a counter-attack in its tracks before it even begins. Usually the fouls are "soft" ones, to help the offending player(s) to avoid a booking.
Those little tactical fouls are often hard for referees to punish as standalone incidents in terms of cards, making them an incredibly efficient, if illegal, method of defending.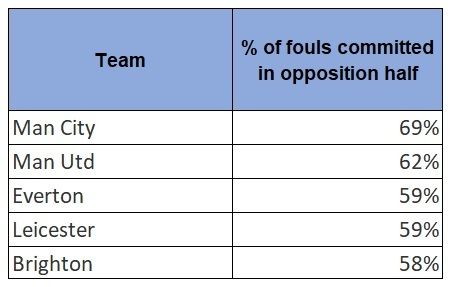 The table above shows the top five Premier League teams who have committed the highest percentage of their fouls in the opposition half this season.
Again, Pep Guardiola's masters of the dark arts are numero uno here, further tightening their grip on the tactical fouling title.
Despite his protestations to the contrary and Pep Guardiola's claims that the notoriety the Citizens carry is unfair, the numbers don't lie – Manchester City are the Premier League's tactical fouling aficionados.
For all the best analysis and betting tips for this weekend's games, make sure to check out our Premier League predictions page.