After landing our 3/1 treble on Day 1 of the League Of Legends World Championship, things got even better on Day 2, as our Esports expert smashed in a 4/1 Accumulator to continue the fine form of the Esports tips!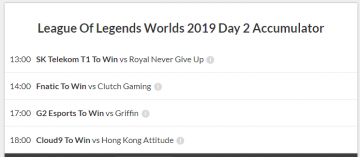 How It Landed
SK Telekom T1 was the first of the four selections, facing the ever-dangerous Royal Never Give Up in a cracking match. It was a nail-biting contest that was won by sheer brilliance on the side of SKT, who spilt-pushed into Royal Never Give Up's base in the top lane, after baiting a fight in the bottom lane.
One of our outright tips, Fnatic, was given the task of continuing our accumulator and they dutifully obliged with a dominant performance over Clutch Gaming. They masterfully dismantled their opponents and were always in control of this match, thankfully not providing us with any real scares!
G2 Esports is widely regarded as the best team in the world and the Mid-Season Invitational Champions got off to the perfect start with a simply faultless display over Griffin, who are certainly no pushover. Our outright tip was always two steps ahead in this match-up and their sheer brilliance in terms of offense saw them rout their Korean rivals.
It was left to Cloud9 to land us a second consecutive accumulator, and they certainly made us sweat for it. Although the American's held what looked to be a sizeable advantage, they let a very good opportunity to close out the match slip away. They would eventually take their chance and take victory, but it certainly shouldn't have been as hard as it was eventually made!
Free Esports Tips
We'll have tips for every game-day at the League Of Legends World Championship, so check out our Esports Tips each morning to see what we've selected!