With club football enjoying its second hiatus of the season, international affairs take centre-stage this week with the resumption of the Euro 2020 qualification group campaign.
The battle for crucial qualification points across the ten groups from A to J is starting to intensify, with time fast running out for teams to secure a spot at next summers' Finals.
Ahead of the latest round of potentially pivotal fixtures, let's take a closer look at the landscape in each of the ten Euro 2020 qualification groups.
Remember – we'll be covering all of the Euro 2020 qualification action extensively in our match previews section.
Group A

Qualification favourites England have made light work of their opponents so far, winning each of their four Group A fixtures to date and scoring an incredible 19 times in the process.
The Three Lions are certain to finish as group winners, and below them, Czech Republic and Kosovo are locked in a two-way battle for second spot. Montenegro and Bulgaria already look like they are making up the numbers however, with just two points each in 4th and 5th spot respectively.
Kosovo have the insurance policy of a Nations League play-off spot and with it an alternative means of qualification should they fail to miss out on second place in Group A however.
England travel to Prague to play the Czech Republic this week. Read our expert's match preview of the game to see their Czech Republic vs England betting tips.
Group B

Ukraine are the surprise early pace-setters in Group B ahead of the pre-campaign favourites to qualify Portugal and Serbia. That unlikely scenario was set up by the the point the Ukrainians secured in Portugal on match-day one and their incredible 5-0 win over the Serbians on match-day three.
Having also been turned over by Group B rivals Portugal, an ageing Serbia side will struggle to make the top two in the section, however, manager Ljubiša Tumbaković has a solid Plan B to fall back on in the form of the Nations League play-off place that the Serbians secured last year.
In an unusual set of circumstances, both Ukraine and Portugal also have a Nations League play-off spot in the bank for themselves should they miss out on a top two Group B finish.
Group C

Unsurprisingly, international football heavyweights Germany top Group C ahead of the section's latest round of fixtures, though in a major against the odds development, they are joined on 12 points at the summit of the standings by Northern Ireland.
That leaves a resurgent Netherlands team looking on from third spot, though the Dutchmen, who have played one game less than the top two, host Northern Ireland in a fixture of huge importance in Amsterdam his week.
It's worth noting that qualification via a top two Group Stage finish is Northern Ireland's only means of making next year's finals, while the Netherlands are one of the many clubs armed with a second qualification route through the Nations League playoffs.
Group D

The Republic of Ireland are so far punching above their weight in Group D, fending off the challenge of superior Denmark and Switzerland sides to lead the way in the section.
With a number of promising young players starting to surface, the Republic look well placed to finish in the top two, and with the chasing back behind them (Denmark, Switzerland and Georgia) all guaranteed a second shot at qualifying through the Nations League playoffs, the Boys in Green certainly have more incentive than their rivals to succeed.
The Republic have a great opportunity to strengthen their hand against Georgia this week, with Denmark and Switzerland facing off in Copenhagen the same day.
Group E

After an underwhelming start to their campaign, World Cup semi finalists Wales are already in danger of being left behind in Group E in a section where none of the five combatants have a Nations League play-off to fall back on.
That adds an extra layer of intrigue to the Group, where four of the five competing nations will feel they have a shot at finishing in the top two.
Croatia sit at the summit of the table at present on 10 points, ahead of Slovakia and Hungary who have amassed nine points each.
Plenty can change over the course of the next week however, with the next round of Group E fixtures pitting the top four teams against each other in head-to-head contests.
Slovakia host Wales this week in one of those crucial head-to-heads. Read our match preview of the game to see our Slovakia vs Wales predictions.
Group F

With six wins from six and an unassailable looking seven-point lead at the top of the table, Spain already look home and hosed in Group F, however, below them second place is firmly up for grabs.
Sweden currently occupy the runners up spot ahead of Romania, though their Swedes' Scandinavian rivals Norway are also handily placed in 3rd.
Norway and Sweden also have a Nations League playoff place in hand should things go awry in Group F, though Romania don't have such luxuries to fall back on.
With that considered, Romania's final pair of home games against the Scandinavian duo over the next month look destiny-defining.
Group G

Poland have their noses in front in one of the most competitive looking qualification sections for Euro 2020 in Group G.
The Poles' 13-point haul from six matches has earned them just a three-point gap between them and 3rd spot, though the spread of points from Slovenia in 2nd to Israel in 5th also stands at a meagre looking three points.
North Macedonia are the only nation in Group G with a Nations League play off fall-back, leaving Poland, Slovenia, Austria and Israel with just one chance each to qualify for next year's finals.
Austria and Israel face off in Vienna this week. Make sure to check out our match preview to read our expert's Austria vs Israel betting tips.
Group H

Group H is shared by six countries without a Nations League playoff safety net, and that in turn has made it one of the most intensely contested groups among the ten respective qualification sections.
Somewhat surprisingly, Turkey hold first spot ahead of World Cup winners France after six rounds of fixtures, with Iceland trailing just behind them by three points.
Bottom pair Moldova and Andorra have facilitated the race for points at the top by being the group's whipping boys, and their lack of competitiveness serves to heighten the importance of the head-to-head fixtures between the top four sides.
This week France play Iceland and Turkey in games that already promise to have a major impact on the finishing order at the top end of Group H.
Group I

With four rounds of fixtures left to navigate in Group I, the top two positions in the section have almost certainly been already claimed by Belgium and Russia.
The Belgians have a 100% record after six games, while the Russians have won five of their half dozen fixtures – results that have left the rest of the teams eating their dust.
Second from bottom Scotland have endured a nightmarish qualification campaign, though they are the only side in Group I who can qualifying through the Nations League playoffs.
Steve Clarke's men face another daunting task away to second place Russia this week. Read our Russia vs Scotland predictions in our match preview here.
Group J

With a perfect 18 from 18 points return after six matches, Italy have sped clear at the top of Group J, leaving the rest of the nations to squabble amongst themselves for the section's left overs.
An improving Finland team are currently holding on tight to second spot, though Armenia and Bosnia-Herzegovina are sure to push them close by the time the last ball is kicked in anger in Group J.
The Fins and the Bosnians have Nations League playoff places to sweeten their mood should things turn sour however, though all of Armenia's eggs are in a Group J shaped basket.
Euro 2020 Qualification Group Winners Treble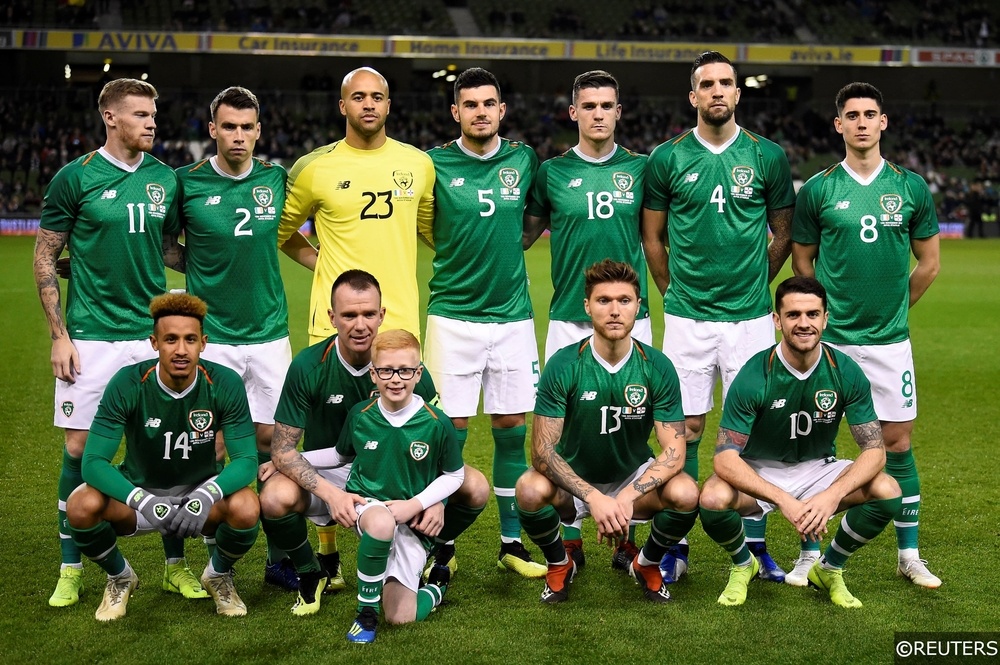 Portugal trail Ukraine in Group B by five points, though the current European Champions have played one match less than their counterparts. Portugal's crucial game in hand against Lithuania isn't until next month, however, they have an immediate chance to make up some of the five point deficit when they travel to play Ukraine next week.
By the time their fixture against the Lithuanians rolls around in November, top spot in Group B could be well within reach for Fernando Santos' men, and we're backing them to eventually finish the section as winners. That eventuality is priced brilliantly at 4/5 with bet365 at present.
Group C joint leaders Germany are also priced generously at 4/5 to win their section by bet365.  The Germans close out their already near perfect campaign with fixtures against Estonia, Belarus and Northern Ireland – games they would expect to win with relative comfort. It would be a huge surprise if Die Mannschaft fail to claim top spot in Group C, making them excellent value at the quoted prices to do just that.
Elsewhere, we like also like the prices available for the Republic of Ireland to finish in 1st place in Group D. The Boys in Green have already navigated some tricky fixtures in the section, and with games to come away and at home at group rivals Switzerland a Denmark, their fate is in their own hands. We think their chances of topping the Group look promising, even at 5/1 odds with bet365.
A Portugal, Germany and Republic of Ireland Euro 2020 qualification group winners treble is available at 18/1 odds with bet365.
18/1
Euro 2020 qualification group winners acca
Portugal/Germany/Ireland
Bet Now
New bet365 customers can
join here
You can find all of our latest Euro 2020 qualification predictions on our football betting tips page.