UFC 245: McGregor vs Cerrone Predictions, Betting Tips & Odds
T-Mobile Arena, Nevada, United States
Sunday 19th January 2020 to Sunday 19th January 2020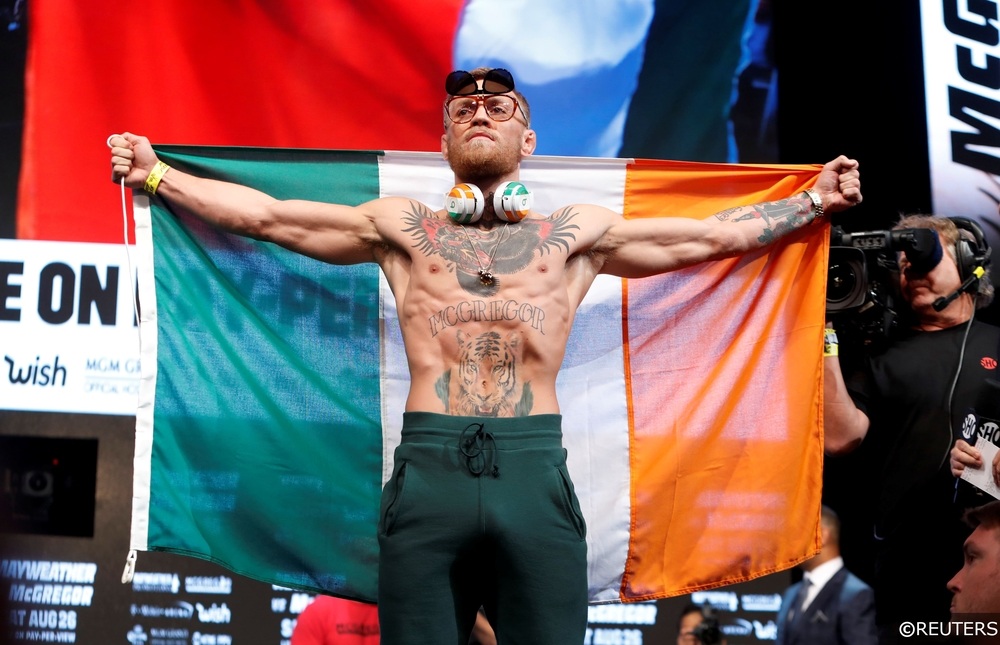 One of the biggest names in the sport of mixed martial arts returns to the octagon on Saturday night, a man who many consider the reason behind the UFC's recent mainstream success but with McGregor's celebrity status comes the repercussions of it. In the last decade McGregor reached height's never seen before for a mixed martial arts star, becoming a two-weight world champion, holding a cross-brand event against one of the best boxers of all time and earning a lot of money. However, reaching such heights only means that a fall is to follow and that is what we have seen over the last 4 years for McGregor.
Following his victory over Eddie Alvarez at UFC 205, McGregor has fought just once which was his submission loss to Nurmagomedov in October of 2018, but it was not that performance that caught the headlines and underlined the fall of the notorious one. Over the last 4 years McGregor has faced driving, assault and robbery offences following numerous incidents but that wasn't all he also was involved in the attack of a UFC bus and two post fight brawls at different events. A snowball of events that have led McGregor to this point, returning to the octagon to face one of the most dangerous fighters in UFC history.
This won't be the first occasion that Donald Cerrone has encountered Conor McGregor, prior to UFC 194 numerous fighters took part in the UFC's summer press conference to promote upcoming fights which included McGregor vs Aldo and Dos Anjos vs Cerrone. This event saw McGregor state his intentions to capture the lightweight championship too which prompted the response from Cerrone that Conor was too small and weak for the division, whilst the Irishman proved that to be wrong it set the foundations for McGregor vs Cerrone 5 years on.
At this stage a lot has changed for both fighters but both now parents have become much more mature and their old antics seem to be gone. However, will that remain to be seen on fight night when the notorious aims to earn another victory? McGregor has stated his has no intention to talk badly of Donald but has stated that this is an easy fight for him, comments that can only fire up the American but overlooking Cerrone would be a huge mistake for McGregor.
Conor McGregor to Win
vs Donald Cerrone
Cerrone has remained one of the most active fighters in the company which has led to him earning the most finishes, knockdowns and wins in UFC history – accolades that definitely shouldn't be overlooked despite his two-fight loss streak. What makes Cerrone so dangerous is how well rounded he is, he is capable of finishing fights by knockout (28%) and submission (45%) with just 25% of his fights seeing the distance which highlights how dangerous the American is. Something has has often been suggested though is that Donald is a slow starter which is where McGregor flourishes therefore he has to ensure a strong start, having lost 4 of his last 6 by knockout the risk of McGregor's power is one that Cerrone can't take. Evident by the amount of submission finishes is how good his ground game is, he averages 1.22 takedowns and given the questions regarding McGregor's endurance it would be wise for him to start of the bout by utilising his wrestling. That would allow Cerrone to tire McGregor and prevent him finding his range earlier which would give the American a much better chance with him Conor never being knocked out and Cerrone only average 0.9 knockdowns per 15 minutes a standing affair would not be advised.
Whilst many people question McGregor's wrestling, he has proved that it shouldn't be boasting a 70% takedown defence after facing some of the UFC's best wrestlers throughout his career. Given that Cerrone wants to prove a point against McGregor it would be very surprising if he utilised a wrestling approach, which will play right into McGregor's favour given how quickly he starts. McGregor has been able to finish 82% of his bouts by knockout with him averaging a huge 1.81 knockdowns per 15 minutes and his power has been evident throughout his stint in the UFC causing everyone to be cautious of that left hand. On paper Cerrone is a perfect match-up for McGregor he is very flat footed, a slow starter and a perfect match-up for a left-handed southpaw. We have seen evidence of Cerrone's slow starts in his knockout defeats which have not seen him pass the second round.
This is the perfect opportunity for McGregor to get back on the win column, whilst Cerrone is not to be overlooked he has faced a lot of knockout losses over the last 2 years which can only give Conor more confidence in his striking. The SBG camp have been very vocal about how good Conor has looked this training camp and, in his interviews, the notorious one very much has his focus set on the octagon which has brought flashbacks of his early days in the UFC. If Cerrone is able to not get drawn into the antics of McGregor and implement a game plan that utilises wrestling in the early stages to slowly work his way into the fight than he will have a much greater chance but if he stands flat footed willing to strike the ability of McGregor to move in and out building on his 5.27 significant strikes landed per minute then it will be a very short night for the American.
Conor McGregor to Win in Round 1
Conor McGregor will be on a mission to prove that he still has what it takes to compete with the best fighters in the UFC and that all starts with Donald Cerrone on Saturday night when the worldwill be watching to either laugh at the notorious one or envy his performance.Donald Cerrone has faced a lot of stoppage losses recently (4 of his last 6 defeats), which demonstrates the lasting affects of him being such an active fighter as his chin is finally starting to catch up with him. Throughout his career he has mostly been stopped in the first round with only 2 knockout losses occurring in the 2nd round. We think that McGregor will win round 1 as he is a man who clearly posses power in his hands stopping 82% of his opponents, in his last two fights at lightweight and welterweight he managed 12 knockdowns overall, given Cerrone's trouble with strikers, esepcially at welterweight and his typical slow starts the Irishman should capatilse.
Neither of these fighters are known for averaging a high fight time with McGregor just 9:02 and Cerrone 9:57, less than 2 rounds for both fighters! The under 2.5 market would account for the fight being over 12 minutes and 30 seconds which neither of these fighters. Whilst only two of McGregor's last 5 victories have come under the 2.5 rounds market, only 1 of the bouts has reached the 3rd round showing that McGregor likes to finish his opponents quick. Cerrone has fought at numerous weight-classes and the fight time dependent on that has seen a change, at welterweight Cerrone finished all 6 of his wins with 4 of those coming under 2.5 rounds. He faced 4 losses in his spell at welterweight with 2 of them coming under 2.5 rounds, however they were both against strikers whilst the ones that went over saw him face opponents more known for their wrestling and grappling. Given Cerrone's ability to finish fights early at the heavier weightclass but also his inability to deal with the power his opponents his posses we are going for under 2.5 rounds.