NHL 2019-2020 Season Picks & Betting Tips
Wednesday 2nd October 2019 to Saturday 1st June 2019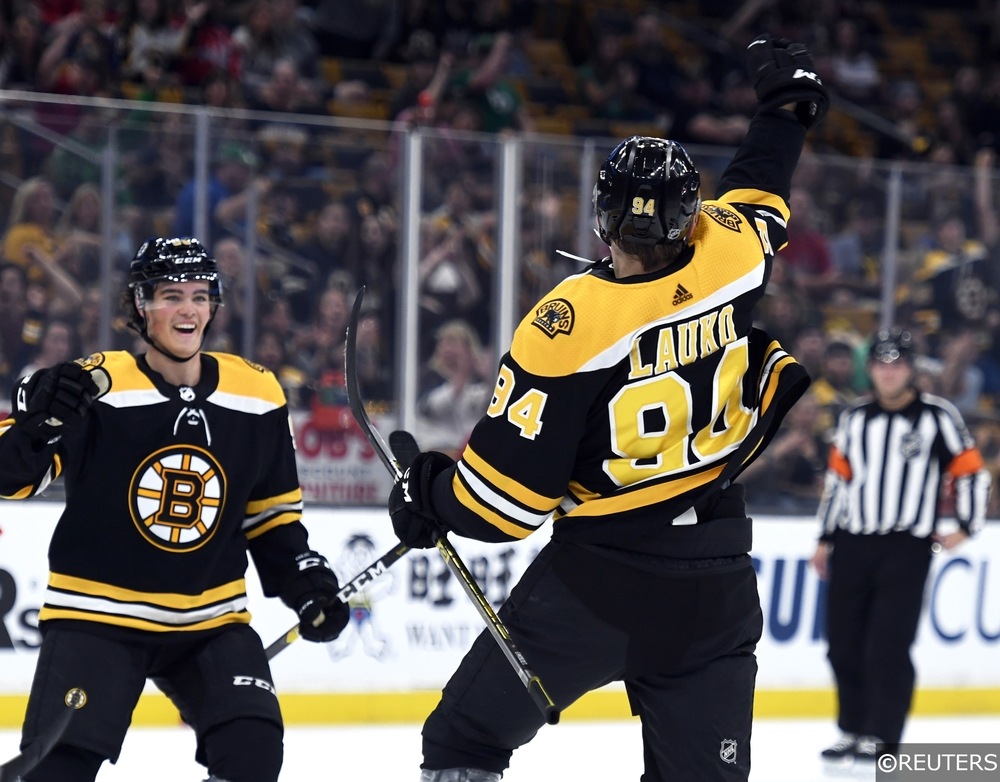 NHL 2019-2020 Season Picks & Betting Tips ahead of the start of the regular NHL season. The Saint Louis Blues won the Stanley Cup last season with a 4-3 series win over Boston Bruins, can either side go all the way again? Read on for our expert pre-season betting tips and predictions
Boston Bruins to Win the Stanley Cup
After losing in the Stanley Cup Finals last season, Boston Bruins are mentally prepared to reach for the top spot. Their core squad remains the same, Veteran defenseman Zdeno Chara, forwards Patrice Bergeron (32 goals and 47 assists last season) and his fellow first liners Brad Marchand (36 goals and 64 assists) and David Pastrnak (38 goals and 43 assists).
Second liners Jake DeBrusk (27 goals and 15 assists) and David Krejci (20 goals and 50 assists) as well as goalies Tuukka Rask (2.48 GAA during the season, and 2.02 GAA during the postseason) and Jaroslav Halak (2.34 GAA last season).
We think that Bruins will make the playoffs in the upcoming season and as a post-season proven team, they are strong contenders to win the Stanley Cup.
The only possible threat is Boston's injury list because Bruins' team is like a well-oiled machine and when a cog or two falls out, they could struggle however due to the amount of quality talent in Providence (Boston's farm in AHL), they should be able to bounce back from injuries fairly well.
Dallas Stars to Win the Stanley Cup
Each-Way
Last season Dallas Stars were eliminated in the second round of the Western Conference playoffs (by the St. Louis Blues- Future Stanely Cup winners).
Stars' biggest acquisition is definitely Joe Pavelski (38 goals and 26 assists in 2018-2019 season), former San Jose Shark. Pavelski will be probably placed as the center in the second line with Jamie Benn and Denis Gurianov as wingers.
Another interesting acquisition is former Anaheim Duck Corey Perry (6 goals and 4 assists in 31 games in 2018-2019 season). Perry missed the first four months of the last season because of a knee injury. Perry will also miss first games in the upcoming season, because of the broken left foot. So he could be a great addition or he could make no impact at all.
Stars' major cornerstone is undeniably the goalie Ben Bishop, last season's Vezina Trophy finalist (1.98 GAA, 93.4%SV). Dallas' second goalkeeper, Kazakhstan native Anthon Khudobin was also impressive in most of his starts (2.57 GAA, 92.3%SV).
Stars finally found their playstyle at the end of the last season, but it was too late. Making playoffs in the next season could be an easier task for Dallas team. It could also give them some important rest at the end of the regular season and better opponents for the playoffs.
New Jersey Devils Over 90.5 Regular Season Points
It may seem strange to put our dark horse tag on a team that reached a very unusual record last season as the New Jersey Devils scored three own goals in one game however after that enough was enough and the Devils called for strong reinforcements. New Jersey finished in 29th place (out of 31 teams) so they had great chances in the Draft Lottery.
Devils were very lucky, they grabbed no. 1 North American prospect Jack Hughes. New Jersey also acquire P.K.Subban (9 goals and 22 assists) – fan-favorite defenseman and former Nashville Predator. Wayne Simmonds (17 goals and 13 assists) is another great addition. Simmonds lost his spark in his last two seasons as a Philadelphia Flyer (and also Nashville Predator in the last 17 games last season), and young and fierce New Jersey team could ignite his engine again. Nikita Gusev is another great player, he never played on North American soil, but he made his name in the KHL and also in the Russian national team.
Taylor Hall (2010 no.1 Draft Pick) played great hockey last season (11 goals and 26 assists in 33 games) but missed 47 games because of knee surgery.
Devils major flaw will be goaltending. Corey Schneider was a great goalie, but he is struggling to regain his form since groin injury in early 2018. Mackenzie Blackwood's numbers from the last season do not look so bad (2.61GAA and 91.8%SV), but Blackwood was subpar goalkeeper so far at last.
But, because of Devils' firepower (Hall, Hischier, Palmieri, Gusev, Bratt, Hughes, Zajac, Zacha), goaltending could have its weak moments. Devils should reach Stanley Cup playoffs next season and reach at least 91 points.