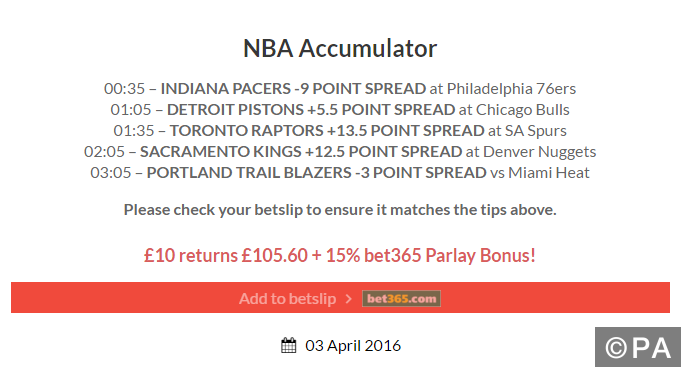 Our NBA tipsters have started April with a bang landing Saturday night's NBA accumulator. A £10 stake on the five fold returned £120.60 including bet365's 15% parlay bonus. Let's take a look back at how the action unfolded to land our bet. Don't forget to check out our followers bet slips sent in via our Twitter feed.
We started out with a bit of a close call in Philadelphia. The Pacers rallied from 6 points down to out score the 76ers 41-25 in the fourth quarter to land our -9 point spread with a 115-102 win. This counteracted a poor third quarter where they put up just 13 points and saw the 76ers take a lead into the final quarter.
Our second leg of Detroit Pistons +5.5 point spread actually saw them win the game outright 94-90 over the Chicago Bulls. Head coach Stan van Gundy said the victory was one of the biggest of his starters career. They are half a game ahead of the Pacers in their quest to make their first play off appearance since 2008-09.
The Raptors put in a huge performance for us in leg three keeping it close against the San Antonio Spurs. Resting two key stars Kyle Lowry and DeMar DeRozan they pulled within 4 points with 3 minutes remaining. Our +13.5 point spread looked to be in good shape with it ending 102-95 to the Spurs.
Sacramento pulled off an upset over the Nuggets to win 115-106. The 7/2 underdogs were led by Rudy Gay who put up 25 points to sweep the three game series against the Nuggets this season. Sacramento were without Cousins and Rondo for their one game trip to Denver but the whole team stepped up to land our +12.5 point spread.
The final leg Portland -3 point spread looked to be in the bag by the time the half time buzzer sounded. The Blazers led 59-42 at the half and shot 62% from beyond the arc to seal a 110-93 victory over Miami and bring home a BOOOM for us and our followers!
How To Follow
Our NBA picks are updated at 6pm UK time every day. We have daily accumulators, doubles and game previews for every game live on BT Sport. We will also have game previews for every live NBA play off game starting on April 16th.
Followers Bet Slips
Check out a handful of winning bet slips sent in by our followers on Twitter!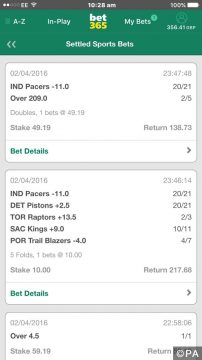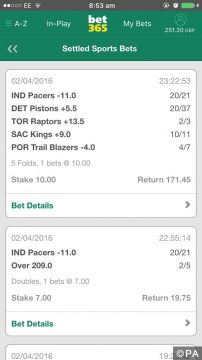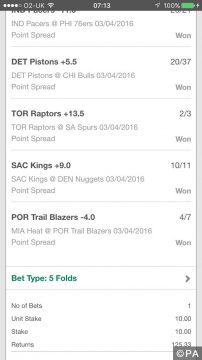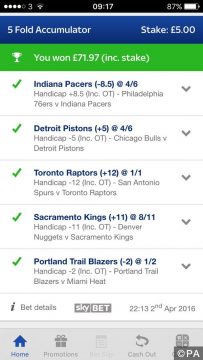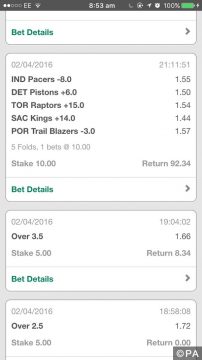 The MLB season kicks off on Sunday April 3rd. Check our our free MLB picks if you want some more overnight bookie bashing.