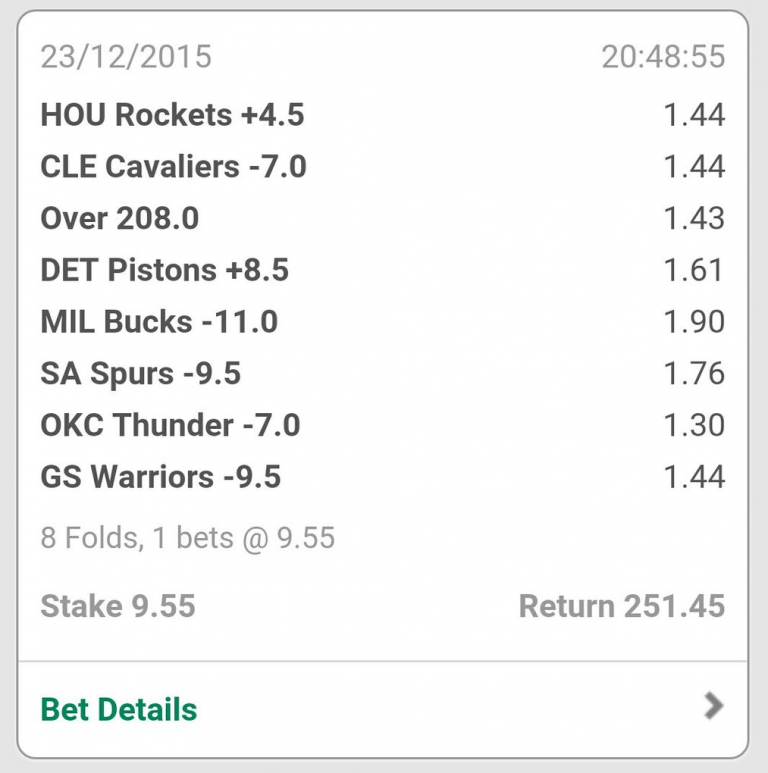 Christmas Eve couldn't have started out any better for our NBA tipsters! A 24/1 accumulator lands on our overnight tips, what a way to start the festive period!
24/1 Accumulator
It was a very busy night with 13 games on in total so our tipsters put together an 8 fold which returned 24/1. There's far too many legs to talk about individually but the bet was very popular landing this close to Christmas (as you can see from the followers bet slips). December has been a good month for the NBA with a 12/1 accumulator and 5/1 accumulator landing earlier this month.
Want to follow today's tips?
Tips are posted on a daily basis by 6pm UK time at the very latest, click to view today's basketball betting tips.
Followers Bet Slips
It looks a lot of people will be paying for Christmas presents and beers with this NBA winner!
@FootySuperTips woke up to this little number this morning, cheers mate. pic.twitter.com/kDKXXjq8T0

— marc (@marc8316r) December 24, 2015
@FootySuperTips thank you my friend and merry Christmas pic.twitter.com/06fn2NVWtd — Hugh (@HughQball81) December 24, 2015
Cheers and merry Christmas @FootySuperTips pic.twitter.com/ZogxNsTZ2a

— Fraser Alsop (@FraserAlsop) December 24, 2015
@FootySuperTips legend lovely start to Christmas cheers pic.twitter.com/0PN1unlO0q — james palin (@jimmypalin91) December 24, 2015
@FootySuperTips woke up to a nice early present! 💷🎁 thanks to you and happy Xmas!!!! pic.twitter.com/bhuPKGjZhg

— Pete Weirich PT (@PeteWeirich) December 24, 2015
@FootySuperTips you absolute fucking legends! #boom! pic.twitter.com/Fliy8B0IUr   — Jack Baker (@JackRBaker) December 24, 2015
@FootySuperTips Merry Christmas lads! Thanxs for the NBA tips! Early christmas BOOOM!! pic.twitter.com/sDajQiSZGC

— James Caw (@caw_james) December 24, 2015
@FootySuperTips BOOOOOOOMMMMM pic.twitter.com/8kI3HujjBI   — Gareth Lewis (@GarethL220780) December 24, 2015
@FootySuperTips #cheerseasy pic.twitter.com/xeHRmblxjP

— HT (@Hazzerr) December 24, 2015
@FootySuperTips mother fooliking boom Santas came early pic.twitter.com/VFPSroio88   — mike connor (@mikeconnor3) December 24, 2015
@FootySuperTips you beauties!!! Talk about Santa coming early!!! pic.twitter.com/qeSm3GffgW

— best99 (@VillanoLoco9) December 24, 2015
@FootySuperTips thanks for the early Christmas present pic.twitter.com/RlHCcpu59M   — Jake (@_JakeManchester) December 24, 2015
@FootySuperTips thanks very much. Merry Xmas and to a profitable new year, cheers pic.twitter.com/8lqAa68tap

— Jonno (@JonnoNorwich) December 24, 2015
@FootySuperTips £10 on the acca and £38.63 on the daily double they both won for 339.15 nice Xmas present. Thankyou pic.twitter.com/JmlVZOZH76   — Mike Hope-Jefferson (@Hope541) December 24, 2015
Cheers @FootySuperTips pic.twitter.com/udkohfK1kq

— Ryan Tee (@ryan_tee) December 24, 2015
@FootySuperTips went with normal acca and a safer one! #doubleBOOM pic.twitter.com/nLMlwZiwD1   — Jamie Wallis † (@JamieWallis_) December 24, 2015