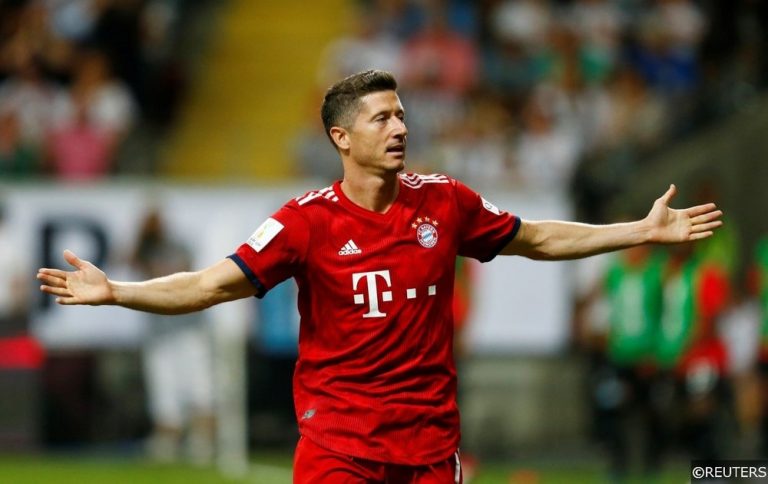 December 10, 2018
Show Bio
A lifelong Birmingham City fan, Tom relocated to Germany for five years after graduating from university, where his interest in the Bundesliga developed. He began writing about and betting on German football for FST in 2016. He's also an avid fantasy football player and closely follows the Premier League and European competitions.
Bayern's Robert Lewandowski was the big favourite for the Bundesliga's "Golden Boot" – or the "Goalscorer Cannon" as it translates from German – going into the 18/19 season.
He earned the award for a third time after scoring 29 goals in 17/18 and the departure of Pierre-Emerick Aubameyang from Dortmund in January had left him with no real competitor for the award going forward… or so we thought!
An unpredictable start to the new Bundesliga campaign has seen a whole number of potential challengers surface, and in doing so opened up the race for Lewandowski's crown.
Free Super Tips brings you the lowdown on the runners at the forefront…
18/19 Contenders
Paco Alcacer (Borussia Dortmund)
Appearances: 9 (359 minutes)
Goals: 10
Goals per game: 1.11
Form: 3 goals in last 5 matches
Paco Alcacer has found the form of his life since donning the black and yellow at Borussia Dortmund. Highlights include a second-half hat-trick in an epic 4-3 win over Augsburg and scoring the winner in Der Klassiker against Bayern Munich. Dortmund were quick to sign the Spaniard permanently from Barcelona after just a few weeks on loan and his goalscoring ways have continued since. He's now on double figures and already matched the single-season record for goals off the bench (nine).
Luka Jovic (Eintracht Frankfurt)
Appearances: 12 (818 minutes)
Goals: 10
Goals per game: 0.83
Form: 3 goals in last 5 matches
After a slow start to the season, Luka Jovic rocketed up the goalscorer rankings in October. Frankfurt's massive 7-1 win at home to Fortuna Dusseldorf not only saw the 20-year-old Serbian mark a personal record by scoring in three consecutive matches, but he also went on to set a few more by scoring four further goals in that same game. He is a regular starter at form-side Frankfurt and shares the top spot in the goalscoring rankings with Dortmund's Paco Alcacer.
Robert Lewandowski (Bayern Munich)
Appearances: 13 (1159 minutes)
Goals: 9
Goals per game: 0.69
Form: 4 goals in last 5 matches
As with Bayern Munich, Lewandowski's numbers have suffered from a few patches of poor form. He's still not quite back to his best in the Bundesliga, but three braces in his last seven matches has very much kept him in the top scorer race… you wouldn't bet against him even if he was further behind! He's already scored two against the best side in the league this season – albeit in a 3-2 defeat to former club Dortmund – and he remains the favourite for the crown.
Sebastien Haller (Eintracht Frankfurt)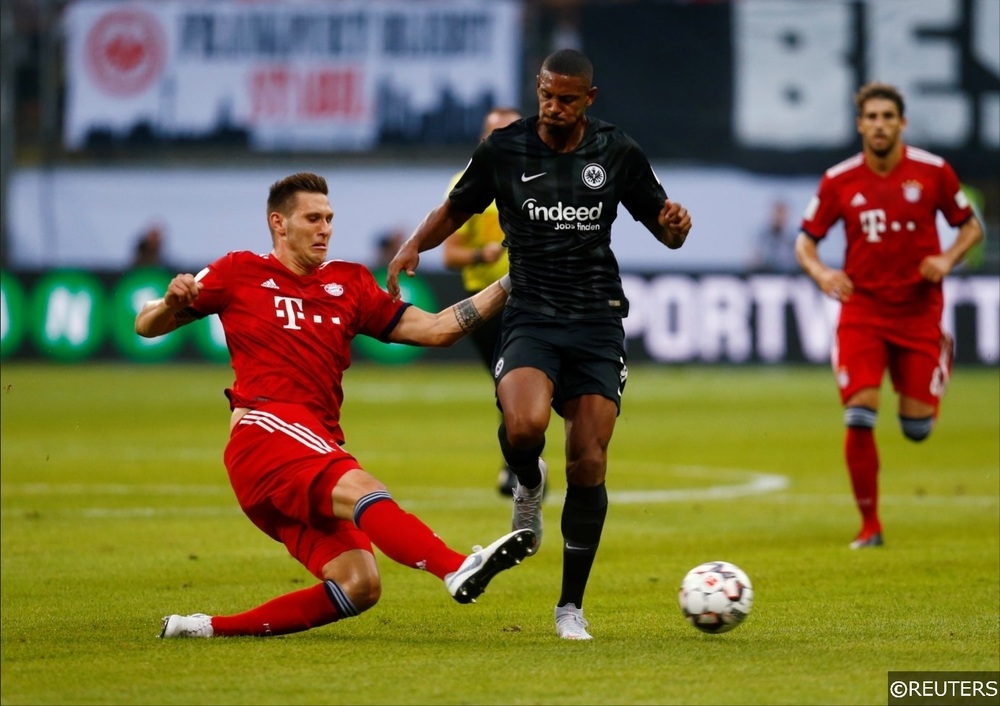 Appearances: 14 (1092 minutes)
Goals: 9
Goals per game: 0.64
Form: 3 goals in last 5 matches
Sebastian Haller was Mr Consistent from mid-October through to the end of November. He ended a four-game Bundesliga goal drought with at least one goal in five consecutive league matches (one brace and four singles) over those dates and his numbers are even more remarkable when you consider that his partner up front, Luka Jovic, is also so high up the rankings. He looks much more settled in his 2nd Bundesliga season and is already just one goal off from his 17/18 total (9 goals).
Marco Reus (Borussia Dortmund)
Appearances: 14 (1213 minutes)
Goals: 9
Goals per game: 0.64
Form: 4 goals in last 5 matches
You have to be happy for Marco Reus. He's managed to avoid any sort of injury so far this season – let's hope it stays that way – and he's also been in the form of his life. Reus plays a key role in the Borussia Dortmund attack and Lucien Favre's side hold the best offensive record in the Bundesliga – they've scored around 33% more goals than Bayern Munich so far! Marco Reus has been at the heart of it all.
Thorgan Hazard (Borussia Monchengladbach)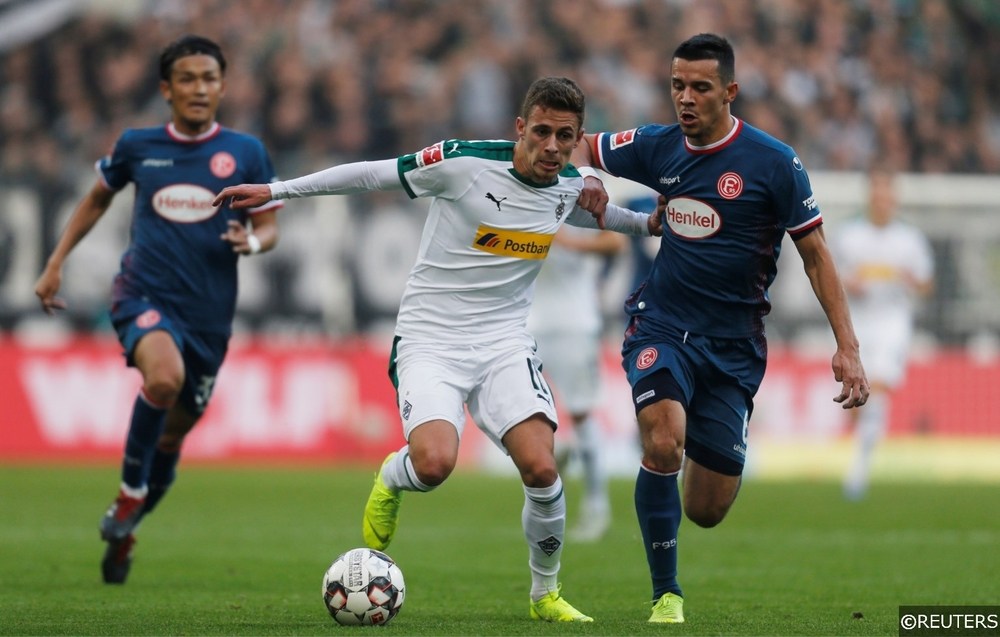 Appearances: 14 (1253 minutes)
Goals: 8
Goals per game: 0.57
Form: 3 goals in last 5 matches
Thorgan Hazard was Borussia Monchengladbach's top scorer last season with 10 goals and he's well on track to smash that number this time around. Hazard was another who started out slow but a big spell of form from late September saw him climb up the rankings. The 2018 FIFA World Cup bronze medal winner has been playing football that's reminiscent of big brother Eden, and his role on penalties has only been helping his numbers.
Alassane Plea (Borussia Mönchengladbach)
Appearances: 14 (1014 minutes)
Goals: 8
Goals per game: 0.57
Form: 3 goals in last 5 matches
Alassane Plea has looked every inch a goalscorer since joining Gladbach from Nice in the summer. He's actually performing better that he did last year in Ligue 1 (16 goals from 35 games) – an arguably "easier" league – which is likely helped on by the plethora of talent supporting him, including the aforementioned Thorgan Hazard. He's going through a bit of a dry patch, with a hat-trick against Werder Bremen marking his only goals over his last six outings, but it's hard to remember a better start to a Bundesliga career than his.
Timo Werner (RB Leipzig)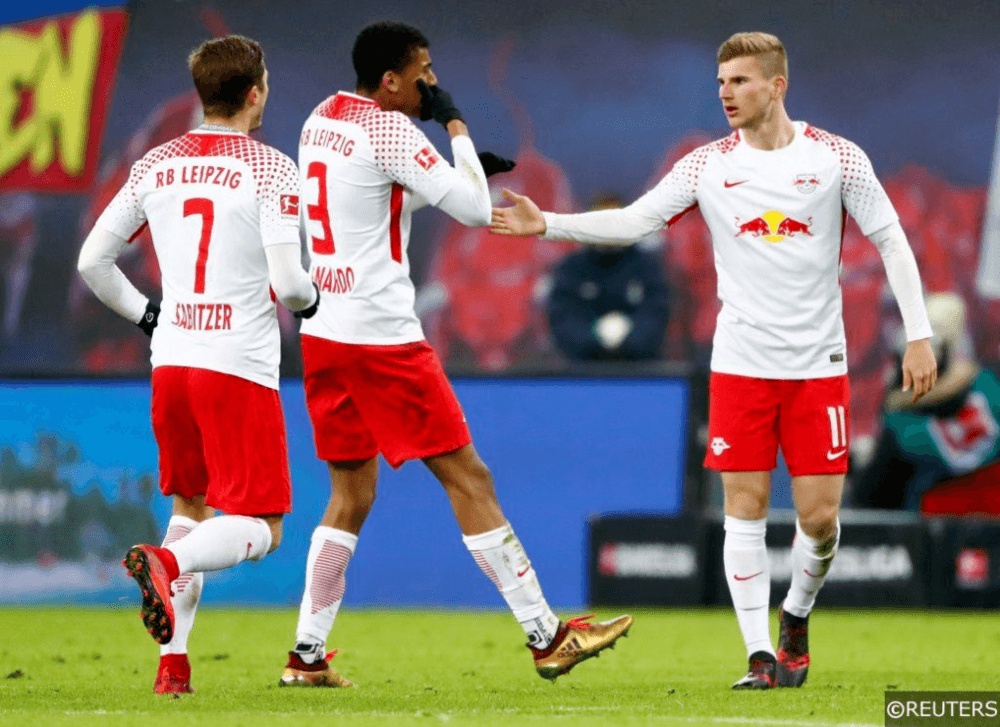 Appearances: 14 (1124 minutes)
Goals: 8
Goals per game: 0.57
Form: 4 goals in last 5 matches
Like his team, Timo Werner has taken some time to get into his stride in the 18/19 season. 8 goals would usually a player higher than 8th in the goalscorer rankings but this has turned out to be a particularly competitive season. He hasn't been as consistent as he would have liked but three braces since the start of October has very much kept the German international in the runnings, and you can't write him off given the form Leipzig have shown they are capable of.
Analysis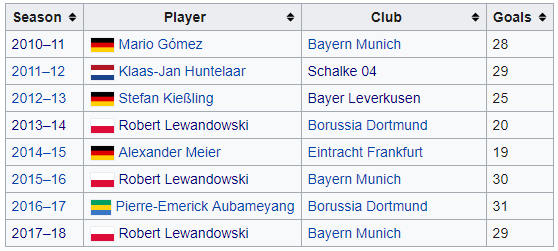 Since Lewandowski's peak, let's call that 2015/16, a total of around 30 goals has been needed to win the award. Of those players mentioned above, going off a 34 match season, only Paco Alcacer and Luka Jovic are on pace to reach that target.
Favourite Robert Lewandowski has won the Bundesliga top scorer award on three of his eight seasons in the Bundesliga so far – once with Borussia Dortmund and twice with Bayern Munich – but no player has won it back-to-back since Ulf Kirsten for Bayer Leverkusen in 1997/98 (22 goals in both seasons).
Such could be interpreted to say there may be value in backing an outsider to be the 18/19 Bundesliga top scorer, particularly with Bayern not at their best. Marco Reus and Timo Werner are two more that stand out based current form, so could be the players whose numbers rise fastest in the run-up to the winter break.
No matter how this ends, you can't help but enjoy one of the most open Bundesliga top scorer races we've seen in years!
Who do you think will win the Bundesliga Golden Boot? Let us know over on our Twitter!
Keep up to date with all our predictions, betting tips, match previews and news on the German top flight over on our Bundesliga page.