The Carolina Panthers have started the season 12-0 after winning a 41-38 thriller in New Orleans this past Sunday. They are the only remaining perfect team in the NFL and have now moved to 7/2 favourite with Betfair to go on and win Super Bowl 50.
Why Carolina will go 16-0
They've pounded their opponents all season and only really had two close games. The overtime win against the Colts and last week against the Saints. Apart from that it's been plain sailing for Cam Newton and the Panthers.
Remaining Schedule
13th December – vs Atlanta Falcons (6-6)
20th December – @ New York Giants (5-7)
27th December – @ Atlanta Falcons (6-6)
3rd January – vs Tampa Bay Buccaneers (6-6)
Carolina have four games remaining which are split equally, two on the road and two at home however they don't play a single game against a team with a winning record.
Atlanta Falcons
Let's start with the looking at the Falcons since they play them twice. After starting 5-0 everyone was tipping Atlanta to emerge as the Super Bowl dark horse. Their offense was putting up huge points each week Matt Ryan was throwing the ball well, Julio Jones was showing why he's an elite wide receiver and they had a defense which resembled the 2014 Seattle Seahawks (ok, slight exaggeration). Since week 8 it's been a completely different story and they've lost 5 straight games. Matt Ryan's thrown 6 interceptions in his last 3 games and the offense has only put up over 20 points on one occasion.
Now would be a really good time for any team to play Atlanta and it just so happens that Carolina have to play them twice in the space of three weeks when they're not playing well at all. This sums up Carolina's season so far for me, playing teams in the middle of bad periods. One interesting match up will be Josh Norman against Julio Jones. Despite Atlanta's recent poor form Julio has still managed to rack up over 100 yards receiving in 3 of those 5 losses.
They easily beat them at home but it could be an interesting game if Matt Ryan and Julio Jones can get going on the road and put up some points. The Atlanta defense has been pretty solid all year in terms of giving up points and I think that's the only way they'll beat Carolina.
New York Giants
Despite being 5-7 the Giants still sit at the top of the NFC East and are in the playoff hunt. Much like the Atlanta Falcons they're in poor form and have lost 4 out of the last 5 games, 3 of them by 3 points or less. Odell Beckham Jr presents the Carolina defense with a unique skill set and he has the ability to win this game on his own. We've seen some outrageous plays made by him during his short NFL career and matching up against Josh Norman will be a great battle to watch.
One area which the Giants will short is their defense. They rank 31st out of 32 in total defense this year and the Carolina offense will feast on this and could even put up 50 points on them. We saw them put up 41 against the New Orleans Saints and guess where they rank in total defense? That's right dead last, 32nd.
Tampa Bay Buccaneers
The Final game of their regular season campaign will be a divisional match up at home against the Tampa Bay Buccaneers. Led by rookie quarterback Jameis Winston the Bucs have won 4 of their last 6 games. When they met back in early October the Panthers handed them a 37-23 home defeat. One thing which will be tough for the rookie here is a good defense. He struggled against them in October and only put up 9 total points against the Houston Texans who are another good defense, apart from those two they've not really played any other good defenses.
Tampa do have a top 10 defense and should cause the Carolina offense problems. My only worry for betting 16-0 here is the fact they could have already secured  home field advantage and the number 1 seed going into the playoffs by then so they will be resting players. This will leave the Bucs starters playing against a rotated Carolina team.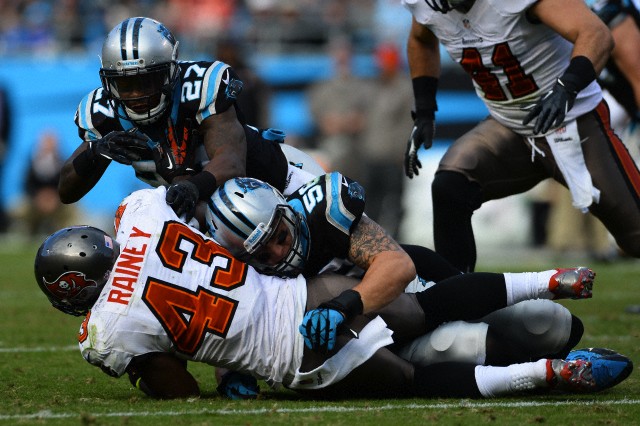 Why Carolina won't win Super Bowl 50
The Panthers may have looked like a dominant force through the regular season and be the bookmaker favourites for the Super Bowl, but we don't think they'll win it all. Don't get me wrong it's a great achievement to go undefeated, but the Panthers aren't as good as their record suggest and here's why.
Easy Schedule
Carolina have piled up the wins against very easy opposition. Their schedule has been rated as the league's second easiest by critics. According to Pro Football reference it's the second weakest in the league, only two of the Panthers' opponents have been above average teams (Packers and Seahawks). Add to that the fact they played both of these teams when they were going through a bad run. Seattle lost to the Rams on the opening day of the season and started out 2-3 before they played Carolina. They then played Green Bay who were in the middle of tough period where their offense fell apart and they lost three straight.
Out of the 12 teams they've played during the regular season they'll be lucky if 4 finish the season with a winning record. At the time of writing with four weeks to go only 2 have a winning record.
Is the defense that good?
If we look at the stats on NFL.com we can the Panthers are ranked number 3 in total defense, pretty good through 12 games.
Now let's take a look at what offenses they've actually faced. In terms of points scored they've faced two top 10 offenses (taking the top 11 as Carolina are 3rd). Out of the top 10 they've face the number 8 Seattle Seahawks and number  9 New Orleans Saints. As I mentioned earlier they faced Seattle when they were going through a tough period but they beat them comfortably. They faced New Orleans last week and allowed them to score a mammoth 38 points. They've not faced any offense capable of being top 5 so whilst they're defense appears good on paper, they're actually getting it done against very mediocre point scoring offenses.
At 7/2 with Betfair best priced I think there's much better teams at bigger prices. I'd be looking at teams such as the Pittsburgh Steelers at 17/1 with Sky Bet or the Arizona Cardinals at 11/2 with bet365. We'll be doing some more Super Bowl tips closer to the end of the regular season so stay tuned. Don't forget to check out this week's free NFL betting tips and previews for every Sky Sports NFL game.