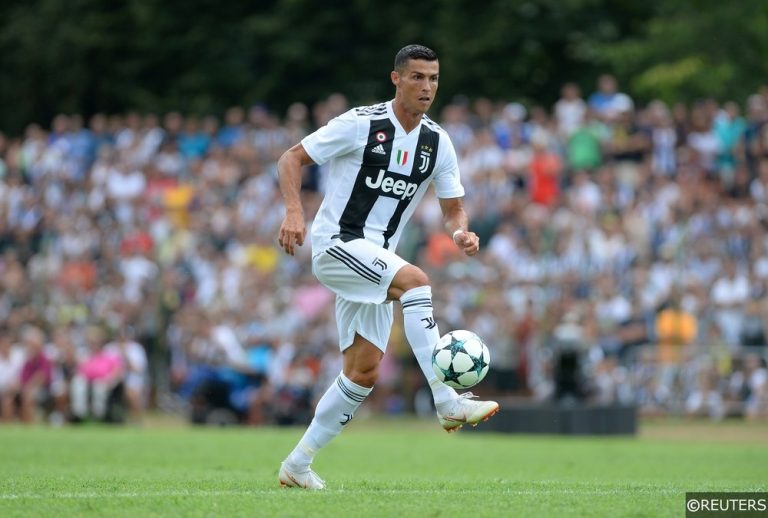 Simon Winter
@simonjwinter
Born in the south east of Ireland, Simon put his life-long love of football to good use when he started a successful independent blog in 2010. That opened up an alternative route to a career in journalism, and having had work published across a number of sites and publications, Simon joined the staff at Spotlight Sports Group in 2018.
Cristiano Ronaldo returns to Old Trafford on Tuesday for a competitive fixture for only the second time since leaving Manchester United in the summer of 2009.
The game, marketed as "Ronnie's Return" by United's ticketing department last month, has a transcendent feel about it, where football ends up playing second fiddle to a romantic sporting reunion – though really, it shouldn't.
It's a factor that could have a game-defining disarming effect on the home crowd and on the team itself, and Ronaldo and Juventus will be waiting to strike when United's guard is down.
Read more: UEFA Champions League Betting Offers
The first home coming
Tuesday's "event" is already drawing queasy parallels with Ronaldo's first game back at Old Trafford with Real Madrid back in 2013.
Back then, in Sir Alex Ferguson's last Champions League fixture in charge of United, the sideshow became the main event. Ronaldo's name got the loudest cheer of the night when the teams were read out by the stadium announcer and his early touches were celebrated and then booed sarcastically.
That same stadium announcer even deviated from the usual sequential order a starting eleven is read out in, leaving Ronaldo's name until last. It had the desired, dramatic effect.
However, the welcome slipped over the edge of respect and into adoration, blunting what should have been a razor-sharp atmosphere for a crucial knock out second leg and leaving it with an almost testimonial edge in parts.
The game itself was chaotic, with both teams playing like piranhas in a feeding frenzy. The first wound was self-inflicted however, when Sergio Ramos blundered a low cross past his own keeper in the 48th minute.
After Nani was controversially sent off just eight minutes later, Jose Mourinho's Real took control and United could only keep them at arm's length for nine minutes with ten men. Luka Modric hit a long-range equalizer in off the post and just three minutes later Cristiano Ronaldo stole in at the far part to bury the winner.
Ronaldo held up two hands apologetically to an Old Trafford crowd caught somewhere between begrudging fondness and wistful disappointment.
"Remember when he used to do that for us?" "Well if anyone was going to score, I'm glad it was him."
If Ronaldo's conciliatory celebration was a show of respect, the rest of his performance was typically and professionally insolent. Ronaldo did everything in his power to get another goal, coming close with a number of stinging efforts.
It wasn't that the respect between Ronaldo and the Old Trafford crowd was uni-directional, it was more that the Portuguese attacker knew that the reverence stopped when the game started.
Read More: Borussia Dortmund target Premier League youth after Sancho success
The second home coming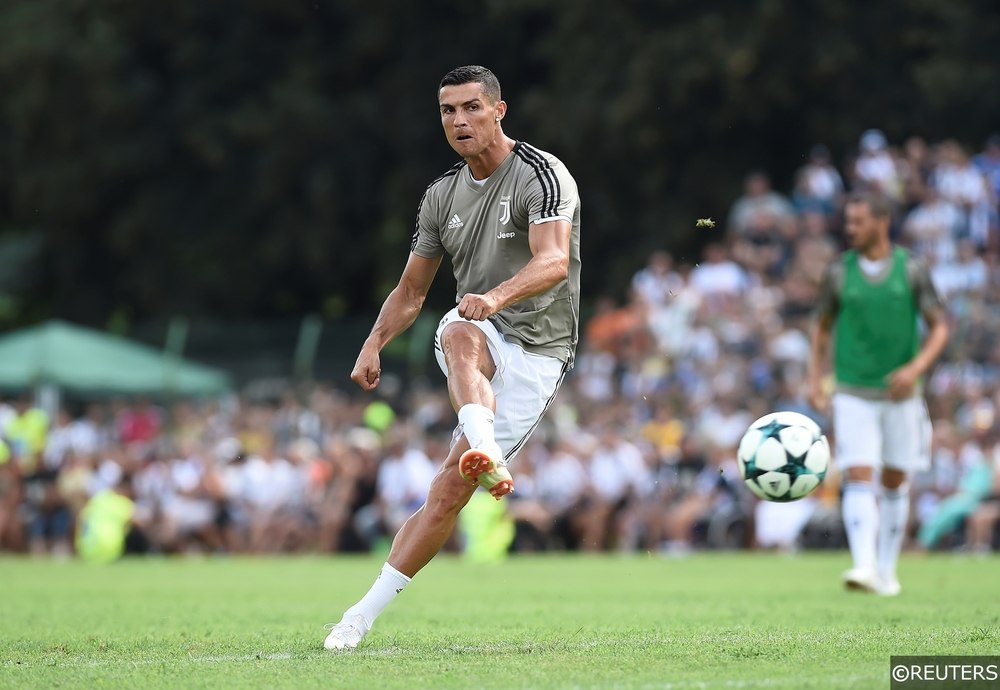 On Tuesday, Ronaldo's second competitive appearance at Old Trafford, is as much a return to the scene of the crime as it is a gig on his former stomping ground.
Ronaldo did his utmost to bury United in 2013 and he will be out to do as much damage as he possibly can again this week. It's a ruthlessness that has driven him to super stardom and a legendary realm that few footballers occupy.
This week, Ronaldo will line up against a United team that is light years behind the one he faced at Old Trafford in 2013. Instead of the bricks and mortar of Rio Ferdinand and Nemanja Vidic, it's likely to be the papier-mâché and lollipop sticks partnership of Chris Smalling and Victor Lindelof.
Ironically, Ronaldo could be deployed in direct opposition to the man United signed to replace him in 2009. Antonio Valencia, signed from Wigan as a right winger, could be deployed at right-back for United against Juventus.
The Ecuadorian, seven months Ronaldo's junior, has been visibly regressing over the past year, though it would be especially mortifying to be given the run-around by the man he failed so miserably in replacing.
Ronaldo's multiple motivations
Ronaldo motivations on Tuesday are layered thick. Alongside showing his old devotees how much they should miss him, Ronaldo will be desperate to score his first continental goal in a Juventus shirt.
The 33-year old has scored five times in ten competitive appearances for his new club, but his strikes have been exclusively Serie A based until now.
In fact, Ronaldo has played just twenty-nine minutes of Champions League football for Juventus as we enter the fourth round of the competition's Group matches.
Having been sent off in Juventus' first match in Spain against Valencia, Ronaldo was forced to look on from the sidelines as Paulo Dybala scored a wonderful hattrick in his absence on match day two against Young Boys.
Dybala stole the spotlight Ronaldo has always been so desperate to hog and Tuesday is the Portuguese captains' first real opportunity to steal it back.
Read More: Manchester United vs Juventus match preview, predictions and betting tips
United's task
The first objective for United's players will be to puncture the jovial, respectful atmosphere that Ronaldo's return is certain to create.
Much of the early reverence could be stripped away by something as simple as an early meaty tackle on the Juventus number seven – a hit that could help to remind the Old Trafford crowd that Ronaldo has been away from the club longer than he was at it.
Ronaldo spent six seasons at United and nine at Real Madrid – he will always be more Madridista than Mancunian.
If a United team struggling to find an identity and fluency are to have any chance of beating Cristiano Ronaldo and Juventus, then those in attendance at Old Trafford need to change their 2013 tune. Ronaldo's respect for his old employers will evaporate completely between the first and last whistle on Tuesday night and Manchester United's supporters need to reciprocate accordingly.
Follow Free Super Tips on Twitter to stay up to date with our daily tips and predictions or browse more football content on our website: