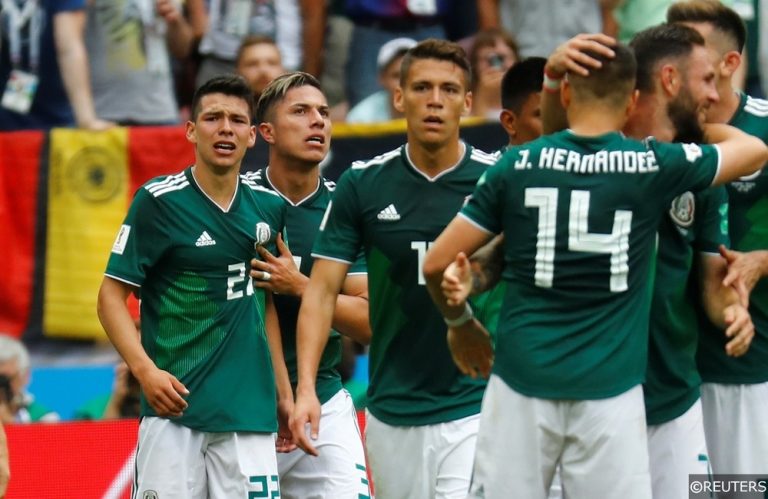 After their famous 1-0 win over Germany in Moscow in their opening World Cup fixture, which we broke down here, Mexico proved they are from a one match wonder, recording a 2-1 victory other South Korea in Rostov with another impressive showing. In the following article we look at what's going well for El Tri once again.
Be sure to check out our previews of every single World Cup match!
Two sides to their game:
Against Germany viewers were blown away by the speed of Mexico on the counter and their quick transitions were undoubtedly the key to that particular success. However, against South Korea we saw a complete different side to Juan Carlos Osorio's team.
With Korea looking to sit deep and break, they applied little pressure on the ball and this meant it was an entirely different type of game for the Mexicans; one in which they had to be the protagonist.
That was something they showed they are more than capable of doing, totally dominating the first half and wearing Korea down by moving the ball patiently and with good quality. With so many Korean bodies behind the ball, Mexico could not attack with the same speed as seen against Germany, but they showed they were equally as capable at seizing control over the game.
In the second half, as Korea grew more desperate and began to play more expansively, Mexico once again showed their frightening ability on the break, with their second goal a perfect example of the lethal counter attacks they can come up with.
After going 2-0 up, El Tri withdrew their two key attackers, Lozano and Vela and they then saw out their win relatively comfortably, albeit conceding a late consolation goal and almost gifting Korea prior to it via a poor backpass.
Overall, Mexico showed enough today to believe they can adapt their game plan according to the opponent they are facing. We saw them dictate the tempo and control the game, sit deep and break and then shut off the match in order to claim victory.
Guillermo Ochoa: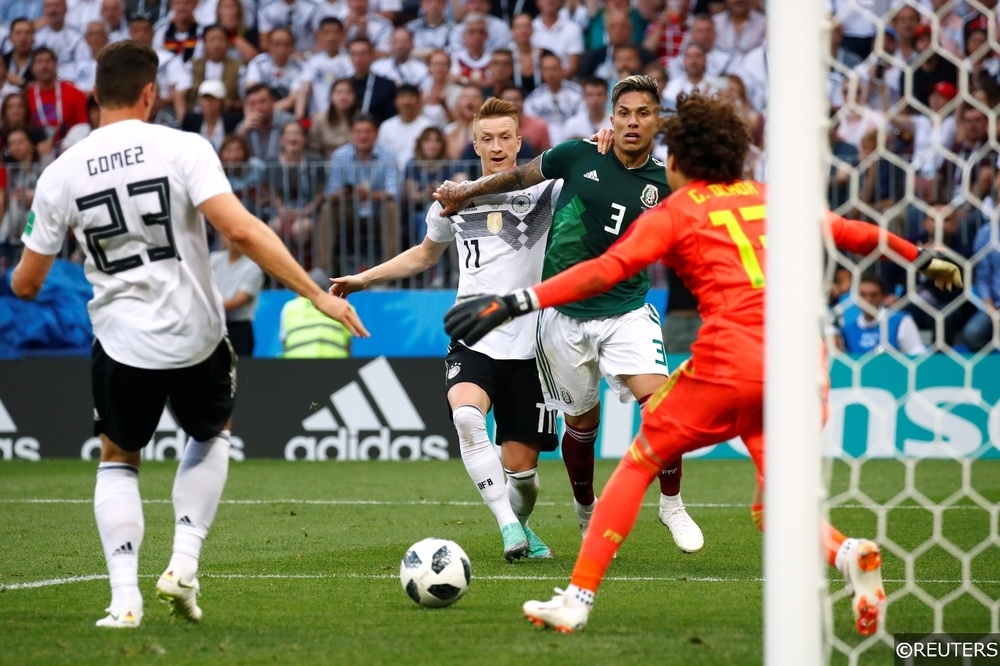 Although he didn't have a great deal to do, it was another impressive display from the Mexican goalkeeper, who inspires confidence in the defence in front him. There was nothing he could do about the goal and the rest of the game ran by perfectly for the 32 year old.
Ochoa's decision making was spot on throughout and he looks a goalkeeper in confident state. He chose when to come for crosses and when to stay, when to punch and went to catch and was always attentive to the long balls down the channels Korea tried to break off of on numerous occasions.
Centre back pairing of Carlos Salcedo and Hector Moreno:
Whilst Mexico's flair players have been drawing most viewers attention, keener analysts of the games against Germany and Korea can only compliment Carlos Salcedo and Hector Moreno, who have been crucial to the team both defensively and in the first phase of possession.
Against Korea both men fulfilled their defensive duties well but were also very efficient on the ball, helping to keep hold of it and pierce Korean lines. Salcedo made 63 passes with a 93% success rate whilst Moreno made 49 with an 88% success rate. Both men played some highly intelligent balls and helped to open the game up.
Hirving Lozano:
It was another outstanding performance from Lozano, fully justifying once again why we had him down as one of the men to watch at this year's World Cup. The pace of Mexico's break has drawn worldwide attention now and Lozano is a key reason for that given the blistering pace he has.
Lozano's assist for Hernandez to make it 2-0 was one of the finest pieces of play on Russian soil so far. He carried the ball half the length of the pitch, blitzing beyond a Korean man trying to bring him down and showed excellent composure to slip his teammate in.
Lozano was tightly marked throughout the game and was fouled time and time again by Korean right-back Yong but showed that even if you try to kick him out of the game; it only takes space to open up once and he'll punish you with devastating effect.
Lozano's defensive work was also very impressive, tracking back several times to make key blocks or stifle Korean breaks and whilst his shooting was highly erratic, he established promising positions for himself that he's already shown he can take on another day.
Carlos Vela:
Carlos Vela's fluid role in the side is really bringing the best out of him and is also a key feature to Mexico's attack. Having been criticized in the past for a questionable attitude, Vela is certainly making this World Cup his own and has been fantastic in the two games contested so far.
He moves well in between opposition lines, picks the ball up in dangerous areas and shows great ability on the ball to get out of tight situations and combine with team mates, effectively stitching together Mexico's ball circulation. His goal from the spot was fully deserved and capped a very strong personal performance that was imperative to the team's overall success.
Juan Carlos Osorio:
Osorio was under real pressure, very harshly, coming into the competition but has now won the hearts of the Mexican public over, with fans back home even organising a march to apologise to him. Long critisced for being the definition of a tinkerman, Osorio's analysis of opponent has been on the money in both games so far and the strageries he has proposed have provided the platform for those on the pitch to perform so well.
Osorio's is also extremley reactive to the state of the game and manages his troops well throughout the 90 minutes. Against Korea he picked the correct moments to play more pragmatically and his subsitutuions were also well timed and helped take the sting out of the game once Mexico had a comfortable lead.
Conclusion:
Mexico have been one of the most impressive nations in the competition so far and not just for their results. They've showed they are able to adapt their style of play depending not only on their opponent, but how the game is progessing.
The Mexicans look strong in all areas of the pitch and have the tools to really hurt any nation. Say it quietly, but this may just be the year in which their famous round of 16 curse comes to an end.
Follow Free Super Tips on Twitter to stay up to date with our daily tips and predictions or browse more football content on our website: