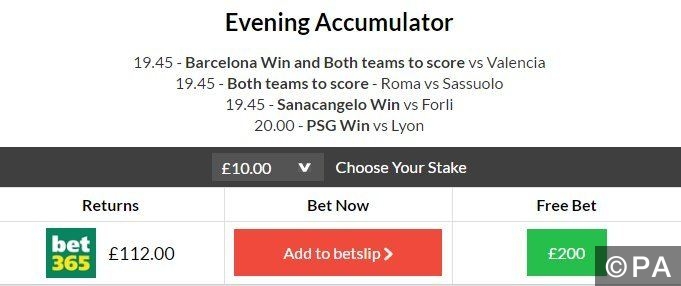 What a weekend it's been for FST! After starting it off on Saturday with a £98 Half Time Accumulator winner, our tipsters landed 3 more Accumulators!
The first of those three was a 10/1 Evening Accumulator, a 4-fold which returned £112 for just £10 staked.
£112 Evening Acca Wins
BOOOOOOOOOOOOOOOOMMMMMMM!!!!!!!

EVENING ACCA LANDS!

£10 returned £112!

LIKE if you were on & SEND IN YOUR SLIPS!https://t.co/1EcgzUAL1b pic.twitter.com/4PT0kF0IKZ

— Football Super Tips (@FootySuperTips) 19 March 2017
Three of the four games started at 7.45 pm, while the 4th game kicked off 15 mins later.
It was an exciting start to the Acca as Roma & Sassuolo exchanged goals in the first 16 mins of their match, getting us off to a quick winning start.
Meanwhile in Spain, Barcelona and Valencia played an entertaining game which provided us with four goals and a red card for Valencia in the first 45 mins. Luckily for us Barcelona kept pushing forward and scored two more goals to win 4:2 in the end.
The third game of our acca saw Santarcangelo beat Forli with a comfortable 2:0 scoreline. Luck was slightly on our side in this one as well as the away team went a man down in the 72nd minute after which the hosts bagged their 2nd goal to ensure they'd win this one.
PSG and Lyon were battling in France, it was an exciting first half… Lyon took the lead in the 6th minute through in-form striker Lacazette, but that didn't push PSG off the track as they continued with their game plan and it paid off as they were able to score twice in a span of 6 mins to grab a 2:1 lead in the 40th minute through Julian Draxler.
Although both teams had their chances in the 2nd half, the score did not change which meant we could start celebrating yet another Acca win!
Free Football Tips
Our Footy tips are posted every night at 10 pm (UK Time) and you can find them on our Free Football Tips page of the FST website.
Followers Bet Slips
Once again, our followers were with us this Sunday evening and here are some of their betslips:
@FootySuperTips booooom. First weekend with your tips and a good weekend it has been. Cheers pic.twitter.com/bOJdo3YLQu

— Daryl Evans (@ChippyDaz) 19 March 2017
@FootySuperTips BBOOOMMM pic.twitter.com/aixnNSk9nZ

— Palko Huba (@PalkoHuba) 19 March 2017
@FootySuperTips pic.twitter.com/L0hONSxJ1k

— Nick james goaman (@goaman20) 19 March 2017
@FootySuperTips also had yours too ! Bookie bashed !!! pic.twitter.com/Xs8C7kaErJ

— Mark Lonergan (@Lonergan85) 19 March 2017
@FootySuperTips Thanks guy! You made my evening! pic.twitter.com/vFH1lfs4Tx

— Lewhan The Great (@TheLewhan) 19 March 2017
@FootySuperTips boooom added a bit here 😀 pic.twitter.com/HUcHGQvWQ0

— Mkslots (@stu__1) 19 March 2017
Follow us on twitter so you can also send in your winning betslips and enjoy the fun!