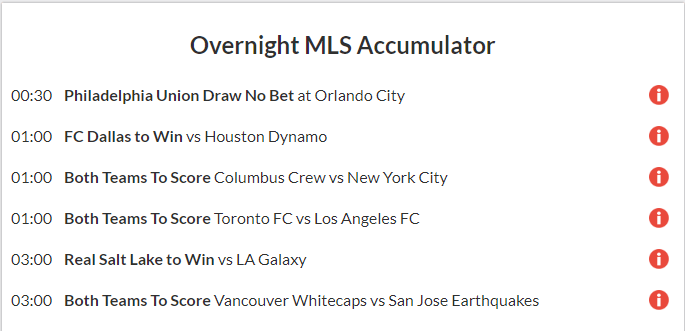 A proper start to September for all of us here at FST!
After a solid day of inplays and £63.60 profit for the day, our football analysts capped off Saturday with yet another Accumulator winner!
Just a week after landing a 21/1 MLS Acca we delivered yet another winner in that league!
Originally priced at 18/1, our MLS Accumulator came in at 11/1 due to one leg being void. Here's how it happened:
11/1 MLS Acca Lands
18/1 Overnight #MLS Accumulator LANDS!!
#MLB Double LANDS!

GET IN!!!!!!!!!!!!!!

Proper start to September this!!! pic.twitter.com/pdBLgDxfnT

— Football Super Tips (@FootySuperTips) September 2, 2018
A total of six games were combined in our Acca and we kicked things off in Orlando as City hosted Philadelphia Union. This particular tip was void as the game ended 2:2 and we backed Philadelphia Union Draw No Bet.
Next up we had Dallas FC to beat Houston Dynamo. It was a fun game to watch as a total of 6 goals were scored. After leading 1:0 in the 1st half, Dallas went up 3:0 shortly after the 2nd half started and just a few mins after that the lead was 4:1 which pretty much sealed the win for the home team here.
Next up we had a pair of BTTS selections in two games – Toronto vs LA FC and Columbus Crew vs NYC. Both games were fairly open here and our predictions landed in the 2nd half of each game and there was never a worry that our tips would win here!
Real Salt Lake demolished Zlatan's LA Galaxy 6-2 in our 5th game of the Acca. The first half was somewhat competitive as the hosts went into the break with a 2:1 lead, but it opened up for them in the 2nd as they scored four more goals to seal the deal.
And finally the Vancouver Whitecaps took care of business at home against the San Jose Earthquakes. We needed both teams to score in this one. The hosts went up 1-0 in the 22nd minute and doubled that lead in the 78th, the end of the game was nearing and there was no San Jose goal in sight. Luckily for us though the visitors pilled on the pressure and they were rewarded. The goal came in the 92nd minute and we could start celebrating yet another Acca winner!!
Free Football Predictions
Plenty more MLS Accumulators coming your way! All you need to do is bookmark our Free Football Predictions page of the website so you don't miss them!
Followers' betslips
Our followers were once again with us overnigth and were kind enough to share some of their winning betslips over on twitter:
Make that 2 weeks in a row the MLS accumulator has hit!!!!! Thanks @FootySuperTips pic.twitter.com/ksEWogNPvE

— Dolan Reilkoff (@ReilkoffDolan) September 2, 2018
You beauty!! pic.twitter.com/ViWfeF26mV

— DylannnnnAFCA (@DylannAFCA) September 2, 2018
Cheers boys, early shift won't be so bad today! pic.twitter.com/tR3oBqpOfP

— Oriordan (@megadanski) September 2, 2018
@FootySuperTips You guys are just amazing I appreciate the hard work you put in to provide us with quality tips and predictions.. MLS acca two weeks running.. pic.twitter.com/QX8ruCyYYL

— King kong (@King_Kong_Crepz) September 2, 2018
Booooooommmmmm, it lands again, nice one pic.twitter.com/XCp2zD1QtK

— Alan Dawson (@alfat1) September 2, 2018
Woke up blazing pic.twitter.com/uImpDAAjEa

— Oyeniyi Bamz (@bamozone1) September 2, 2018
Cheers 2 weeks in a row!!! pic.twitter.com/VJgp4gAjSI

— Nav G (@navgill77) September 2, 2018
Not much, but good profit! Cheers fellas pic.twitter.com/HP2n9l9FYU

— Chris Moss (@mosstoboy) September 2, 2018
— Mario (@XhavaraM) September 2, 2018