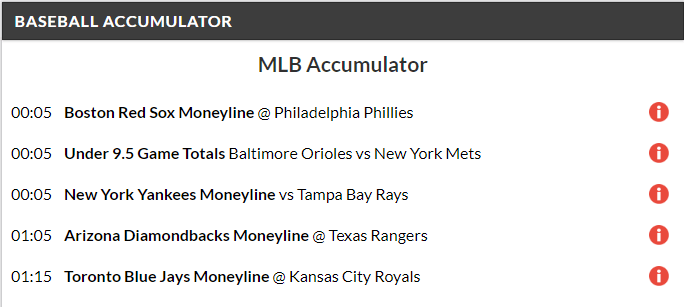 After a hattrick of accumulator winners this past weekend to start off the new Premier League season, our analysts aren't slowing down just yet!
Another decent effort on the MLB earned us a 12/1 Accumulator winner last night which means we've landed 8 Accumulators so far in the month of August!
Here's how the night unfolded:
12/1 MLB Accumulator lands
Overnight WINNEEEEEERRR!!!

12/1 MLB Acca LANDS!!

Our 8th Accumulator winner this month!!

BUZZING!! pic.twitter.com/thQEYJwET5

— Football Super Tips (@FootySuperTips) August 15, 2018
We started off in Philadelphia where the Phillies hosted the red hot Boston Red Sox. Winners of four in a row, Boston left it really late in this one. After grabbing the lead in the 3rd inning, they allowed Philadelphia to come back in the 5th and the score was tied at 1:1 all the way up to the 8th inning. Luckily for us, the brekthrough came at the right end and it was Boston who scored the winning run and grabbed their 5th win in a row and 44th on the road this season.
Luck was definitely on our side in the 2nd game of the acca as we went Under 9.5 Game Totals in the Baltimore Orioles vs New York Mets game. After no runs were scored in the first three innings, both teams caught fire, but in the end the game finished 6:3 Orioles which meant a total of 9 runs were scored and our prediction came in!
The New York Yankees inflicted Tampa Bay their 2nd loss in a row as the two teams met in New York for their 13th head-to-head game of the season. The Yankees slowly built their lead and it was never really a contest with them winning 4:1 in the end. They are now 42-18 on the season at home.
The Arizona Diamondbacks kept hold of the number one spot in the National League West with a victory against the Texas Rangers. They built a strong 4:1 lead after 4 innings which was enough in the end as they cruised to a 6:4 win which was their 66th of the season to go along with 55 losses.
And finally a tight game between the Toronto Blue Jays and Kansas City Royals decided the faith of our Acca. The two teams exchanged leads in the first four innings and we were tied at 4:4 going down the stretch. Kansas City went ahead in the 7th which wasn't good for us, but luckily Toronto were able to come back and scored two runs of their own in the 8th to pull ahead 6:5, which was the final score in this one!
Free Baseball Predictions
There's about two months left in the baseball season, so be sure to bookmark our Free Baseball Predictions page of the FST website to catch the next winner we land!
Followers' betslips
This was our 3rd MLB accumulator winner this month so far and our followers were once again kind enough to share some of their betslips with us on twitter:
Cheers guys @FootySuperTips pic.twitter.com/ZbLZglzqpE

— Matt (@MattiasHardyy) August 15, 2018
@FootySuperTips another winner thx pic.twitter.com/l93TAfjELr

— BKM (@benzino23) August 15, 2018
@FootySuperTips midnight MLB acca just made me happier today pic.twitter.com/Ju45vPwWwY

— KaYcee da KiiDD (@Kay_Cee9) August 15, 2018
⁦@FootySuperTips⁩ pic.twitter.com/kO56VaapJ8

— Dave Wookey (@davewookey) August 15, 2018
@FootySuperTips another winner , cheers pic.twitter.com/2eFn6ZmlFW

— DARREN WILBRAHAM (@BEEFY1973) August 15, 2018
Belter waking up to a boom cheers @FootySuperTips great tipping on the MBL again pic.twitter.com/iIz5ojr99r

— Gareth Mason (@GarethNuFc1722) August 15, 2018