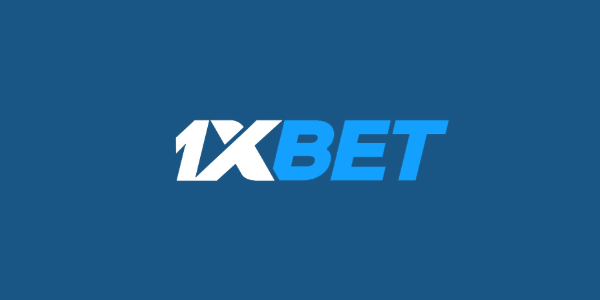 September 20, 2022
Show Bio
A lifelong Birmingham City fan, Tom relocated to Germany for five years after graduating from university, where his interest in the Bundesliga developed. He began writing about and betting on German football for FST in 2016. He's also an avid fantasy football player and closely follows the Premier League and European competitions.
1xBet has been on a rapid rise with a high number of sign ups across Africa in recent years, being one of the best and highest odds betting sites.
What is the 1xBet Nigeria Sign Up Bonus?
The sign up bonus is a generous welcome reward for new customers which amounts to 300% of the first deposit sum.
You can get up to a maximum of 145,600 NGN as a welcome bonus, which you can use for new forecasts for competitions available in the line or live.
Claim this fantastic new customer offer below!
How to claim the 1xBet Nigeria Sign Up Bonus
In order to claim the 1xBet Nigeria sign up bonus, you must first create an account with the bookmaker using the button below:
After finishing up with the 1xBet registration process, (explained below), go to 'My Account', select 'Top up'.
You will get a prompt on your phone and once you follow all the instructions the bonus will automatically be credited on your deposit. 
The size of the bonus is determined by the size of the deposit:
200% – for deposits up to 20,800 NGN
250% – for deposits of 20,801 NGN to 41,600 NGN
300% – for deposits from 41,601 NGN (the maximum bonus is 145,600 NGN)
The bonus is valid for 30 days from the day of registration. Once you have made a deposit, the bonus must be wagered in accordance with the Terms and Conditions.
What are the main 1xBet Nigeria Sign Up Bonus Terms & Conditions ?
1xBet Nigeria bonus terms and conditions state that each customer is entitled to only one bonus with the minimum deposit being 400 NGN in order to activate it. 
 The promotion applies to the first deposit only. The size of the bonus is determined by the size of the deposit.
Who is eligible for the 1xBet Nigeria bonus?
1xBet bonus is available to all Nigerian punters, all you need to do is to deposit a minimum of 400 NGN to qualify for this bonus. This makes it accessible to most customers.     
Claim a 300% Bonus up to ₦145,600 using the button below!
What can you bet on with the 1xBet Nigeria Sign Up Bonus?
The 1xBet welcome bonus is given in two halves with each half subject to bonus wagering requirements. 
The first half of the bonus is for sports betting and the other half for 1xGames. You can earn a maximum of 72,800 ₦ for sports betting and another maximum of 72,800 ₦ for 1xGames – each one 94,640 ₦ with the promo code.
The 1xBet welcome bonus will be activated and transferred to your bonus account immediately once the first deposit has been made after enabling the function "Take part in bonus offers".
There are wagering conditions to be fulfilled when using the welcome bonus; for sports betting, you must wager the bonus amount five times using accumulator bets with at least three events, and at least three markets in the accumulator must have odds of 1.40 (2/5) or higher.
If you really want to get the maximum out of your bonus credit, you should apply specific betting strategies. 
It is vital to develop a strategic approach to betting, especially with accumulator bets. You must complete all the bonus requirements and settle your bets within 30 days after the registration. 
For the 1xGames bonus, you are required to turn over 30 times the bonus amount in 1XGames (excluding: Pachinko, PF Dice, Roulette, PF Roulette, PF Pokerlight).
How to register with 1xBet Nigeria?
Registration on 1xBet Nigeria isn't complicated, all you need to do is to follow these simple steps to become an account owner:
Enter a valid phone number or email address – a 1xBet promo code is not needed!
Once you've entered those details, click register and your 1xBet account will be ready to go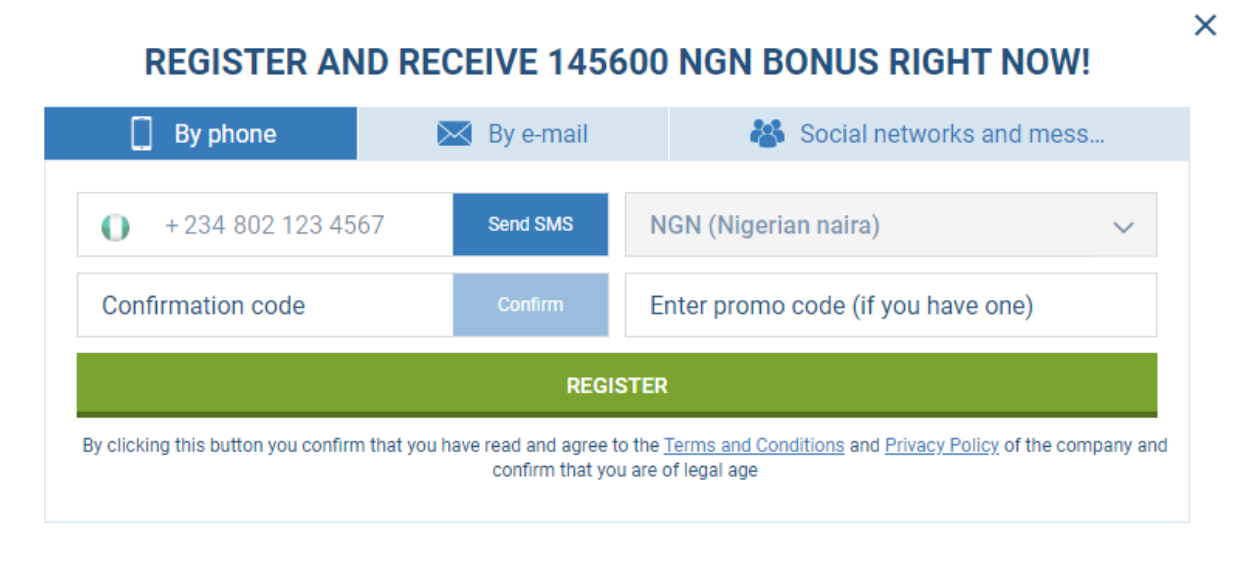 How to login to 1xBet Nigeria?
To log in to your 1xBet account, visit httрs://1xbеt.ng/еn/ – thе 1xBеt оffiсiаl website.
On the top right corner, click log in and a drop down form will appear for you to enter your details.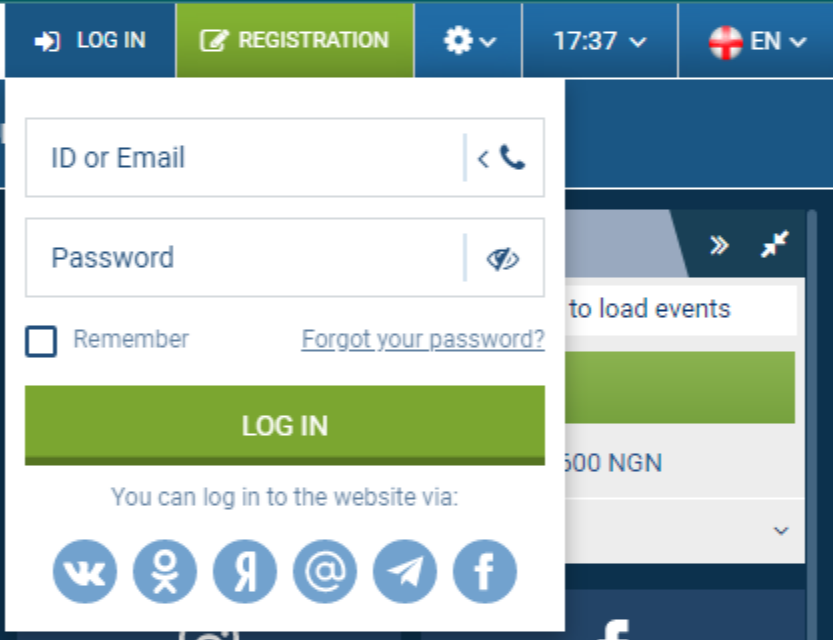 Fill in your ID or email and enter the password you created for the 1xBet Nigeria registration process.
Click 'LOG IN' and you will be in your account – you can activate 'Remember' to avoid being prompted for your login details every time. 
How to deposit with 1xBet Nigeria?
There are many different deposit methods available on 1xBet. For bank cards, you can either use Visa or Mastercard, but there are also systems allowed for internet banking and prepaid cards. 
Here are some of the methods you can use to get your account credited before placing a bet:     
1. Glbapay
Ensure you are logged in to 1xBet Nigeria to make a deposit
Click on the Globalpay icon displayed in the section showing recommended payment method – a popup window will appear displaying your first name, mobile number, and email
Enter the amount you want to pay in and click on the confirm button
Another window will appear – you will have to confirm all the information and select the card you wish to use for payment, then select "Make Payment"
Enter your card details in the next menu and continue – a safe token will be sent to your mail and mobile number
Enter the safe token in the safe token popup screen, and confirm.
2. GTPAY
This remains one of the secure internet payment gateway created to promote payments online utilizing Debit Cards that are issued by banks on the Interswitch Network.
It is an effective means of making payment and it is acceptable for local and international cards. No bank charges.
Click on the GTPay Icon in the recommended methods section – a popup window will come up
Enter the amount you want to deposit
The GTPay portal will then open with your 1xBet user ID number on top the amount to be deposited.
Enter your email and click "Continue"
Login to your GTPay Mobile money account by entering your email address, and click on "Continue" to go on with your transfer – to a friend, if you like
How to place a bet with 1xBet Nigeria?
Log in to your account and open the sports betting section
Choose the sport you want to bet on, then you need to choose the events you want to bet on
Click on the market, in order to add it to your bet slip
If you want to place an accumulator bet, you simply need to repeat the previous step for each event you want to add
Finally, decide how much you want to bet on your selections, then click on the 'place a bet' button, which is below the field where you entered the amount you want to bet
And done, you just placed your first bet at 1xBet!
How to download the1xBet Nigeria App?
1xBet Nigeria allows bettors to also download an app for Windows, Android APK or IOS.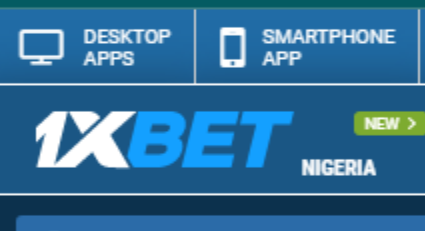 To get application of your choice, navigate to the web page of the 1xbet Nigeria sportsbook, then scroll down to near the bottom of the page.
You will see the Android link; click the Android link to start an automatic download.
On your mobile device navigate to the "install unknown apps from unknown sources".
Once the download is done, tap to install;
After installing, the mobile app for your android phone is ready for use. 
This also applies to iOS users as well as Windows users. 
How to withdraw from 1xBet Nigeria?
All withdrawal requests are processed 24/7 but note that there is a withdrawal limit. The process is outlined below:
Enter the 1xBet website and then sign into your account.
Select "Personal Profile" and move down to withdraw funds.
If you have won from the bets you placed, you will get the amount you won in your current balance.
Press "withdraw" and select your bank in the options provided.
Enter your account digits and the amount you want to withdraw and click "withdraw".
Your payment will be processed immediately.
Withdrawing money from the 1xBet app follows the same process.
Who owns 1xBet Nigeria?       
1xBet Nigeria is an affiliate of 1X Corp N.V, an online gambling company founded in 2007 in Cyprus, and their rise has seen them sponsor some of the biggest brands in the world.
They are currently the official sponsors of the Confederation of African Football (CAF) with these bold moves, encouraged by their 100% welcome bonus, guaranteeing themselves new members.
They announced French football giants Paris Saint-Germain as their new regional partner in Africa and Asia in August 2022. This coming after also briefly sponsoring Chelsea FC and Liverpool FC.
1xbet.ng is owned and operated by BEAUFORTBET NIGERIA LIMITED, which operates under license №: 0001018 dated September 12, 2019 issued by the National Lottery Regulatory Commission of the Republic of Nigeria.
Related articles:
bet9ja Nigeria New Customer Guide
BetWinner Nigeria New Customer Guide