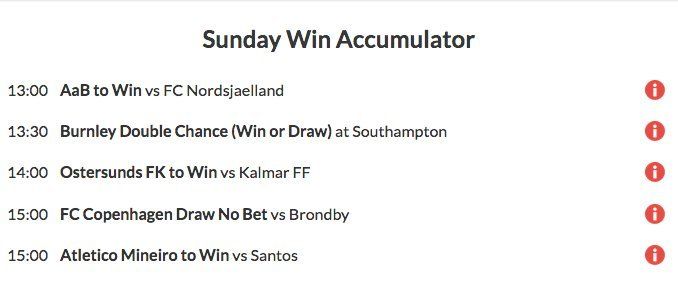 What an incredible week we've had at FST!
Here's how it all went down:
24/1 WIN & DAILY TREBLE LANDS!

WHAT A DAY WE ARE HAVING!

VIEW HERE https://t.co/2V1SC3sX0I

(18+) pic.twitter.com/3ngFNhA0EA

— Football Super Tips (@FootySuperTips) August 12, 2018
The Win Accumulator started over in Denmark as Aalborg took on Nordsjaelland. We needed an Aalborg win, but the game got off to a very slow start and looked like it was going to end goalless, with the game still 0-0 as they headed into the 90th minute. In the dying minutes, we breathed a sigh of relief when substitute Philipp Ochs scored for Aalborg, getting red carded just minutes later.
Next we headed over to St Mary's Stadium as Southampton took on Burnley. We just needed Burnley to pick up at least a point to land this leg. It was an absolutely appalling game, but then again on paper it was always going to be that way, and the game didn't see a single goal. That was good enough for us, and saw us on to the 3rd leg.
For the third leg of our accumulator, we needed Ostersunds to beat Kalmar over in Sweden. For the third game in a row, there were absolutely no goals under the very last few minutes. This time, Saman Ghoddos bailed Ostersunds out with an 88th minute strike, before Kpozo made it 2-0 in the 91st minute. The game ended that way, and we moved on to leg 4.
The last 2 legs started at the same time, with Copenhagen taking on Brondby in the Danish league, while Atletico Miniero took on Santos over in Brazil. We needed both the home sides to win their games here. These games were slightly more lively than the first 3, with a goal inside 8 minutes for Elias of Atletico Miniero. Santos equalised shortly before the half hour mark through Gabriel, and the first half ended 1-1. Over in Denmark, Copenhagen took the lead through a Robert Smov goal, the first half ended 1-0 to the good. We stay in Denmark as Brondby found an equaliser shortly after half time through an Erceg goal. We had to wait until the 77th minute for the next goal in this one, but thankfully it went to the home side, as Nicolaj Thomsen made it 2-1 to the good. Viktor Fischer made it 3-1 shortly later, which is the way that game ended. Now all we needed was a goal from Miniero, which is what we got in good time as Ricardo Oliveira scored in the 71st minute. He got his second of the game in the last seconds of the game, making it 3-1 to the home side, which is the way the game ended. That was the final two legs done and dusted, and a 24/1 Win Accumulator landed!
Other Winners
Not only did we land the 24/1 Win Accumulator today, we also landed our Daily Treble for the second day in a row, as well as our Bet Of The Day for the 6th time in 7 days this week!
Free Football Predictions
You can get daily predictions on our Free Football Predictions page of the FST website. Be sure to bookmark that page so you don't miss out on any future winners!
Followers' betslips
As always, lots of our followers got on this one, here are a few of their slips:
Thanks guys pic.twitter.com/kFvbWqBDq2

— John barber (@johnbarber38) August 12, 2018
@FootySuperTips pic.twitter.com/s5jasgGpxw

— John barber (@johnbarber38) August 12, 2018
Phone died, forgot about it, logged in this surprise. Top tipping. pic.twitter.com/KRIjyqQxYN

— CHRIS ♧ LUFC (@CJPodge) August 12, 2018
I was a bit tight with stake. Lol. Cheers guys. pic.twitter.com/q5OuEbeO7I

— LiamLemonMcArdle (@Lemonthebarber) August 12, 2018
You've done it again…great tip pic.twitter.com/JMQeuPfXNP

— Lee Foley (@Lee_Foley) August 12, 2018
Cheers boys pic.twitter.com/q3aKcy6Mlp

— loliver (@basicthugz666) August 12, 2018
Yes @FootySuperTips thanks pic.twitter.com/9qURcu3fKR

— danny wag (@Dwag87) August 12, 2018
@FootySuperTips thanks pic.twitter.com/ogTOgf3BEZ

— Dylan Guest (@bigdyl973) August 12, 2018
@FootySuperTips cheers lads pic.twitter.com/aZfBzhnpqh

— george (@georgewootton_) August 12, 2018
@FootySuperTips what a Boom cheers guys pic.twitter.com/xQtkrbgsFj

— Ian (@Clubberlang_79) August 12, 2018