The 2015 NFL regular season is down to its final week and we'll soon be heading to the postseason with 12 teams looking to emerge with the Lombardi Trophy and end up as Super Bowl L champions. We've seen several teams already eliminated from playoff contention, which has thinned the field out considerably. Nearly half the league has been knocked out as 14 teams have seen their playoff dreams for this season dashed.
That still leaves 10 teams still alive in the playoff picture with varying levels of chances to make the postseason. Three teams are still in the hunt in the AFC South and in the NFC East: only one team will come up successful in those endeavors. The other two teams will be out of luck until next season. In the AFC, at least one team will end up missing the playoffs despite a winning record as the Steelers, Jets and Chiefs all have nine wins right now.
Who stands as the frontrunners as far as winning the Super Bowl this year goes? There are several teams that are viable contenders but there are those who stand out a bit beyond the rest of the group. Let's take a look at which teams are the top options to end up walking away with the Super Bowl victory in early February.
New England Patriots
It's only fitting to start the list of potential champs with the defending champions. New England, despite a lack of a marquee running back or much of a run game at all, continues to put together an impressive resume year in and year out. Injuries may have knocked LeGarrette Blount, Julian Edelman, Danny Amendola, Dion Lewis and a slew of other guys out of the lineup this season for extended periods but with Tom Brady and Bill Belichick in the mix, New England keeps humming along with the consistency of a metronome.
The Patriots are one of the top passing attacks in the league when it comes to passing offense as they are 2nd in the league averaging 302.9 yards per contest, which helps offset that they are 28th in the league in rushing by averaging 90.8 yards per game on the ground. New England is the league's 3rd highest scoring team with an average of 30.9 points per game; they rank tied for 6th in the league in scoring defense by allowing 19.2 points per contest. Tom Brady has completed 368 of 572 passes for 4,405 yards with 35 touchdowns and six interceptions while getting sacked 34 times. With Blount and Lewis out, the run game is down to guys like James White, Brandon Bolden or the recently signed Steven Jackson, who hadn't played all season. Edelman is the team's third leading receiver with 61 receptions for 692 yards plus seven touchdowns but is out with a broken foot; tight end Rob Gronkowski has 66 receptions for 1,072 yards plus 11 touchdowns while Lewis had 36 catches out of the backfield and Danny Amendola has 63 receptions for 631 yards and three scores. White has reeled in 33 passes for 319 yards and three scores out of the backfield; he has 21 grabs in the past three weeks. Stephen Gostkowski has booted all 46 extra points and 26 of 27 field goal attempts with a long of 57 yards.
New England has overcome plenty of adversity and can be considered a threat, especially in the AFC where other contenders are banged up as well.
Carolina Panthers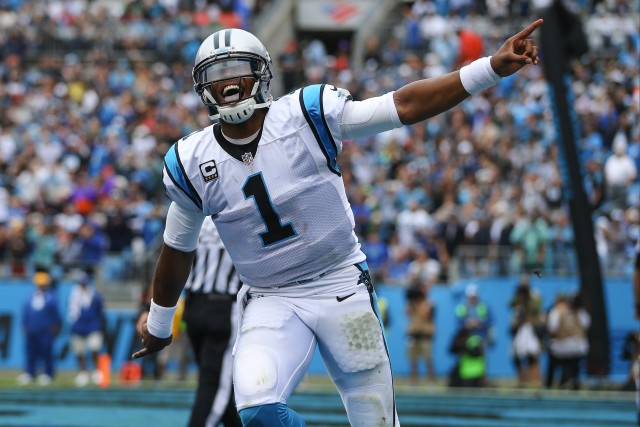 Carolina survived blowing a 28 point lead late in the third quarter to pull out a 38-35 win over the Giants last week. With the win, the Panthers went to 14-0 on the year and are just the fourth team to win their first 14 regular season games in a season. Dating back to last season, Carolina has won their last 18 regular season contests. The Panthers have been very good on the defensive side of the ball and Cam Newton is a viable MVP contender at this point in time. Carolina has already clinched a first round bye and will seal up home field advantage with a win or tie or an Arizona loss or tie in the last two games for both teams.
The Panthers enter this contest ranked 23rd in the league in passing offense (230.1 yards per game) while they are currently 3rd in the league in rushing with 144 yards per game. Carolina is 1st in the league in scoring offense with 32.1 points per game while they stand 6th in the league when it comes to scoring by allowing 19.4 points per game on the year. Cam Newton has completed 258 of 439 passes for 3,402 yards with 33 touchdowns and 10 picks while getting sacked 27 times; he's second on the team with 580 yards and seven scores on the ground. Jonathan Stewart is the leader in the ground game with 242 carries for 989 yards plus six touchdowns; Mike Tolbert is next in line in the running back department with 185 yards and a score. Greg Olsen leads the team with 71 receptions for 1,048 yards and seven scores. Ted Ginn Jr. (43 receptions, 730 yards, 10 TD), Corey Brown (25 grabs, 350 yards, 4 TD), Jerricho Cotchery (33 catches, 409 yards, 2 TD) and rookie Devin Funchess (24 catches, 353 yards, 4 TD) are secondary targets in the pass attack. Graham Gano is 50 of 53 on extra points and has hit 27 of 33 field goals with a long of 52 yards.
Carolina is the team to beat in the NFC and until someone can knock them off, the road to the Super Bowl in the NFC is going to go through Charlotte. Consider that the Panthers have beaten the Seahawks, Packers, Eagles, Giants and Redskins already this season and one has to wonder what NFC team has the moxie to beat Carolina.
Seattle Seahawks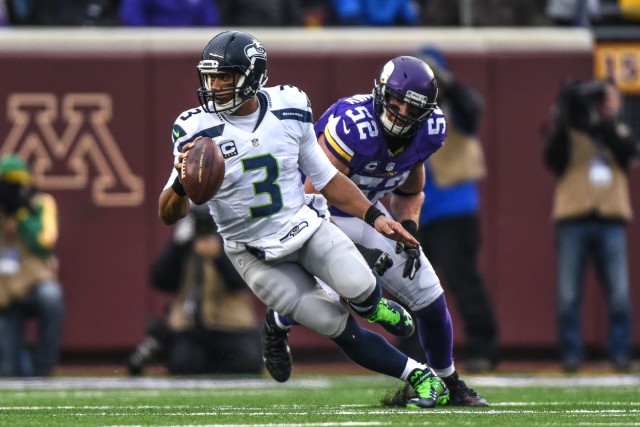 Earlier this season, it seemed logical to write off the defending NFC champions. The Seahawks were playing without Kam Chancellor, blew fourth quarter leads three times in their 2-4 start and couldn't get Russell Wilson going offensively. Since that point, Seattle has won seven of eight; five of those wins are by at least 16 points. Even without Marshawn Lynch and Thomas Rawls in the backfield with injuries, Seattle has been rolling along offensively. Rookie Kevin Lockett has been a tremendous addition to Seattle's offense and the defense has tightened up.
The Seahawks are 20th in the league in passing offense with 237.7 yards per game while they are 2nd in the league with 147.4 yards per game on the ground. Seattle is 7th in the league in scoring offense with 26.4 points per contest and the team is 2nd in the league in scoring defense as they allow 17.7 points a game. Russell Wilson is 285 of 414 passing for 3,538 yards with 29 touchdowns and seven interceptions while running for 502 yards and a score. Thomas Rawls was leading the team with 147 carries for 830 yards and four scores before going down with his ankle injury. Marshawn Lynch had 111 carries for 417 yards and three scores; with both of those guys out, it will be Fred Jackson, Christine Michael or the recently signed Bryce Brown at running back. Doug Baldwin has caught a team leading 65 balls for 905 yards and 13 scores while rookie Tyler Lockett has 46 grabs for 595 yards and six scores. Jermaine Kearse is a solid third receiver with 43 grabs for 613 yards and three scores. The team will miss Jimmy Graham, who had 48 receptions for 605 yards and two scores before going down with a knee injury. Steven Hauschka is 35 of 38 on extra points and 25 of 26 on field goals this season with a long of 54 yards.
Other Potential Candidates
It's hard to rule out NFC West champion Arizona, who has gone 12-2 on the year and will likely get a first round bye in the playoffs. The loss of Tyrann Mathieu for the Cardinals deals a major blow to their secondary and Chris Johnson being out in the run game has done some damage to the balancing of their offensive attack. Still, if Carson Palmer can hit Larry Fitzgerald, Michael Floyd and John Brown in the passing game, Arizona definitely has a shot.
Green Bay, Cincinnati and Denver are all teams that could fit in the mix but they have to overcome injury issues and personnel problems as well. A safe bet would be on one of the three teams previously mentioned. If your favorite team is out of playoff contention, who might you be looking at as your potential odds-on favorite in the race for the Lombardi Trophy?
Find the latest NFL news and Super Bowl 50 tips today!