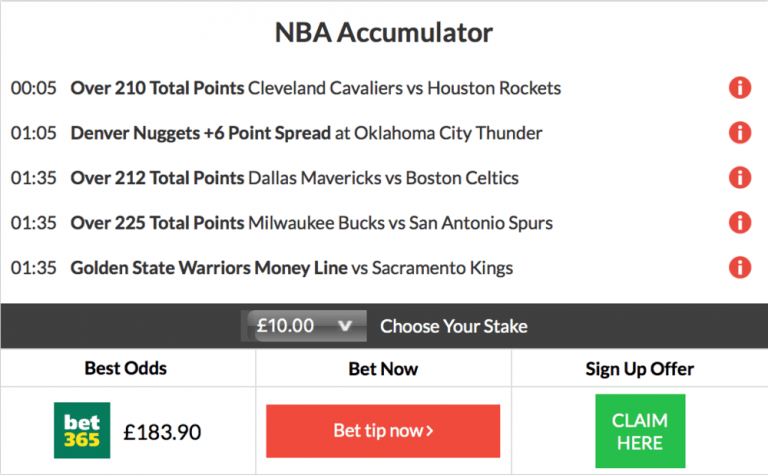 What a week we're having at FST! In 4 days we've  landed a 10/1 Overnight Accumulator, 11/1 Overnight Accumulator , 21/1 NBA Accumulator and now a 17/1 NBA Accumulator!
The accumulator consisted of 5 legs and here is how it all unfolded:
MORNING!

Wednesday: 10/1 Overnight Acca
Thursday: 11/1 Overnight Acca
Friday: 21/1 NBA Acca

Saturday: 17/1 NBA Acca LANDS!

WHAT A WEEK WE'RE HAVING AT FST! pic.twitter.com/6iafEASGs9

— Football Super Tips (@FootySuperTips) November 25, 2018
We start the night in Cleveland where the Cavs were hosting Houston Rockets. We required over 210 points for the leg to land, and at half-time the bet was looking promising with 121 points scored. The Cavs continued a dominant home performance into the second half, and ended the game with a final score of 117-108.
Next up was Oklahoma City Thunder vs Denver Nuggets. For the bet to land we required a good performance from the Nuggets, and that's exactly what was delivered. With a strong second quarter especially, the Nuggets led 63-42 at half-time. Although the Thunder won the final 2 quarters, they couldn't close the gap enough and the Nuggets walked out victors – landing the second leg of our accumulator.
We then travelled to Dallas where the Mavericks were hosting Boston Celtics. We required over 212 points, and we narrowly surpassed this with a final score of 113-104 (217 points). The Mavs now sit on a record of 9-9, and the Celtics 10-10.
Next we required at least 226 points in the game between Milwaukee Bucks and San Antonio Spurs. Our bet started well and by half-time there had been 135 points scored. The second half continued the high points scoring, and the game eventually finished 135-129!
Lastly we travelled to California where we required Golden State Warriors to beat Sacramento Kings. This was an extremely tight game and after 3 periods, Golden State only led by 2 points. A tense 4th quarter commenced and Sacramento Kings won the quarter, but only by 1 point meaning Golden State won 117-116! This landed the last leg of our accumulator and meant our 17/1 NBA accumulator wins!
Free Basketball Predictions
We are just warming up in terms on NBA bets this season! November is almost over, but the basketball season lasts until June, so be sure to bookmark our FREE NBA TIPS page so you don't miss out on any future winners!
Followers' betslips:
Our followers were once again kind enough to send in their winning betslips to us through twitter:
Happy with thi though, thanks again pic.twitter.com/b3h5nWqim5

— Colin Impey (@cdimpey) November 25, 2018
fantastic tipping , cheers pic.twitter.com/GwGPCz3mEC

— DARREN WILBRAHAM (@BEEFY1973) November 25, 2018
— Pearcy (@DJPearcy92) November 25, 2018
Woke up to this,top tipping,cheers pic.twitter.com/EOidrLBkkL

— Paul Steenson (@PaulSteeno31) November 25, 2018
Thanks lads pic.twitter.com/l1pLGbbZ3C

— Anthony Flanagan (@FlanPT5) November 25, 2018
Smashed it again. I would have cashed out if i wasnt in the land of nod pic.twitter.com/B3JsfFYQyq

— T70 (@BrasilFan70) November 25, 2018