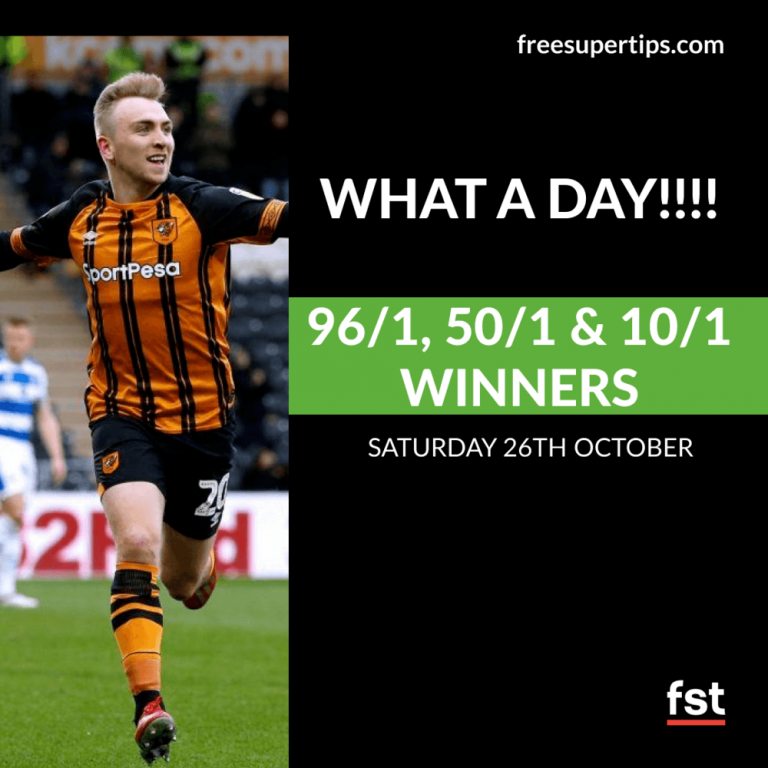 WHAT AN INCREDIBLE DAY! Our football tipsters have really pulled it out the bag today, landing not one, not two, but THREE accumulators! FST have landed a 96/1 Correct Score Double, 50/1 Mega Odds Accumulator and 10/1 Win Accumulator!
Here's how it all went down:
96/1 Correct Score Double:
Our 96/1 Correct Score Double took one game from the English Premier League, West Ham vs Sheffield United, as well as one game from the Championship, Hull City vs Derby County. We needed the former to draw 1-1, while we needed Hull to win 2-0.
It took until nearly half time to see a single goal in either game, but the deadlock was finally broken over at the London Stadium as Robert Snodgrass gave West Ham the 1-0 lead, which they took into half time. Lys Mousset levelled the scoring on 69 minutes, bringing the game to 1-1, the way we needed the game to end. Over in Hull we looked to be in some trouble as the game was still 0-0, but Hull's main man Jared Bowen finally got his name on the scoresheet after 74 minutes to make it 1-0, before doubling his tally just 6 minutes later to bring the score to 2-0. No more goals in either game meant that our first bet of the day was in! 96/1 Correct Score Double landed.
50/1 Mega Odds Accumulator:
The Mega Odds Accumulator and Win Accumulator unfortunately both had one game postponed bringing down the odds, those games were Nottingham Forest v Reading for the Mega, and Tranmere v Doncaster for the Win Acca. However that still left us with some healthy odds of 50/1 Mega Accumulator and 10/1 Win Accumulator.
Our 50/1 Mega Odds Accumulator required Sheffield United Double Chance away at West Ham, Brighton Double Chance at home against Everton, as well as wins from Birmingham, Huddersfield, Preston, Fleetwood and Ipswich.
As mentioned above, Sheffield United drew 1-1, and in the other Premier League game, it was certainly an entertaining match for the neutral. Pascal Gross gave Brighton an early lead on 15 minutes from a cross, before just 5 minutes later Adam Webster turned a Richarlison shot into his own net to level the scoring. There were no more goals until the 74th minute, where Calvert-Lewin looked to ruin our party by giving Everton the lead. Brighton were having none of it though, as Maupay drew the home side level, before a second own goal of the match from Lucas Digne gave Brighton all 3 points and won that leg of our bet.
In the Championship we got off to an absolutely torrid start, as we needed Preston to win against Blackburn, but saw the away side take a 2-0 lead after just 11 minutes thanks to another own goal, this time from Rudd inside a minute, before Gallagher made it two 10 minutes later. It took until the 2nd half for Preston to even net a single goal, but finally Barkhuizen made it 2-1 on 53 minutes. Johnson made it 2-2 from the penalty spot 12 minutes later, before Barkhuizen finished the comeback 8 minutes from time to land another leg of the acca.
Elsewhere in the Championship, Birmingham needed until just before half time to open the scoring, as Pedersen netted on 45 minutes. Cornick levelled the scoring for Luton, but Birmingham's main man Lukas Jutkiewicz regained his side the lead on 82 minutes and the game ended 2-1 to the good.
Huddersfield provided the most comfortable of the 3 Championship wins for us, with Christopher Schindler giving the Terriers the lead on 30 minutes. Ahearne-Grant doubled the hosts lead on 53 minutes, before Brown scored a consolation goal for Barnsley 11 minutes from time, the game ended 2-1.
From League One we needed just 2 more wins, namely from Fleetwood and Ipswich. Ipswich made light work of Southend, with Norwood scoring on 8 minutes to give the visitors the lead. Two more goals late on, from Norwood again and Jackson made it 3-0 to Ipswich, before Acauah gave Southend a late consolation, but the game ended 3-1. Fleetwood made us sweat a little bit more, with their game against MK Dons still goalless until the last 10 minutes. Finally, Evans gave Fleetwood the lead with 5 minutes to go, and with no more goals, they won the game and landed us the 50/1 Mega Odds Accumulator!
10/1 Win Accumulator:
Finally, we were left with the 10/1 Win Accumulator. We needed wins from Birmingham, Hull, Fleetwood, Ipswich and Doncaster to land this one. Unfortunately the Doncaster game was cancelled, reducing it to just a 4-fold. Birmingham, Fleetwood and Ipswich were all in the mega odds accumulator, while Hull were in the 96/1 Correct Score Double, so you already have the rundown of how those games went, all winning to land us a third accumulator for the day with a 10/1 Win Accumulator.
Free Football Predictions
Don't forget to bookmark our Free Football Tips page for even more winning accumulators!
Followers' betslips:
Here are some of our followers' betslips sent in to us on twitter:
Cheers lads pic.twitter.com/3YUTwwCIH6

— Thomas (@Hutson1996) October 26, 2019
Boooooooom pic.twitter.com/oyglFkPxyh

— Mark McBride (@McBrideAce) October 26, 2019
unbeliavable that Preston came back from a 0-2. I'm kinda upset I didn't bet the others but hey, I got something. pic.twitter.com/HTa6TtrRRo

— Heisenberg (@SrHeisenberg46) October 26, 2019
Well done boys!!! pic.twitter.com/5kokdJApJa

— John At Work (@JohnEye85) October 26, 2019
Lads!!! What a tip! Been following youse for a long time and won many Acca's. keep it up! pic.twitter.com/eE8H37R6r4

— Ryan (@RynaldoF14) October 26, 2019
Top work mate pic.twitter.com/XxRCikQU7j

— izzyred21 (@izzyred21) October 26, 2019
Thanks guys I just won something at last… Been a very long time I chop bet just say make i try 1cedi e give 50cedis pic.twitter.com/G5dgSK3pD7

— Ugeh° (@ugeh8) October 26, 2019
Awesome day today 🙂 Thx FST 🙂 pic.twitter.com/B2xFi0Ji8b

— David Steele (@DavidSteele2k13) October 26, 2019