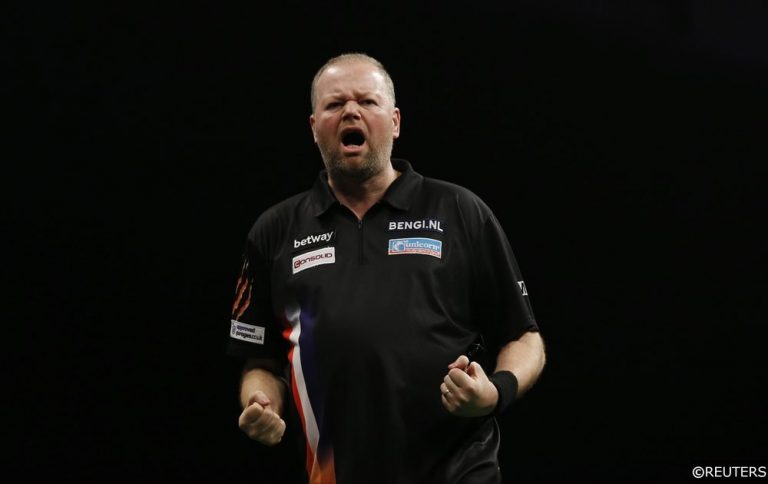 Content Editor at Free Super Tips, Alex was born in the shadow of Old Trafford and is an avid Man Utd fan. After graduating from university he combined his love of football, writing and betting to join FST and now closely follows goings-on in all of the top European leagues.
Live darts returns to our screens this week with the inaugural Modus Icons of Darts Live League 2020, which will be streamed live on bookmaker websites from 11am on Monday 6th April.
But what is the Modus Icons of Darts, when is it played and who are the favourites?
Icons of Darts format
The format of the tournament is a series of round-robin leagues that will take place daily from Monday to Saturday each week, with the overall champion being declared on Saturday May 2nd.
Players will compete from home using a webcam and live scoring and match stats will be available through DartConnect. Each match is best of nine legs and live streaming will be available on a variety of bookmaker websites, including our favoured bookie bet365.
Icons of Darts predictions and tips
We'll be updating our free Darts tips and predictions page daily with all the latest betting tips for the Icons of Darts 2020.
How to watch Icons of Darts 2020
Icons of Darts 2020 is available on a variety of bookmaker websites, but we recommend using bet365. All you need to do is sign up to bet365 via the link below and then fund your account. If you have a funded account, or if you've placed a bet in the last 24 hours, you'll see the option to live stream the Icons of Darts on the right hand side of your screen.
Icons of Darts schedule
Tuesday April 14
Paul Nicholson (90.8) 5-1 Jarred Cole (74.3)
Andy Jenkins (88.2) 5-3 Robert Collins (85.2)
Arron Monk (96.4) 3-5 Paul Nicholson (91.6)
Jarred Cole (74.2) 3-5 Andy Jenkins (84.4)
Robert Collins (96.8) 5-3 Arron Monk (100)
Paul Nicholson (86.6) 3-5 Andy Jenkins (83)
Jarred Cole (86.8) 5-2 Robert Collins (79.8)
Arron Monk (100.2) 5-0 Andy Jenkins (87.3)
Paul Nicholson (83.2) 5-4 Robert Collins (84.7)
Jarred Cole (90.4) 4-5 Arron Monk (88.5)
Monday April 13
11:00 – Jason Askew (91.4) 5-1 Paul Nicholson (85.6)
11:25 – Andy Jenkins (91.3) 5-4 Robert Collins (89.4)
11:50 – Arron Monk (94.6) 4-5 Jason Askew (93)
12:15 – Paul Nicholson (90) 2-5 Andy Jenkins (96.5)
12:40 -Robert Collins (81.5) 2-5 Arron Monk (94.6)
13:05 – Jason Askew (92.3) 5-1 Andy Jenkins (86.6)
13:30 – Paul Nicholson (83.7) 5-2 Robert Collins (77.6)
13:55 – Arron Monk (94.5) 5-4 Andy Jenkins (88.7)
14:00 – Jason Askew (84) 4-5 Robert Collins (81.3)
14:45 – Paul Nicholson (88.8) 3-5 Arron Monk (87)
6pm-10pm
Martin Adams v Raymond van Barneveld
David Evans v Ritchie Edhouse
Wessel Nijman v Martin Adams
Raymond van Barneveld v David Evans
Ritchie Edhouse v Wessel Nijman
Martin Adams v David Evans
Raymond van Barneveld v Ritchie Edhouse
Wessel Nijman v David Evans
Martin Adams v Ritchie Edhouse
Raymond van Barneveld v Wessel Nijman
Saturday April 11
11:00 – Andy Jenkins (91.3) 5-2 Mark Webster (84.6)
11:30 – Paul Nicholson (95.7) 5-3 Raymond van Barneveld (94)
12:00 – Wessel Nijman (97) 5-2 Andy Jenkins (89.8)
12:30 – Mark Webster (84.3) 1-5 Paul Nicholson (90.6)
13:00 – Raymond van Barneveld (79.4) 2-5 Wessel Nijman (83.2)
13:30 – Andy Jenkins (89) 2-5 Paul Nicholson (100.1)
14:00 – Mark Webster (91.1) 5-2 Raymond van Barneveld (84.6)
14:30 – Wessel Nijman (89) 5-3 Paul Nicholson (86.3)
15:00 – Andy Jenkins (86) 3-5 Raymond van Barneveld (90.2)
15:30 – Mark Webster (92) 5-4 Wessel Nijman (91.6)
Friday April 10
11:00 – Andy Jenkins (86.4) 5-1 Mark Webster (77)
11:30 – Paul Nicholson (92.3) 5-2 Raymond van Barneveld (93.3)
12:00 – David Evans (90.9) 5-4 Andy Jenkins (82)
12:30 – Mark Webster (91) 4-5 Paul Nicholson (90)
13:00 – Raymond van Barneveld (88.2) 3-5 David Evans (95.6)
13:30 – Andy Jenkins (90.3) 2-5 Paul Nicholson (89.2)
14:00 – Mark Webster (74.6) 4-5 Raymond van Barneveld (76.7)
14:30 – David Evans (95.5) 4-5 Paul Nicholson (92.6)
15:00 – Andy Jenkins (82) 3-5 Raymond van Barneveld (86.8)
15:30 – Mark Webster (95.1) 2-5 David Evans (98.3)
Thursday April 9
11:00 – Andy Jenkins (90.8) 5-1 Mark Webster (85)
11:30 – Paul Nicholson (83) 4-5 Wessel Nijman (85)
12:00 – David Evans (97.8) 5-2 Andy Jenkins (91.8)
12:30 – Mark Webster (82.4) 3-5 Paul Nicholson (83.2)
13:00 – Wessel Nijman (88.1) 2-5 David Evans (88.8)
13:30 – Andy Jenkins (80.2) 5-3 Paul Nicholson (84)
14:00 – Mark Webster (94.3) 3-5 Wessel Nijman (91.6)
14:30 – David Evans (90.2) 5-4 Paul Nicholson (83.3)
15:00 – Andy Jenkins (86.2) 3-5 Wessel Nijman (97)
15:30 – Mark Webster (83.5) 0-5 David Evans (97.6)
Wednesday April 8
11:00 – Andy Jenkins (98.5) 5-1 Mark Webster (84)
11:30 – Raymond van Barneveld (94.6) 5-4 Wessel Nijman (94.3)
12:00 – David Evans (97.6) 5-0 Andy Jenkins (90)
12:30 – Mark Webster (92.6) 5-3 Raymond van Barneveld (88.1)
13:00 – Wessel Nijman (92.7) 4-5 David Evans (95.2)
13:30 – Andy Jenkins (96.2) 5-2 Raymond van Barneveld (95.3)
14:00 – Mark Webster (88.3) 4-5 Wessel Nijman (97.5)
14:30 – David Evans (93.6) 3-5 Raymond van Barneveld (95)
15:00 – Andy Jenkins (87.2) 5-2 Wessel Nijman (92.4)
15:30 – Mark Webster (85) 1-5 David Evans (99.5)
Tuesday April 7
11:00 – Andy Jenkins (84.8) 5-4 Paul Nicholson (86.6)
11:30 – Raymond van Barneveld (84.9) 2-5 Wessel Nijman (89.5)
12:00 – David Evans (96.8) 4-5 Andy Jenkins (90.8)
12:30 – Paul Nicholson (91.2) 5-2 Raymond van Barneveld (80.6)
13:00 – Wessel Nijman (95.8) 5-3 David Evans (91.7)
13:30 – Andy Jenkins (89.9) 5-1 Raymond van Barneveld (92.5)
14:00 – Paul Nicholson (80) 1-5 Wessel Nijman (99)
14:30 – David Evans (88) 5-4 Raymond van Barneveld (92.4)
15:00 – Andy Jenkins (82.7) 2-5 Wessel Nijman (95.7)
15:30 – Paul Nicholson (89) 4-5 David Evans (87.5)
Monday April 6
11:00 – Mark Webster (73.2) 4-5 Paul Nicholson (79.5)
11:30 – Raymond van Barneveld (83.5) 1-5 Wessel Nijman (92.5)
12:00 – David Evans (82) 5-4 Mark Webster (83)
12:30 – Paul Nicholson (95.6) 5-2 Raymond van Barneveld (88.3)
13:00 – Wessel Nijman (100.6) 5-4 David Evans (97.4)
13:30 – Mark Webster (91.7) 5-4 Raymond van Barneveld (98.2)
14:00 – Paul Nicholson (94.5) 3-5 Wessel Nijman (94.3)
14:30 – David Evans (84.7) 5-3 Raymond van Barneveld (80.2)
15:00 – Mark Webster (76.8) 1-5 Wessel Nijman (96.7)
15:30 – Paul Nicholson (98.3) 2-5 David Evans (88.9)