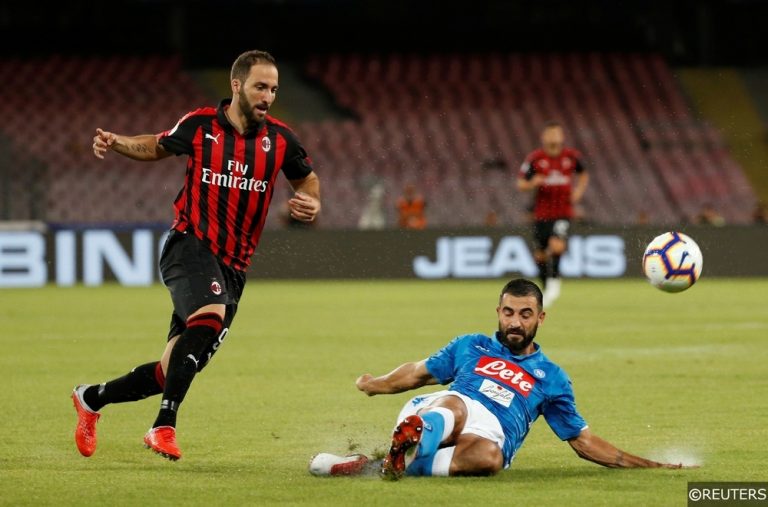 Before becoming a Sports Journalist for Free Super Tips, Aaron spent three years studying Sports Journalism at the University of Sunderland while taking in the Black Cats' 'glory years' under Martin O'Neill. Now back in Northern Ireland he turns niche stats into predictions for FST, while he's one of the few people on this island who is equally comfortable at Windsor Park and the Aviva.
Not long ago, this seemed like a season which would see an Italian tilt at Europe's second trophy. We expected one or two Italian sides to drop into the competition from the Champions League. There were also two big sides already in it from Serie A; AC Milan and Lazio. They've formed a big six in Italy, and that group of top sides made the Europa League look like an appealing trophy for a Serie A outfit
However, could we already be seeing that head downhill? The changing landscape in Italy seems to have switched focus for many of the elite sides. With crucial fourth matches in the Europa League group stage coming up, just how focused are the Italian giants on success in the competition?
Champions League Progress
As we've gone through, Italy's giants have been thriving in the Champions League this term. We expected a mixed campaign for the Serie A sides, as they returned to having four sides in the group stage. All four have done remarkably well in that competition thus far, and they won't even entertain the thought of dropping down a tier in Europe.
While we could yet see Napoli or Inter end up in the Europa League, and those two would clearly have the quality to do well in this competition. However, they have put themselves on the title trail with good form, along with their great results in Europe.
One side effect of their Champions League results is that it's a huge leap forward for Italian football. Juventus are no longer the only Serie A side able to compete on the continent. That will have inspired Lazio and AC Milan, but could it push them away from the Europa League in the short term?
Race for Fourth
As things stand, Italy's two Europa League sides are sitting fourth and fifth in the table. AC Milan and Lazio have swapped in and out of the top four in recent weeks, after falling slightly behind Juventus, Inter Milan and Napoli. That trio look too strong and too consistent to be tracked down, but that leaves fourth place open, with Roma struggling to keep pace with their rivals.
Italy's European race hasn't been an open one like we expected. Right now, that two team fight looks like it could last the season. Their respective chances of making it have to be questioned, with AC Milan already looking around for other managers, despite Gennaro Gattuso putting together a three game winning run. Arsene Wenger has been linked, and he's a man you'd back to take a team to a top four finish.
Lazio aren't a side you'd have much faith in, given their bottle-job last season. They passed up key opportunities to secure fourth, and went to the wire on the last day of the season. A 3-2 loss at home to Inter on the final day left them in fifth, despite spending most of the season in position to return to Europe's elite competition. Now they're back in a tight race with another one of the Milan clubs, so it's hard to avoid questioning the Aquile's chances of getting ahead in the Champions League chase.
Given that AC Milan and Lazio are currently trading blows in Serie A, the temptation is bound to be there to rest players in Europe. That's something the sides have done to a degree so far, and with a looming international week they could take that even further on Thursday night. With much more pressing concerns, this could be a move away from the Europa League for these two clubs.
The Back Up Plan
While winning silverware is great, it's hardly the main inspiration for a Europa League run these days. The competition has stepped up in importance after the added prize of a Champions League spot. Manchester United made the most of that with their win in 2017. Even Atletico Madrid have benefited, as they were in the top pot of seeds for this year's group stage draw.
The tournament is likely to become more and more important, as Champions League money is becoming increasingly important for clubs in Europe. Premier League sides can swallow a year in fifth, but many others can't. That makes the Europa League a distraction for the likes of Chelsea and Arsenal. However, the likes of AC Milan and Lazio can't see it that way. For them, it's their top four back up plan.
While making the top four could see rotation from the clubs this week, their goal is still to make the last 32. They want to be in the mix come February, so they can have a second chance to return to the biggest stage in Europe. After all, one of Milan and Lazio won't be able to make the top four. Despite that, they each have players good enough to fire them to glory in the Europa League.
While Italy is riding a wave in Europe, two of their giants are still short of the biggest stage. Both clubs will be relying on their squads to get them past the first hurdle. We could even know which of the pair need Europa League success later this month. Lazio host Milan in a huge top four clash before the end of November, days before Europa League action. With both clubs facing their fair share of setbacks in recent years, they each need to keep their options open.
Follow Free Super Tips on Twitter to stay up to date with our daily tips and predictions or browse more football content on our website: