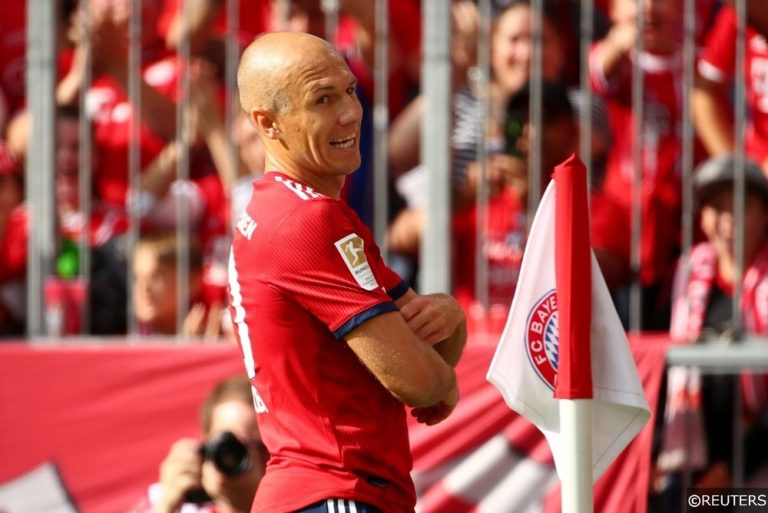 A lifelong Birmingham City fan, Tom relocated to Germany for five years after graduating from university, where his interest in the Bundesliga developed. He began writing about and betting on German football for FST in 2016. He's also an avid fantasy football player and closely follows the Premier League and European competitions.
Arjen Robben has announced he will leave Bundesliga giants Bayern Munich at the end of the season after 10 years with the club.
Robben, now 34, joined Bayern in 2009 from Real Madrid and has since won seven league titles, four DFB Pokals and the 2012/13 Champions League.
His statement
"I can say that this is my last year [at Bayern] and it's good like that," Robben said. "I have come to the decision by myself.
"I think it is the right moment after 10 years. The club moves on… and maybe I will go on too! It is the end of a very good and long period."
The Dutch winger, who has also won titles with PSV, Chelsea and Real Madrid, added that there's a chance Bayern Munich won't be his last club.
"I may move on. I won't stop completely yet," he said.
His best Bayern goals
Robben has been regarded as one of the best wingers in the world throughout his career, but have you ever seen him use his right foot? Has anyone?
It doesn't matter when your left foot is as good as his!
Where might he go next?
Should Robben choose not to retire at the end of the season, reports from the German media are suggesting that a return to his second club, PSV Eindhoven, could be on the cards for the 34-year-old.
Robben won the Eredivisie with PSV in 2002/03 and that move would also see him return back to his home country, the Netherlands.
When asked earlier this year whether he could see himself in the MLS, China, or Qatar, Robben also responded (via ESPN):
"That's exactly the current topic of conversation at my kitchen table at the moment when talking to friends and family… A lot is still open but I have already ruled out certain things in my head—but they are staying private."
What's your favourite Arjen Robben moment? Let us know over on our Twitter!
Keep up to date with all our predictions, betting tips, match previews and news on the German top flight over on our Bundesliga page.