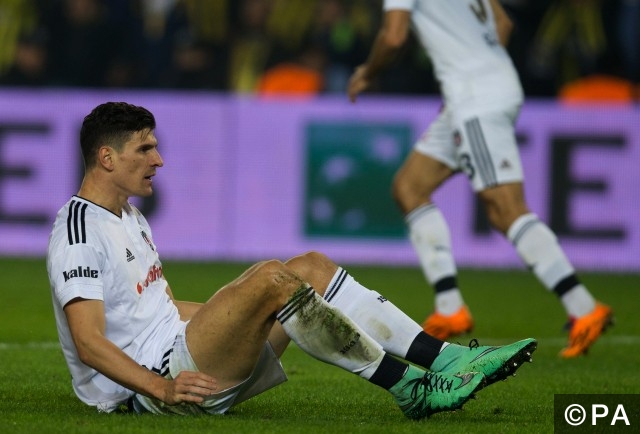 Mario Gomez – Barcelona
The last of Germany's great recognised strikers, Mario Gomez, could be heading for a move to the new camp following the end of his loan deal at Besiktas. He was interested in a permanent deal with the Turkish champions, but the political problems in Turkey made it an unsafe place for him and his family to be, hence he's been looking elsewhere for a move.
His next move couldn't get much better than to Barcelona, who are desperately looking for a back-up to their lethal front 3 of Messi, Suarez and Neymar. He doesn't fit the style of play that those 3, or the rest of Barcelona play, so it would be interesting how Luis Enrique intends to use him, but there is no denying that the 31-year old has the ability to net some goals in the absence of a higher profile name.
Borussia Dortmund are also rumoured to be linked with the striker, but it is unclear whether he would get much game time at the Signal Iduna Park either, with Gabon forward and African Player of the year Pierre-Emerick Aubameyang a permanent fixture in the starting 11 as the lone striker. He may just play as a back-up striker, however Thomas Tuchel already has Adrian Ramos at his disposal so he isn't really necessary for Tuchel's squad.
Gomez's career has been a real mixed bag, with incredible moments being plagued with spells of injury and poor performance. In the 2006-07 season, he fired home 14 goals in 25 appearances to help Stuttgart win the Bundesliga – a feat they had not accomplished for 15 years previous and have not done again since. The next season the rest of his team could not maintain the same level of performance, but Gomez did, scoring 19 goals in 25 appearances.
He then moved to Bayern Munich, where he experienced a poor first season, before having the best season of his career in 2010-11, scoring 28 goals. He kept up this form the next year, scoring 26 goals in 33 appearances, although in neither season did Bayern actually win the league.
A poor season after, which saw him fall down in the pecking order at Bayern, left him little option but to look for a move elsewhere. This resulted in the move to Fiorentina in 2013, where he made 29 appearances and scored 7 goals in 2 years.
He regained his form on loan at Turkish champions Besiktas, firing 26 goals in 33 appearances to lead them to a Super Lig triumph, putting him on the radar of many top Champions League sides.
https://www.youtube.com/watch?v=Ut9K8nF2ROg