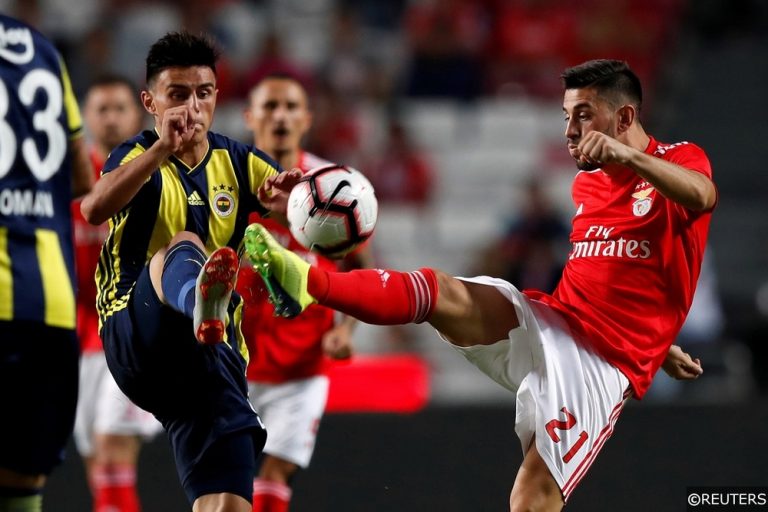 Before becoming a Sports Journalist for Free Super Tips, Aaron spent three years studying Sports Journalism at the University of Sunderland while taking in the Black Cats' 'glory years' under Martin O'Neill. Now back in Northern Ireland he turns niche stats into predictions for FST, while he's one of the few people on this island who is equally comfortable at Windsor Park and the Aviva.
Despite boasting the reigning European Championship winners, domestically Portuguese football is struggling. The Primeira Liga's impact on the top European competitions is waning, and the domestic league seems to be experiencing a drop-off. While they currently have problems, the landscape could be changed across a massive double header of big games this week.
Saturday night brings us the Lisbon derby between Benfica and Sporting, one of the biggest games of the season. Meanwhile, Benfica follow up that clash with the second leg of their Champions League play-off tie. They're in Greece on Wednesday to face PAOK, needing a positive result after a 1-1 draw in the home leg.
Are we going to see shoots of recovery for Portuguese football in those two clashes? Or will this week strike a blow to the Primeira Liga's top sides? Ahead of those two huge games, we're running through these two huge games, and all of the big talking points surrounding them.
Read More: Benfica vs Sporting Betting Tips and Predictions
Can Sporting Stay Competitive?
Portugal has traditionally been topped by their historic big three; Porto, Benfica and Sporting. However, underperformance in Europe saw the Primeira Liga lose one of their three slots in the competition, a blow to keeping the top three competitive.
That resulted in a race for second between the two Lisbon giants last season, after Porto wrapped up the title. Benfica finished above Sporting on the final day, which rocked the Lions. Tensions grew with supporters, and a crowd of 50 people raced in to their training ground and assaulted the players. The squad blamed chairman Bruno de Carvalho for stoking those tensions, and some used that to engineer a move away.
Sporting have lost key players, including William Carvalho, Rui Patricio and Gelson Martins. While some reversed their decision and decided to stay, Sporting are now struggling to match their rivals. With a big three monopoly already in place, the last thing Portugal needs is another side dropping out.
Sporting have changed chairman, brought in a new manager and started well. They've made a perfect start with two wins from two, so their clash with Benfica is key. If they can match the Eagles, then their comeback looks on and this could be a competitive campaign. The last thing the league needs is to see the Lions completely outclassed after a summer of turmoil.
Benfica Must Avoid Greek Tragedy
However, an in form Benfica might benefit Portuguese football. The dethroned champions have also been victims of the European changes. After years of taking an automatic Champions League place, they play in the qualifiers for just the third time in 10 years. They were last in this round back in 2011, while they last went out before the group stage back in 2004.
Benfica are at risk of missing the group stage, after eight consecutive years in the last 32 of the competition. That would be a huge financial blow, as they're set to earn over £35million from appearing in the next round alone. After conceding an away goal against PAOK, the Portuguese side are in real danger of losing that windfall.
Wednesday's meeting in Greece will be crucial to Benfica. They can't operate as they are without that budget boost. If they struggle in the away leg, then they'll need to make changes. On top of that, the Primeira Liga would be down from three group stage representatives last season to one. Without Benfica impressing in the Champions League, they can't start to rebuild their European reputation, and earn back a third slot in the competition. Portugal is currently the seventh highest ranked association in European club football, and the top six get a minimum of three entrants in to the Champions League. All of those six have yet to see one of their sides eliminated from Europe in 2017/18, while Portugal have already lost two of their five entrants.
Can the League Regroup?
Obviously a European exit is a temporary setback in many cases. However, Benfica are going to be left a little short if they lose on Wednesday. Should they miss out, they're going to have to fund that £35million from somewhere. Transfer targets will be on hold, while players could depart ahead of the close of the transfer window at the end of the month.
With Porto now champions, they're going to need challengers. The sides out of the top three can't strong enough to flourish on the European stage or break in to the top two. Meanwhile, Sporting have too many question marks to be considered serious challengers any time soon. Should Benfica crash out of the Champions League, their rebuild may be put on hold. Their title winning side suffered big losses last summer, and that's not going to be easy to fix amid budget cuts.
The Primeira Liga is at its best with all of the three big guns pushing for the title. It's not even that long ago that Braga were fighting at their level and making the Champions League group stage. Portugal can boast some of the big names of European football, so they shouldn't be in this state. Things can get better; a competitive Lisbon derby and progress for Benfica would certainly be signs of recovery.
Follow Free Super Tips on Twitter to stay up to date with our daily tips and predictions or browse more football content on our website: