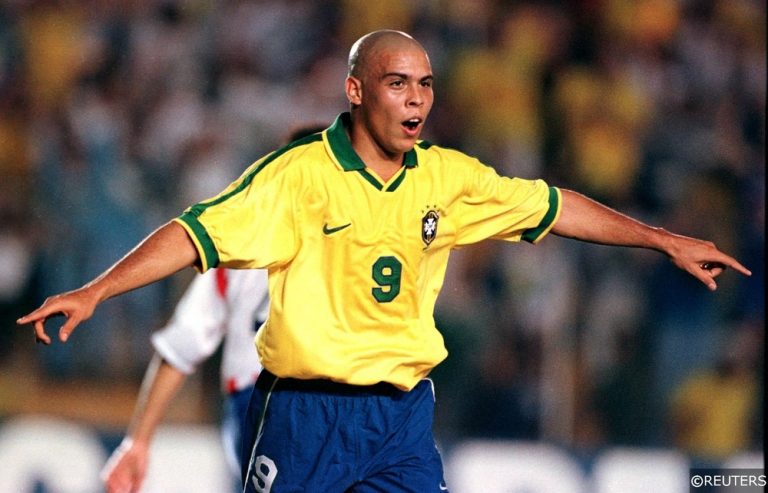 Simon Winter
@simonjwinter
Born in the south east of Ireland, Simon put his life-long love of football to good use when he started a successful independent blog in 2010. That opened up an alternative route to a career in journalism, and having had work published across a number of sites and publications, Simon joined the staff at Spotlight Sports Group in 2018.
In the first of our Best Ever World Cup XI Series, we focus on the tournament's most successful nation – Brazil. Affectionately referred to as O Canarinho (the Canaries) or simply Seleção (the squad) by their devotees, Brazil have won the World Cup a record breaking 5 times.
Alongside their repeated success, Brazil have won admiration the world over for their iconic Joga Bonito (The Beautiful Game) playing style. Favouring tricks, flicks and individual flair over tactical discipline and methodical play, the Brazilian national team play with a carefree swagger that has made them everybody's second favourite team.
Watching the Canarinho dance around the pitch to the soundtrack of their supporters' rhythmic drumming from the stands, you can almost feel the sand of the Copacabana beach between your own toes.
Some of the best players to have ever kicked the leather in anger have donned Brazilian shades of yellow. Below we will attempt to sift through the talent to pick our all-time best Brazilian World Cup XI.
Read more: Brazil name 2018 World Cup squad as Tite's men target redemption in Russia
Goalkeeper – Gilmar
"The goalkeeper is the team's solo star, an artist all on his own. He dances to a different tune. He has to jump and then stand around doing nothing, things that no one else has to do. He has more responsibility than the forwards, because it's there that the game is won and lost. And at the end of the day everyone's always got a shoulder to cry on, everyone, that is, except the goalkeeper." Gilmar from an interview with Fifa.com
Gilmar was Brazil's number one in both of their World Cup 1958 and 1962 winning teams. In total, Gilmar was capped 104 times for his country and conceded just 95 goals. Remarkably, he was on the losing side just 16 times.
Gilmar appeared in three World Cups in all, adding two appearances at the 1966 tournament in England to those he racked up in Sweden and Chile.
Also part of the same all-conquering Santos club side as Pele, Gilmar was famed for his hair-trigger reflexes and his unflappable disposition.  He was voted as the "Best Brazilian Goalkeeper of The Century" in 1999.
Right Back – Cafu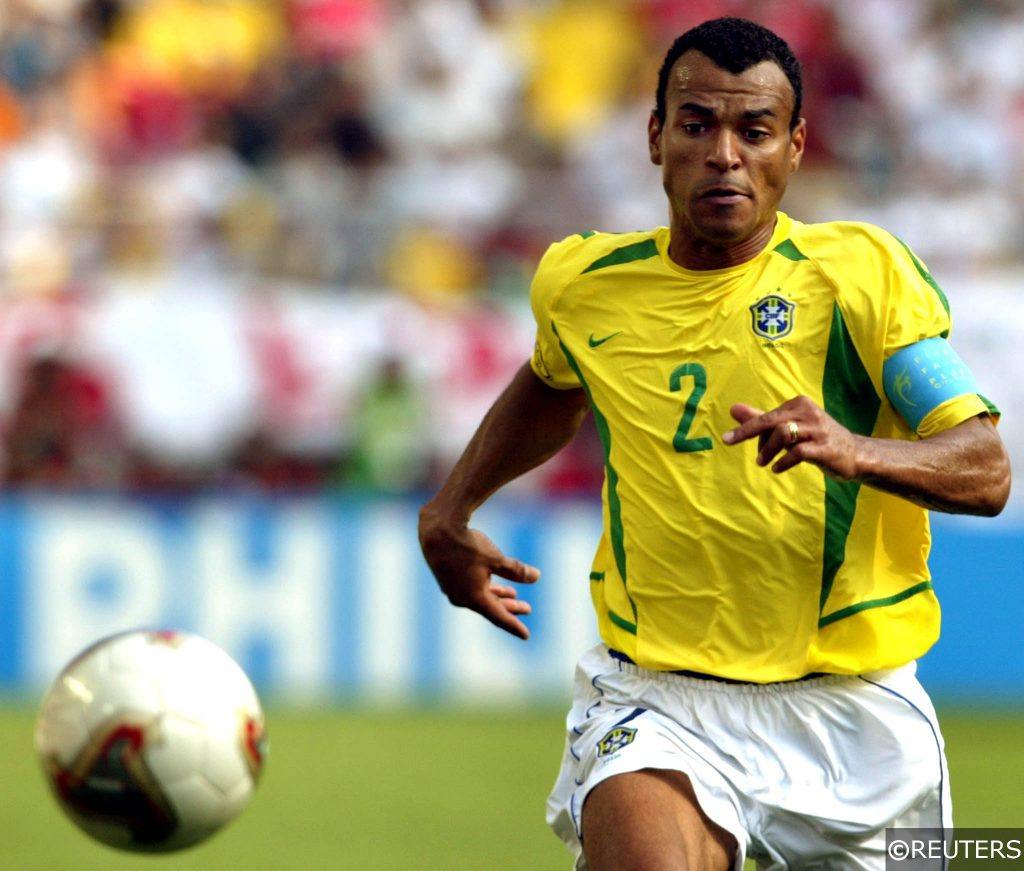 "He is not only a defender, he is an all-round footballer, and he can do everything. I played against him in Italy when he was with Roma, and he never stopped running up and down the right side of the field. He has brilliant energy and stamina, and oh, what skill too." – Laurent Blanc
An array of phenomenal players have played at right back for Brazil including Djalma Santos, Jorginho and Carlos Alberto, though Cafu is widely considered to be the best in that position in the history of the game.
In many ways, Cafu was ahead of his time. The Sao Paulo trailblazer set the standard for the more attacking full backs of the modern era. Cafu dominated the entire right flank on his own, combining endless energy reserves and relentless running with his flawless technique.
Cafu appeared in four World Cup tournaments in all, including a run of three successive Finals. Cafu was part of Brazil's 1994 winning team and he lifted the trophy himself as captain in 2002. Cafu made 142 appearances for his country, scoring 5 times.
Left Back – Nilton Santos
"I have never envied today's players money but the freedom they have, to go forward." – Nilton Santos
While many would have chosen Roberto Carlos as Brazil's best ever left back, Nilton Santos was the originator of the attacking left back role. In fact, historians have labelled him football's first ever "wing back", making Nilton Santos a pioneer as well as a serial winner.
Playing like frustrated attacker pressed into a deeper position on the pitch, Nilton Santos would explode down the left flank like a hare released from a trap at any opportunity. Defensively, the Botafago disciple was as robust as any, but his attacking talents stood him apart.
Known as 'The Encyclopedia' for his extensive football knowledge, Nilton Santos was part of the 1958 and 1962 World Cup winning teams. He collected 75 caps in total during his international career and scoried 3 goals.
Centre Back – Bellini
"Bellini forever won a place in the heart of every Brazilian by lifting the Cup with both hands." – former Brazilian President Dilma Rousseff
The most prominent monument to Brazil's illustrious football history outside the Maracanã Stadium in Rio isn't a sculpture of Pele, Ronaldo or Zico. Standing proudly in isolation at the front of the venue is a likeness of central defender Bellini, holding aloft the Jules Rimet trophy in his right hand.
Bellini captained Brazil's first ever World Cup winning team in 1958, crowning one of the greatest moments in the country's history. Bellini was a member of Brazil's successful 1962 squad too and also played at the tournament in England four years later.
Beillini played over 600 games for Vasco da Gama and Sao Paulo. He was capped 51 times for Brazil between 1957 and 1966.
Centre Back – Domingos Da Guia
"To the east, the Wall of China. To the west, Domingos da Guia. There has never been a more solid centreback in football history"– Uruguayan Sports Writer Eduardo Galeano
Nicknamed "The Divine Master", Domingos Da Guia never actually won the World Cup with Brazil. Nevertheless, he is regarded as the best player to play in his position for the Seleção.  The one man defensive blockade did appear in four matches at the 1938 World Cup in Italy, helping a largely unfancied Brazil all the way to a 3rd place finish.
His performances in that competition sent his reputation sky rocketing to new heights, though the outbreak of war in Europe meant that Domingos Da Guia would be denied a chance to enhance that reputation further by appearing at successive World Cups.
The defender amassed 30 caps for Brazil between 1931 and 1946. Domingos Da Guia is thought of just as highly at club level and is regularly selected in both Corinthians' and Flamengo's all-time greatest teams.
Right Wing – Garrincha
"When he was on form, the pitch became a circus. The ball became an obedient animal, and the game became an invitation to party. Garrincha would shield his pet, the ball, and together they would conjure up some wonderful tricks that would have the spectators in stitches". – Uruguayan Sports Writer Eduardo Galeano
Garrincha was born in 1933 with a deformity of the spine that left his right leg bent inwards and his left curving outwards.  However, the "Angel with crooked legs" had a river of genius flowing through him that washed away any hint of physical limitation.
Considered on a par with Pele in his prime, Garrincha had an ability to weave past tackles and wrong foot defenders, leaving them chocking on his exhaust fumes as he streaked past them down the flank.
Garrincha was part of Brazil's World Cup winning teams of 1958 and 1962, voted Player of The Tournament in the latter. He pulled on the yellow jersey 50 times in total, scoring 12 goals.
Read More: Potential breakout stars of World Cup 2018
Left Wing – Jairzinho
"When I took off with the ball, it was hard to stop me."– Jairzinho
Labelled "Furacão da Copa" or "The World Cup Hurricane" by the Brazilian media, Jairzinho was an attacking force of nature. Although he preferred to operate on the right hand side, Jairzinho was equally adept on the opposite flank.
Jairzinho was lightning quick, physically imposing and could occupy an entire defence on his own. He strut about the pitch with a certain braggadocio, though he had all the skill he needed to back up his swagger.
Jairzinho played in the 1966 World Cup, though he was overshadowed somewhat by several of his team mates. Four years later at the 1970 World Cup, he thundered into prominence, scoring in every round of the competition en route to lifting the trophy itself.
Between 1964 and 1982, Jairzinho played  81 times for his country, scoring 33 times in the process.
Central midfield – Zico
"Throughout the years, the one player that has come closest to me is Zico". – Pele
The original "White Pele" (sorry Wayne), Zico is considered one of the best players to have never won the World Cup. One of the finest free kick takers in the history of the game, Zico brought his own brand of footballing perfection to three World Cup tournaments in 1978, 1982 and 1986.
The diminutive schemer was gloriously ambipedal and could ping passes with laser like accuracy off both feet. Alongside his trademark set pieces, Zico was famed for his "no look" passes that would send defenders chasing after figments of his imagination.
Zico's ability was never rewarded with the ultimate prize it deserved, though he is still accepted as being one of the finest players ever produced in Brazil. Over a decade playing with Brazil, Zico collected 71 caps and scored 49 goals.
Central midfield – Didi
"I'm nothing compared to Didi," he said. "I'll never be anywhere near as good as he is. He's my idol, the guy I look up to. The very first picture cards I bought were of him." – Pele
Didi or Waldyr Pereira was the very definition of a complete midfield player. Standing at just 5 feet 7 inches tall, Didi never allowed himself to be physically dominated by any opponent. His range of passing was exhaustive and he could strike a ball at goal as cleanly as the most polished of centre forwards.
Didi was the first proponent of the knuckle-ball free kick technique, hitting the dead ball so that it would dip dramatically at the end. Didi titled his invention the "Folha Seca" or "Falling Leaf". Rumour also has it that Didi was the first person to refer to football as "the beautiful game".
Having competed in three World Cups in 1954, 1958 and 1962, Didi became a winner twice and his wonderful performances in the competition in Sweden earned him the Player of the Tournament award in '58. In total, Didi turned out for Brazil 68 times and scored 20 times.
Forward – Ronaldo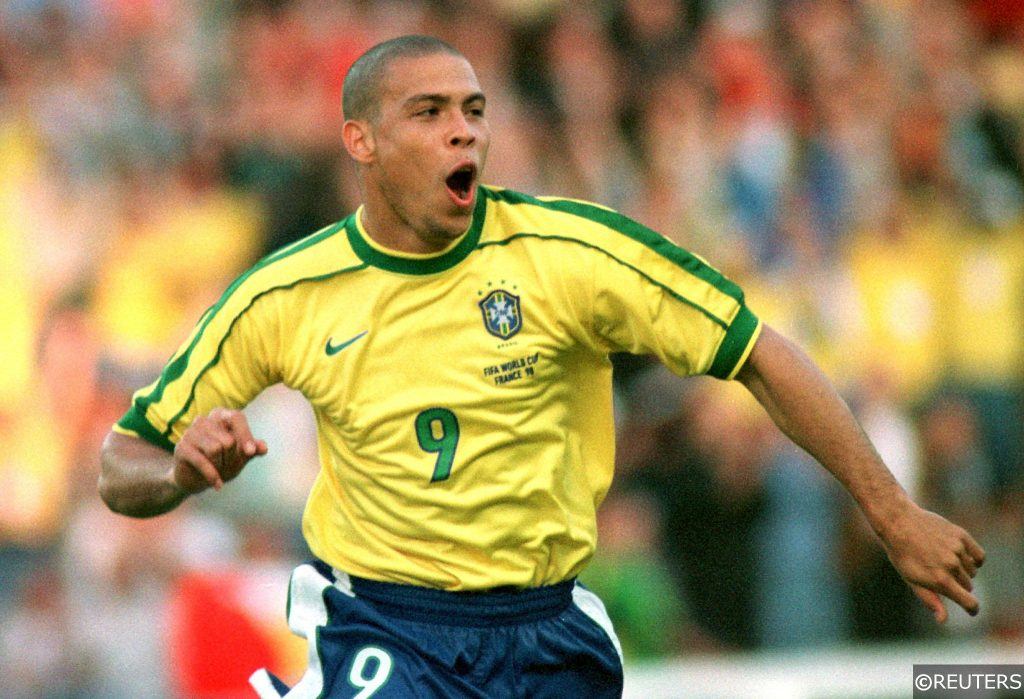 "Without hesitation, Ronaldo is the best player I ever played with. He had such an ease with the ball. He is number one. Every day I trained with him, I saw something different, something new, something beautiful. That's what makes the difference between a very good player, and the exception, who, for me, is Ronaldo" – Zinedine Zidane
Watching O Fenômeno play football was a religious experience. Rarely has a footballer been so universally loved. When Ronaldo set off on one of his defence splintering runs, time seemed to stop. Inside that vacuum, skill and power mixed to perfection and then personified was capable of doing just about anything with a football.
Ronaldo played for a whole host of the world's biggest clubs including Barcelona, Real Madrid, Inter and AC Milan, but his magic helped him to transcend rivalries and place him well above the hate that's usually reserved for players who dare to make the switch to a direct rival.
Ronaldo watched on from the bench as Romario and Bebeto inspired Brazil to victory at the 1994 World Cup. The student soon became the master and Ronaldo was one of the best players on planet by the time the next World Cup came around in 1998. A mysterious injury deprived the world of the true Ronaldo in the final that year, though he scored 8 times to help Brazil to win the Cup four years later.
Injuries would blight the end of Ronaldo's career, though he still scored a sensational 62 goals in 98 appearances for Brazil between 1994 and 2011.
Forward – Pele
"Pele was the only footballer who surpassed the boundaries of logic." – Johan Cruyff
Though his legacy has been challenged in recent years by Lionel Messi, Pele is still considered by most to be the greatest player of all time.
Pele remains the only player to have won the World Cup on three separate occasions. After lifting his first World Cup as a 17-year old in 1958, Pele went on to win his second title in 1962 before winning it again with Brazil in 1970.
Pele scored an incredible 77 goals in 92 appearances for Brazil. It would much more appropriate to let his peers describe just how good he was:
"There's Pele the man, and then Pele the player. And to play like Pele is to play like God." –  Michel Platini
"We went up together to head a ball. I was taller, had a better impulse. When I came back down, I looked up in astonishment. Pele was still there, in the air, heading that ball. It was like he could stay suspended for as long as he wanted to." – former Italy defender Giacinto Facchetti
"I sometimes feel as though football was invented for this magical player." – Sir Bobby Charlton
"He is the most complete player I ever saw." – Franz Beckenbauer
Follow Free Super Tips on Twitter to stay up to date with our daily tips and predictions or browse more football content on our website: