The season is drawing to a depressing close this month but the excitement isn't over just yet. Top of everybody's list is the battle for the most prestigious prize in club football: The Champions League.
The first leg of the semi finals last week brought us a healthy dose of drama and intrigue, with Ajax kicking off proceedings with another shock win away to Spurs as the two underdogs battle it out for a spot in Madrid. 24 hours later and two of the pre-season favourites locked horns, with the phenomenal experience and quality of the Barcelona wrecking ball treating 90,000 Camp Nou spectators to a ruthless dismantling of last season's finalists Liverpool.
Just a couple of months ago it looked overwhelmingly likely that at least one English club would be gracing the Wanda Metropolitano with their presence this season, but heading into the last round of fixtures before the Champions League Final it's looking increasingly unlikely. Still, stranger things have happened!
While our Champions League predictions, betting tips, and match previews dive into great detail around the more familiar betting markets, we're focusing on some of the more underused specials markets on offer here.
Liverpool vs Barcelona
Liverpool Over 5.5 Shots on Target at 11/10
After so many incredible turnarounds over the last couple of seasons, including Barcelona being dumped out against AS Roma last season after a 4-1 win at the Camp Nou, the Catalan giants will be treating their trip to Anfield with the utmost respect.
Liverpool may be without Mohamed Salah and Roberto Firmino on Tuesday, but they have proven an overwhelming force of attacking nature at Anfield this season. They have averaged 5.6 shots on target across their five Champions League home games this season, and that rises to an impressive 6.5 shots on target per game in all competitions at Anfield.
With a 3-0 deficit to try and reverse, Klopp's men will be coming out all guns blazing on Tuesday. They put Barcelona under heavy pressure at the Camp Nou last week and registered five shots on target there, so them putting Marc Andre ter Stegen to the test more than five times looks good value for money.
Virgil van Dijk Over 67.5 Passes at 5/6
He chips in with goals, makes timely interceptions, and builds up Liverpool's attacking play from the back. Is there anything Virgil van Dijk can't do? Apart from track runs from Luis Suarez, that is.
van Dijk has made at least 70 passes in three of his four Champions League home appearances this season, and if you bring the Premier League into the mix he has only failed to surpass 67 passes in eight of his 22 home appearances all season. His average passing rate stands at 75.5 passes per game across the board this season, and that rises significantly to 81.9 per game when on home soil.
Gerard Pique Under 1.5 Tackles at 11/10
Liverpool's commanding centre back may be a stellar performer, but when it comes to defensive mainstays you'd be hard pushed to improve upon Gerard Pique. The Barcelona man certainly wouldn't look out of place in a midfield position, but his incredible reading of the game and uncanny knack for being in the right position make him one of the greatest central defenders still in the game.
This positioning and understanding of the game means that he's actually not called into defensive action very much. Pique has only made more than one tackle in three of his 10 Champions League outings this season, including just one of his five appearances away from home. This isn't exclusive to the Champions League either – He has made more than one tackle in just 10 of his 33 La Liga appearances this season and averages 1.1 tackles per game overall.
Find all of our predictions and betting tips for this game in our Liverpool vs Barcelona match preview here.
Ajax vs Tottenham Hotspur
Hakim Ziyech Over 3.5 Shots at 4/7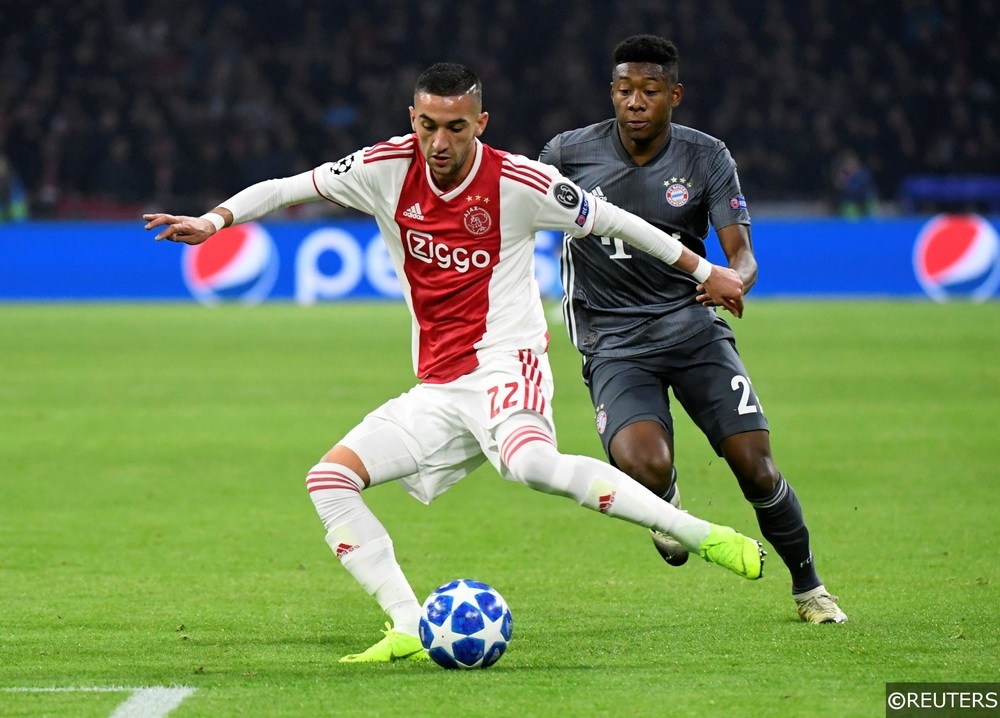 So much of the praise aimed in Ajax's direction this season has been deservedly heaped upon the likes of Matthis de Ligt, Frenkie de Jong, and Dusan Tadic. However, Hakim Ziyech isn't one to be ignored, and it's safe to say that the 26 year old Moroccan certainly likes a pop at goal.
Only Lionel Messi and Cristiano Ronaldo have averaged more shots than Ziyech's 4.9 shots per game in the Champions League, and the Ajax man has taken a pop at least four times in seven of his 10 Champions League appearances this season. This includes more than three shots in four of his five away games in the competition, and between that and the Eredivisie he has failed to register more than three shots in just six of his 37 appearances, with only two of these failures coming in Amsterdam.
Frenkie de Jong Over 63.5 Passes at 5/6
Ajax's starlet midfielder will be itching for the chance to face off with his future employers in Madrid later this month, and in true Barcelona style it's his passing rate that impressed the Catalan club enough to shell out 75m Euros for him.
de Jong has made at least 64 passes in 29 of his 39 Eredivisie and Champions League appearances this season, but that statistic doesn't tell the half of it. Eight of his 10 failures to do so came when he didn't play the full 90 minutes, and his two failures in the Champions League both came away from home.
In fact, every single time Frenkie de Jong has played the full 90 minutes at home this season he has made more than 63 passes, so this looks a cracking price.
Tottenham Over 3.5 Shots on Target at 8/11
This tie is far from over at 1-0, but Mauricio Pocchettino knows that he needs to put this Ajax team under pressure on Wednesday. Judging by their past performances, Spurs shouldn't have much trouble in this regard.
They have averaged an impressive 5.1 shots on target per game this season, rising to 5.5 per game in the Champions League. This figure rises further still when away from home in the competition, where they have tested the keeper 6 times per game on average.
This includes at least four shots on target in all but one of their Champions League away days, and they're facing off with an Ajax side not renowned for their defensive approach to the game. The Dutch club have allowed their opponents four or more shots on target in three of their five Champions League home games, so backing Son and company to put Onana under heavy pressure looks a good move.
Find all of our predictions and betting tips for this game in our Ajax vs Tottenham Hotspur match preview here.