The draw for the 2016 Centennial Copa America took place on Sunday and thus the countdown to this summer's tournament – a special edition of the Copa America to celebrate the 100th anniversary of CONMEBOL – has begun.
Sixteen teams, all ten members of CONMBEOL and six nations from CONCACAF, are divided into four groups in a style similar to the old European Championship format; each team plays three group matches and the top two teams qualify for the quarter-finals. For the first time in its history the 2016 Copa America will take place outside South America with the USA hosting across ten different states. The first game of the tournament is between USA and Colombia on 2nd June.
Key Information
When: 3rd-26th June 2016
Where: USA
Teams: 16
Groups
Here's how the 16 teams are split into groups following Sunday's draw.
Group A
USA, Colombia, Costa Rica, Paraguay
Group B
Brazil, Ecuador, Haiti, Peru
Group C
Mexico, Uruguay, Jamaica, Venezuela
Group D
Argentina, Chile, Panama, Bolivia
Outright Winner Betting
Argentina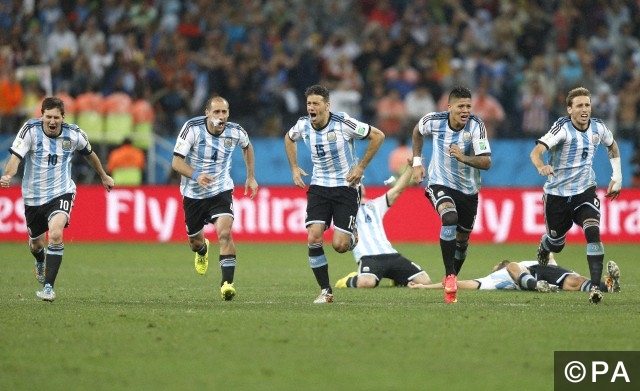 Tata Martino has begun to implement a tactical philosophy reminiscent of his recent tenure as Barcelona manager, delighting Argentina's fans by unshackling their exceptional array of attacking talent, whilst attempting to relieve creative pressure from Lionel Messi.
Martino's Argentina focus primarily upon ball retention and intense pressing, utilising the same tiki-taka model used during his spell with Barcelona. Fluid positional transitions and work rate off the ball are key characteristics of an approach that aims on suffocating the opposition and relentlessly pushing opponents onto the back foot.
However, they have made a dreadful start to World Cup qualifying and Martino may well have been sacked had his team not narrowly beaten Colombia 1-0 in November; they face Chile and Bolivia in March, and if they emerge with less than six points from these two fixtures Argentina may look to replace their head coach before this summer's tournament.
Their key players will be Leo Messi and Paulo Dybala, a young striker who is currently used tentatively by Martino but, given his phenomenal performances for Juventus this season, Dybala will surely start the opening match against Chile. Their Copa America fate rests on results building up to the tournament and how they fare in that opening game.
Brazil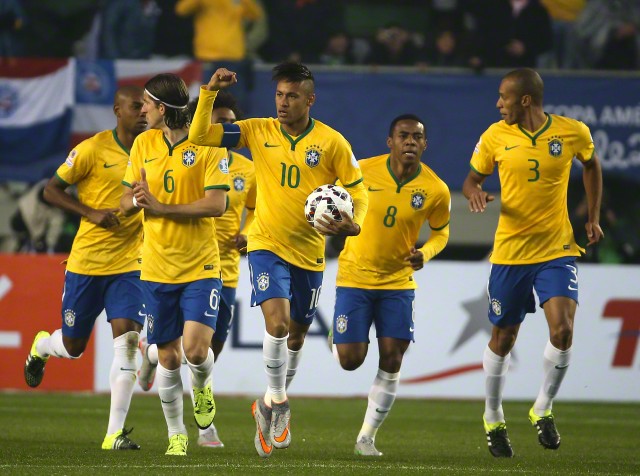 Dunga's tactical style infamously centres on defensive organisation, and a cautiously pragmatic, counter-attacking approach. Having failed pitifully in South Africa 2010 – with a system that defied Brazil's rich cultural history of free-flowing creative energy – his re-emergence represents a culturally jarring, but perhaps necessary, tactical shift.
In a 4-3-3 formation, Brazil have been utilising a front three characterised by positional fluidity, with Neymar operating as a false no.9. Dunga prefers consistency in his starting eleven (Neymar, Oscar, and Willian), but Philippe Coutinho, Robinho, and Roberto Firmino have grown in influence in recent months.
Unsurprisingly, Brazil only scored five goals at last year's Copa America and were knocked out by Paraguay in the quarter-finals; they should not be considered favourites this summer.
Chile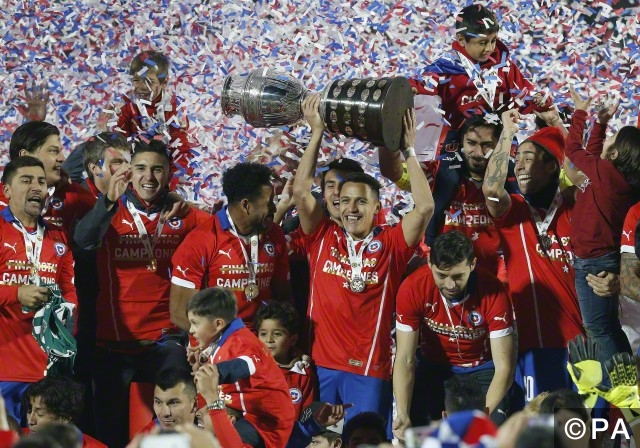 In 2007 tactical genius Marco Bielsa revolutionised Chilean football, implementing his famous 3-3-3-1 formation that, under Bielsa-influenced Jorge Sampaoli, has made a compelling comeback. The system requires remarkable positional organisation, with an ultra-attacking mentality adopted by each component, both on and off the ball.
Sampaoli's version is slightly more conservative, although it still requires frantic pressurising of the ball, and swift counter-attacks that often involve eight outfield players. Width is largely provided by flying wing-backs, whilst an overload of central midfielders/attackers swarms the middle and thrusts towards goal.
They are a magnificent team to watch and were worthy winners last year, beating Argentina in the final on penalties. Alexis Sanchez, Arturo Vidal, and Gary Medel make up the spine of this team and all three players typify their dogged, hard-working spirit. Given that they possess excellent tactical cohesion whilst Argentina and Brazil flounder in uncertainty, can Chile make it back to back wins?
Group Betting
Group A – The most hotly contested group will most likely be Group A in which all four of USA, Colombia, Costa Rica, and Paraguay will harbour hopes of qualifying for the quarter-finals. The hosts do not possess any star players beyond Clint Dempsey and have struggled for form over the past twelve months; following the shock penalty shoot-out defeat to Panama in the Gold Cup third-placed play-off last June, USA have been beaten by Costa Rica and Brazil whilst only narrowly winning matches against Iceland and Canada earlier this year.
Colombia have an extremely talented group of players and are outsiders to win the tournament, boasting the likes of Jackson Martinez, James Rodriguez, and Carlos Bacca. It should be a fascinating opening match against USA, and one that will define their chances of winning the group. The winner of Costa Rica and Paraguay on June 4th stands an outside chance of displacing USA, but on American soil it is unlikely.
Group B – Brazil are heavy favourites to qualify easily through Group B and they should be joined by Ecuador, ranked 8th in the FIFA world rankings. Ecuador have won all four matches since they were knocked out of the Copa America group stages last summer including an impressive 2-0 win over Argentina and, with Enner Valencia and Jefferson Montero, are capable of going far in this tournament.
Haiti will surely be beaten by all of their opponents, but Peru – semi-finalists last year – might fancy their chances of sneaking above Ecuador. Their meeting on match day two will decide the fate of this group.
Group C – Mexico and Uruguay are two of the most exciting teams in the tournament but, since their meeting is the opening match of the group, there is an opportunity for Venezuela to take an early lead in the table.  Mexico play an exciting style of football and enter the tournament with one of the most prolific strikers in the world; Javier Hernandez has scored 13 goals in 16 games this season.
Jamaica will most likely lose all three of their matches (they recently lost 2-0 to Panama and narrowly beat Haiti 1-0) and thus Venezuela must capitalise on their opportunity to earn three points on June 4th. It could take just one point against Mexico or Uruguay to qualify and, so impressive in beating Costa Rica last month, this is not an impossible ask.
Group D – This is an open and shut group, with Argentina and Chile – two of the three favourites – battling it out for top spot. The runner-up will probably face Uruguay in the quarter-finals and thus their meeting on match day one will be a crucial decider. Bolivia and Panama should both be beaten comfortably.
Fixtures
Group A
June 3: United States vs. Colombia, Santa Clara, Calif.
June 4: Costa Rica vs. Paraguay, Orlando
June 7: United States vs. Costa Rica, Chicago
June 7: Colombia vs. Paraguay, Pasadena, Calif.
June 11: United States vs. Paraguay, Philadelphia
June 11: Colombia vs. Costa Rica, Houston
Group B
June 4: Haiti vs. Peru, Seattle
June 4: Brazil vs. Ecuador, Pasadena, Calif.
June 8: Brazil vs. Haiti, Orlando
June 8: Ecuador vs. Peru, Glendale, Ariz.
June 12: Ecuador vs. Haiti, East Rutherford, N.J.
June 12: Brazil vs. Peru, Foxborough, Mass.
Group C
June 5: Jamaica vs.Venezuela, Chicago
June 5: Mexico vs. Uruguay, Glendale, Ariz.
June 9: Mexico vs. Jamaica, Pasadena, Calif.
June 9: Uruguay vs. Venezuela, Philadelphia
June 13: Mexico vs. Venezuela, Houston
June 13: Uruguay vs. Jamaica, Santa Clara, Calif.
Group D
June 6: Panama vs. Bolivia, Orlando
June 6: Argentina vs. Chile, Santa Clara, Calif.
10 de junio: Chile vs. Bolivia, East Rutherford, N.J.
10 de junio: Argentina vs. Panama, Chicago
14 de junio: Chile vs. Panama, Philadelphia
14 de junio: Argentina vs. Bolivia, Seattle