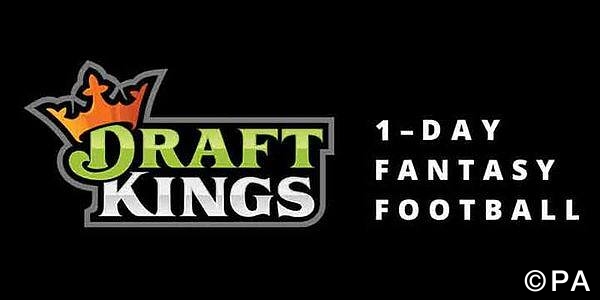 A lifelong Birmingham City fan, Tom relocated to Germany for five years after graduating from university, where his interest in the Bundesliga developed. He began writing about and betting on German football for FST in 2016. He's also an avid fantasy football player and closely follows the Premier League and European competitions.
DraftKings are daily fantasy sports giants in the US and they've now launched in the UK for the new Premier League season!
For those who don't know how the DraftKings 1-day fantasy format works, find out all you need to know by following the link below:
DraftKings Daily Fantasy Football Explained
$30,000 Premier League Golazo and $15,000 Premier League Golden Boot!
Gameweek 23 of the Premier League is almost upon us and DraftKings have plenty of competitions for those who like a quick return on investment through a 1-day fantasy format.
DraftKings "Premier League Striker" gives you seven fixtures to select your eight man fantasy team from, all for an entry fee of just $3 (deposits and withdrawals will be converted at a competitive rate). $3 entry can potentially scoop you a huge chunk of the $30,000 prize pool, which has a $5,000 top prize!
DraftKings "Premier League Golden Boot" follows exactly the same format, just at a higher buy in. $27 is the entry for that competition, which has a $15,000 prize pool and a $2,000 top prize!
We've put together the following article to help give you an edge over the rest of the field when deciding who should make the cut in your team. See our lineup and read more below!
Who to Buy
Alexis Sanchez (Arsenal) – Price: $11,000

Alexis Sanchez's performances and resulting popularity have seen his price soar to a season high $11,000. His recent switch back into a role on the wing has helped out French forward Olivier Giroud with his goalscoring endeavors, however, Sanchez himself hasn't stopped churning out points because of this. Sanchez's 16 FPPG (Fantasy Points Per Game) average is the highest of any player available for selection this Tuesday, and not without reason – the Chilean has scored or assisted in all but one of Arsenal's last ten Premier League matches, while also grinding out plenty of points from shots (32), shots on goal (12), crosses (16) and fouls drawn (8) since Giroud's return. He may cost just over 1/5th of the allocated budget, but a fixture at home to the out-of-form Watford should see him extend his "20 points or more" streak to five consecutive matches.

Christian Eriksen (Tottenham Hotspur) – Price: $9,600

Christian Eriksen is another who's presence in the attacking third and from set pieces has earnt him a tonne of points under the DraftKings format. Eriksen has been outstanding this season from a fantasy perspective, averaging nearly six crosses and four shots per match. When added to his five goals and eleven assists, he sits on an impressive 15.3 FPPG average. Eriksen's consistency is what sets him apart, having taken 15 points or more in eight of his last ten outings for Spurs (a personal high of 44 points against Swansea). Though his performance against Manchester City last time out was disappointing – his first match all season without a shot – he should be able to bounce back quickly in Spur's favourable fixture away to Sunderland next Tuesday.

Dusan Tadic (Southampton) – Price: $7,100

Tadic has had a rough year after last season's breakthrough, where he scored 8 and assisted 13 assists goals in the Premier League for Southampton. His 86th minute spot kick against Leicester City last weekend was just his second goal of the season, but Tadic has upped his goal threat considerably since returning to Claude Puel's starting 11 in gameweek 19. Tadic's attempts on goal over the last four matches follows not far behind that of Arsenal's Alexis Sanchez or Tottenham's Christian Eriksen, which been enough to earn him some decent points in recent weeks, even when he has neither scored nor assisted – Tadic earnt 16 points against Burnley for 7 shots, 7 crosses, 2 fouls drawn and 2 tackles won. Meanwhile, his attempts from within the penalty-area have more than doubled, indicating a much more forward role, a position favoured under the DraftKings scoring format. Southampton also face Swansea next Tuesday, who have conceded two or more in all but one of their last eight competitive matches.

Andre Gray (Burnley) – Price: $5,600

For $5,600, Andre Gray is one of the cheaper forwards available this Tuesday. After a slow start to the season, Gray converted from the penalty spot against Arsenal last time out for his 5th goal in five Premier League matches. With Burnley's form being considerably stronger at home than away, he seems a reasonable shout to continue his form here against a Leicester City side that have conceded at least two goals in three of their last five Premier League matches on the road.

Tom Heaton (Burnley) – Price: $4,900

It's important to spend your budget where it matters in the DraftKings format and, simply put, goalkeepers have the lowest potential of all player types to take away high points scores. Hence, you should be using less of your budget on them. Burnley's Tom Heaton is, for example, a huge $1,100 cheaper than Arsenal's Petr Cech, but has a higher FPPG average for a reason. Burnley haven't been in the best form defensively, keeping just two clean sheets in their last ten Premier League matches, however, a weaker defense means that a goalkeeper is forced to make more saves. With goalkeepers earning 2 points per save, Heaton has been able to consistently grind out decent scores week in week out.
Who to Avoid
Christian Benteke (Crystal Palace)

Of all the strikers available for selection this weekend, Christian Benteke finds himself as the most "out-of-form". Though he hit the back of the net twice in Crystal Palace's 2-1 win at home to Bolton in the FA Cup third round a few weeks back, he was unable to record a shot on goal for the third straight Premier League match last time out at home to Everton. Benteke is now seven consecutive Premier League matches without a goal (he's only taken four shots on goal over the same duration) and earning no more than 3 points over the same duration shows his lack of confidence.

Leicester Players

Reigning champions Leicester City have struggled to perform anywhere near the same standards set in their miraculous title winning season last year. Fan favourites Jamie Vardy (five goals and three assists this season) and Rihad Mahrez (three goals and three assists) have simply not had the same flair, but The Foxes downfall could be pinned on the summer transfer of star midfielder N'golo Kante to Chelsea. Leicester have just a handful of clean sheets this season (5) and without a Premier League away win since April 2016, it's hard to see any value in Leicester City players for Tuesday.

Middlesborough Players

Middlesborough are the lowest scoring side in the Premier League (18 goals) – an average of under 1 goal per match – and have failed to score in three of their last five. Hence, Alvaro Negredo, who has just one assist from his last five outings, is not too desirable at a price of $5,800. While Middlesborough have kept clean sheets in four of their last seven home matches, defenders only earn +3 points for a clean sheet. Wing-backs that are more involved going forward, for example, Chelsea's Marcos Alonso, earn far more points than the average solid center back like Calum Chambers.

Swansea Players

Swansea's defense should be avoided at all costs. Though some of the cheapest players available, Swansea have the worst defensive record in the Premier League (51 goals conceded) and most of their players hold a very low FPPG average. Exceptions to the rule would be influential midfielder Gylfi Sigurdsson ($7,800), who scored one goal against Liverpool last time out and has taken 13 points or more in all but two of Swansea's last 10 matches, or winger Wayne Routledge ($4,300), based on his price tag alone. However, Swansea face an in-form Southampton side this Tuesday, who have kept clean sheets in four of their last five matches across all competitions.

Defensive Midfielders

Defensive midfielders are simply the lowest point earners in DraftKings fantasy. Though their cheaper price tag may be tempting, players who's sole responsibility is to reclaim possession and pass it onwards will earn you very few points. Any winger from a weaker side, such as, Wayne Routledge ($4,300) from Swansea, will often earn more points and be involved with more of the action than some of the best central midfielders, such as, N'golo Kante ($3,600) from Chelsea.