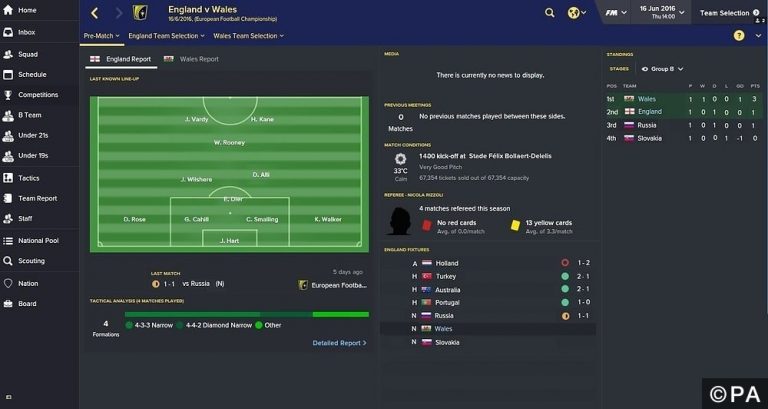 On Thursday at 1400 GMT, England and Wales play each other for the very first time at a major championships. It is the most eagerly-anticipated Home Nations match for 20 years. 
Every man and his dog has given their two-penneth on what they think will happen in the big Group B clash.
But we thought we'd consult another of football's most trusted authorities: Football Manager. We wanted to see how it thought the match would go – not once, not twice, but a thousand times (XLS).
Predicting England Vs. Wales Using Football Manager 2016
We loaded up our copy of Football Manager 16 and found a game where England and Wales were grouped together. We appointed two young international managers, selected the right squads and chose our starting XIs before going 'On Holiday' on the day of the big game.

For optimum accuracy, we edited the database to appoint Roy Hodgson and Chris Coleman as Assistant Managers of England and Wales, in order that they took charge in our absence. So, if England shipped a last-minute goal after bringing James Milner on, we knew that was Roy's decision and no one else's.
The Match Preview
England made two changes from the team that drew disappointingly with Russia, with Jamie Vardy and Jack Wilshere replacing Raheem Sterling and Adam Lallana.
The Three Lions adopted a control-based diamond 4-4-2, with Gary Cahill and Chris Smalling at centre back and Kyle Walker and Danny Rose given the opportunity to make their lung-busting runs down their respective flanks. Eric Dier anchored the midfield alongside playmaker Wilshere and the roaming Dele Alli, while Wayne Rooney captained the side in an attacking midfield role.
After excellent seasons, Vardy and Harry Kane were preferred to Daniel Sturridge and Marcus Rashford up front.
Wales went for the defensive 3-5-2 that got them their first ever European Championship win against Slovakia, but was able to call upon Hal Robson-Kanu and Joe Ledley after their successful cameos.
Gareth Bale was the predictable Welsh attacking fulcrum, ably supported by Robson-Kanu and Aaron Ramsay's midfield bursts. Ledley acted as midfield spoiler alongside Joe Allen. The defensive five of Neil Taylor, Ben Davies, James Collins Ashley Williams and Jazz Richards gave solidity and a little verve going forward.
Then 1400 came. The ref blew his whistle. The two British rivals kicked off. 1000 times.
Here's what happened: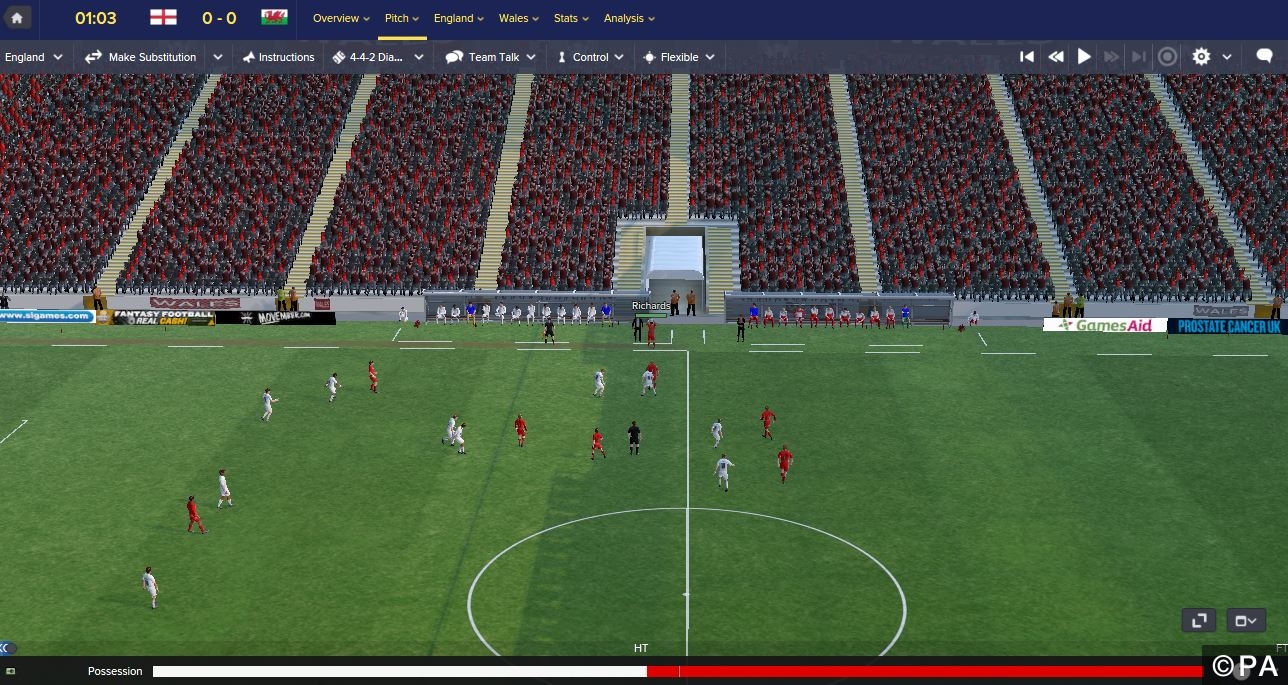 What Happens When England and Wales Play 1000 Times on FM16
Here are the the results…
England win, loads
Bouncing back from disappointment against Russia, Roy's boys won 617 of 1000 matches, while Wales were victorious just 95 times. 288 matches ended in a draw.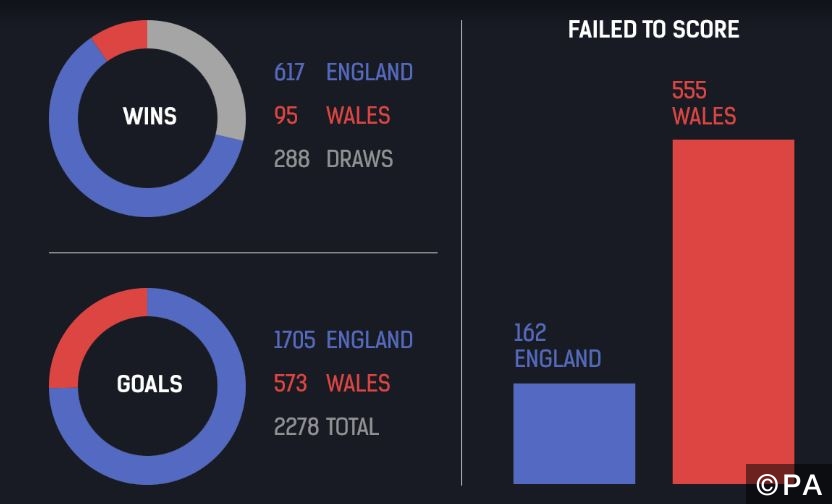 Jamie Vardy has a party
Restored to the starting XI after being benched in Marseille, Jamie Vardy showed his worth by scoring 504 goals – more than once every other game. The Leicester marksman bagged 43 braces and 13 hat tricks.
Kane and Rooney hit back at their critics
Freed from the ignominy of taking corners, Harry Kane also made a big impression with 436 goals in total – 14 of which were hat tricks. Wayne Rooney was also successful behind the front two, scoring 256 goals. 52% of the England captain's strikes were the all-important first goal of the match.
Credit should also go to Chris Smalling and Gary Cahill, who between them scored 164 goals from centre back.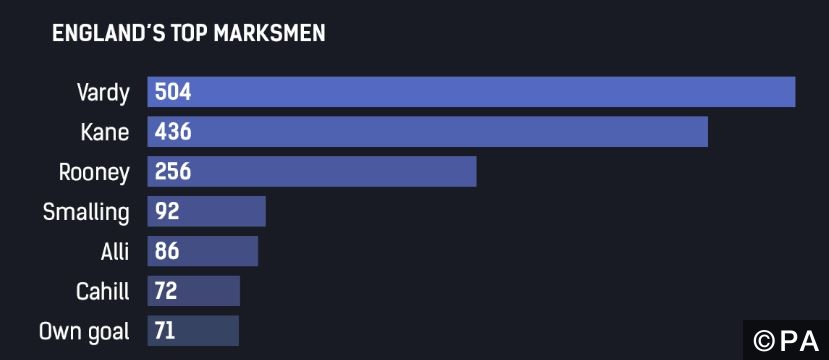 Bale bails goal-shy Wales
Unsurprisingly, Gareth Bale provided the bulk of Wales' attacking inspiration with 308 goals and another 34 assists. In total, the Real Madrid superstar contributed to 59% of his country's goals.
Wales were goal shy throughout the 1000-game run, failing to score in 555 matches and netting more than twice just 16 times.
England on the other hand failed to score only 162 times.
Kyle Walker is the hero of the hour
Spurs' pacey right back may have impressed against Russia, but Football Manager are predicting Kyle Walker to have an even bigger impact against Wales. Walker made 590 assists over the 1000 games and was awarded Man of the Match on 343 different occasions. Kyle Walker!
Shoving two fingers up at the word Spursy, Dele Alli (86 goals, 117 assists) was the next most common top player with 232 Man of the Match accolades. Gareth Bale was the most-frequent Welsh recipient with just 33.
Full backs fill their boots
Kyle Walker wasn't the only full back to have some joy in the derby. Due to both teams' relatively narrow formations, Danny Rose, Neil Taylor and Jazz Richards made a big impression.

Rose assisted 341 England goals (105 of which were for his Spurs teammate Harry Kane), while Taylor and Richards made 59% of Wales' total assists.
Tight games are the order of the day
The most frequent results were 2-0 to England (151 times), 1-0 England and 1-1 ( both 141 times) as the two teams defended cautiously and made nervy matches the order of the day.
Just 18.5% of all matches featured more than three goals.
Players keep their discipline
It may be a local derby, but Football Manager predicts the English and Welsh players to be relatively well behaved in their Euro 2016 clash. Yellow cards average at 3.2 per game, while only 10.4% of matches had a red card.
Not all games were sunshine and roses though, it must be said. England's 2-0 win on match #376 saw 2 Welsh red cards and 7 yellows in total.
Research the games for yourself!
Want to delve deeper into the results? Take a look at our research (XLS) where we've collated every:
• Game
• Score
• Goalscorer
• Assister
• Man of the Match
• Yellow / red card
You can download it here and see all the stats and correlations for yourself. We've also uploaded all 1000 matches for your viewing pleasure, which you can watch with a copy of Football Manager 2016. Enjoy!