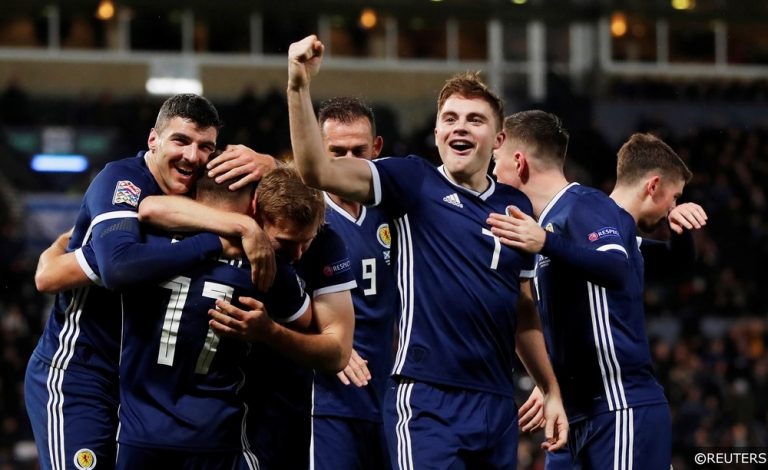 A lifelong Birmingham City fan, Tom relocated to Germany for five years after graduating from university, where his interest in the Bundesliga developed. He began writing about and betting on German football for FST in 2016. He's also an avid fantasy football player and closely follows the Premier League and European competitions.
The initial stages of the UEFA Nations League have come to an end and now our attention turns to the UEFA EURO 2020 qualifiers.
All 55 teams will be involved in the qualifying group stage – no exemption is given to any of the 12 host nations – and the teams will be drawn into ten groups: five groups of five (Groups A-E), which doesn't include any teams from Pot 6, and five groups of six (Groups F-J). Matches to be played between March and November 2019.
The top two teams from each of the ten groups will qualify for the EURO 2020 finals and the remaining four slots are decided by the Nations League playoffs in March 2020.
Scotland have two ways of qualifying for the tournament: winning the Nations League playoff or by finishing in the top two of their EURO 2020 qualifying group. Ireland and Northen Ireland have just one way of qualifying – through the EURO 2020 qualifiers group. The same applies to Wales.
England are in the Nations League pot of top seeds, meaning they can also qualify for the tournament via one of two methods, either through the Nations League playoff or through the EURO 2020 qualifiers. As a top seed, they will be placed into one of the five-team groups (A-D).
The EURO 2020 qualifying draw will take place in Dublin from 11am GMT on Sunday 2nd December.
Pots for the Draw
UEFA Nations League pot (4): Switzerland*, Portugal*, Netherlands*, England*
Pot 1 (6): Belgium, France, Spain, Italy, Croatia, Poland
Pot 2 (10): Germany, Iceland, Bosnia and Herzegovina*, Ukraine*, Denmark*, Sweden*, Russia, Austria, Wales, Czech Republic
Pot 3 (10): Slovakia, Turkey, Republic of Ireland, Northern Ireland, Scotland*, Norway*, Serbia*, Finland*, Bulgaria, Israel
Pot 4 (10): Hungary, Romania, Greece, Albania, Montenegro, Cyprus, Estonia, Slovenia, Lithuania, Georgia*
Pot 5 (10): FYR Macedonia*, Kosovo*, Belarus*, Luxembourg, Armenia, Azerbaijan, Kazakhstan, Moldova, Gibraltar, Faroe Islands
Pot 6 (5): Latvia, Liechtenstein, Andorra, Malta, San Marino
*Already ensured at least a play-off place after winning UEFA Nations League group
Host Nations
So that all 12 EURO 2020 host teams stand a chance of qualifying as group winner or group runner-up, a maximum of two such teams can be drawn into one group. Host nations include:
Azerbaijan, Denmark, England, Germany, Hungary, Italy, Netherlands, Republic of Ireland, Romania, Russia, Scotland, Spain.
Prohibited Clashes
Based on UEFA Executive Committee decisions valid at the time of the draw, the following teams cannot be drawn into the same group:
Gibraltar/Spain, Bosnia and Herzegovina/Kosovo, and Kosovo/Serbia.
Dates for the Calender
Matchday 1: 21–23 March 2019
Matchday 2: 24–26 March 2019
(UEFA Nations League semi-finals: 5 & 6 June 2019)
Matchday 3: 7–8 June 2019
(UEFA Nations League final/third-place match: 9 June 2019)
Matchday 4: 10–11 June 2019
Matchday 5: 5–7 September 2019
Matchday 6: 8–10 September 2019
Matchday 7: 10–12 October 2019
Matchday 8: 13–15 October 2019
Matchday 9: 14–16 November 2019
Matchday 10: 17–19 November 2019
Play-off draw: 22 November 2019
Final tournament draw: 1 December 2019
Play-off semi-finals: 26–28 March 2020
Play-off finals: 29–31 March 2020
Final tournament: 12 June–12 July 2020
Follow Free Super Tips on Twitter to stay up to date with our daily tips and predictions or browse more football content on our website: