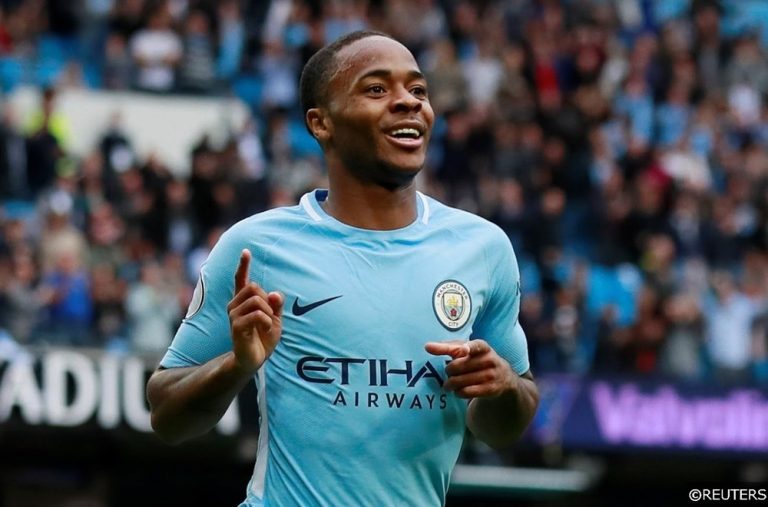 Here we take a look at the weekend's Premier League action and how they fared based on expected goals (xG). This week we had a full weekend schedule with 8 Saturday games and 2 Sunday games.
Not sure how expected goals works or is calculated? Here's how.
What are expected goals (xG)?
Expected goals basically gives a percentage chance of a shot becoming a goal. It's a good way to evaluate the quality of the shots being taken. For example a shot with a 0.30 expected goal (xG) value should be scored 30% of the time. It's been calculated by crunching data from thousands of historical shots and filtering them by distance, type of shot, type of pass and the number of defenders between the attacker and the goal.
When you're sat in the stands or on the sofa shouting at your player "how have you not scored that?!". Expected goals is a way of quantifying how many times they should have actually scored it.
Read More: Expected Goals (xG) Round Up: Championship Week Eight and Nine
Premier League Week Six Expected Goals
xG Diff
xG
Home
Actual
Away
xG
xG Diff
0.92
1.92
Fulham
1
1
Watford
1.83
0.83
-1.73
2.27
Burnley
4
0
Bournemouth
1.03
1.03
0.12
0.12
Cardiff
0
5
Man City
3.27
-1.73
-1.17
1.83
Leicester
3
1
Huddersfield
0.84
-0.16
-0.58
2.42
Liverpool
3
0
Southampton
0.74
0.74
-0.3
0.7
Man United
1
1
Wolves
1.46
0.46
1.14
1.14
Palace
0
0
Newcastle
0.32
0.32
0.09
1.09
Brighton
1
2
Tottenham
5.36
3.36
0.77
0.77
West Ham
0
0
Chelsea
2.02
2.02
-1.19
0.81
Arsenal
2
0
Everton
0.97
0.97
Unlucky Teams
Crystal Palace
Crystal Palace hosted Newcastle at Selhurst Park this weekend in a game they would expect to win in their bid for a top half finish this season. They had the hugely influential Zaha in their starting line-up. Crystal Palace created 1.14 xG during the game but failed to find the net, despite defender Mamadou Sakho missing a relatively easy looking chance. They were good in defence keeping Newcastle to a measly 0.32 xG with Benitez' side rarely looking threatening. Despite Palace being the better side Newcastle will be the far happier side with the point.
Chelsea
West Ham hosted Chelsea in a highly anticipated London derby thanks to West Ham's poor start and Chelsea's 100% start to this Premier League campaign. Chelsea were the much better side in the match creating 2.02 xG and will feel like they should have won the game. West Ham had their chances too and despite creating just 0.77 xG Andriy Yarmolenko missed a glaringly simple chance that could have seen the Hammers walk away with all 3 points.
Lucky Teams
Manchester United
Manchester United hosted an impressive Wolves side at Old Trafford on Saturday with the visitors having started life in the Premier League in great fashion, losing just 1 of their opening 5 matches and held Champions Manchester City to a draw at Molineux. Jose Mourinho expected a tough game and he got it, Wolves were the better side in the first half but they fell behind to a Fred goal. Second half they came out again full of confidence and equalised through Moutinho. Throughout the match Manchester United created just 0.7 xG whilst Wolves created 1.46 xG. Hugely impressive for a newly promoted side playing away at Old Trafford with Manchester United being lucky that they didn't lose the game.
Arsenal
Arsenal have been an interesting outfit this season under new manager Unai Emery. They have won the games they should and lost the tough ones but the manner of the wins have not been entirely convincing. He has Arsenal playing out from the back, something Petr Cech simply is not comfortable doing and they look all over the place at times. It was a similar story here, Arsenal only created 0.81 xG whilst Everton created 0.97 xG. Whilst Everton probably didn't deserve to win the game they definitely deserved a point. Petr Cech being named Man of the Match summed up the story at the Emirates.
Flattering Result
Burnley
Burnley have had a horrid start to the 2018/19 Premier League table and they sat bottom of the table when they took on a Bournemouth side in great form however the form book was turned on its head at Turf Moor as Burnley ran riot. They went into half time 2-0 up and in the final 5 minutes added 2 more through Ashley Barnes to win 4-0. Whilst the win was deserved the result was a tad flattering, Burnley created 2.27 xG for their 4 goals whilst Bournemouth created 1.03 xG without scoring.
Performance of the Week
Manchester City
This was a tough one as Tottenham created a whopping 5.36 xG away at Brighton but the Performance of the Week has to go to Manchester City. Pep's men created 3.27 xG in their 5-0 demolition over Cardiff and whilst the scoreline may seem flattering their football was on a different level. Cardiff simply couldn't deal with their quick one touch passing and had no chance. Cardiff offered virtually nothing up the other end either, creating just 0.12 xG showing just how dominant Manchester City were.
We now head into a full midweek schedule of Carabao Cup action so make sure you check out our Free Betting Tips & Predictions. 
Get in touch with us by emailing us at info@freesupertips.co.uk or tweet us on Twitter @FootySuperTips.