FST & Didi Hamann talk Rangnick, Gerrard's Anfield return & more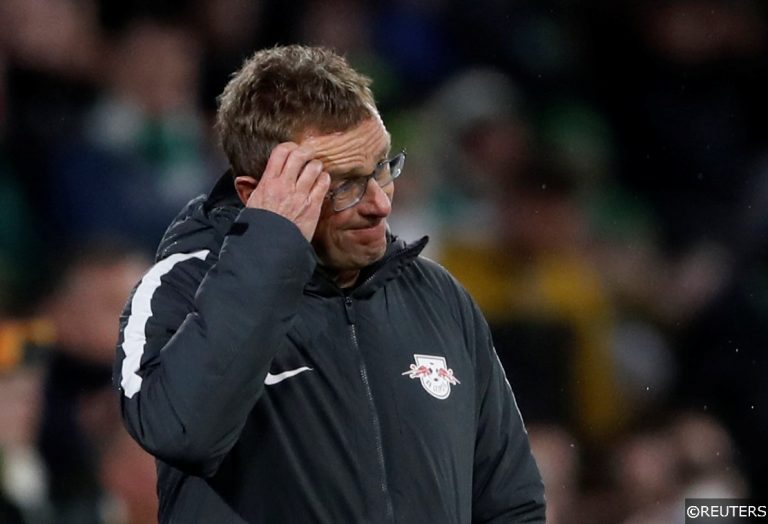 December 10, 2021
Show Bio
Content Editor at Free Super Tips, Alex was born in the shadow of Old Trafford and is an avid Man Utd fan. After graduating from university he combined his love of football, writing and betting to join FST and now closely follows goings-on in all of the top European leagues.
Ahead of Steven Gerrard's highly-anticipated return to Anfield as Aston Villa manager, FST caught up with former Bayern Munich, Newcastle, Liverpool and Manchester City midfielder Didi Hamann.
---
Just where can Man Utd finish under Ralf Rangnick this season? What did you think of the appointment?
I think what they've been lacking is structure in the last few years since Ferguson left and I think he brings a football style that United fans will cherish.
You always looked at United as a free-flowing attacking team with attacking flair players that have a lot of freedom.
They've gone so far down in the last few years, so I think for a certain period of time it will be a good appointment for the club because it'll bring back some structure.
I don't think he's a long-term manager for United, but he wants to bring in a style of football that he knows, and they need it because they've gone so far down.
Overall, it's a very shrewd appointment.
Inside German football, what's been the response? Are you happy Rangnick has landed this chance at 63?
He's been linked with a few clubs in the past and he decided to take on this role in Moscow despite being linked with AC Milan.
I think he hasn't been sure whether he wants to be a director of football or whether he wanted to coach again.
But he said it himself, if United come calling then you can't really turn it down.
He's very highly rated in Germany because he had a huge influence on Hoffenheim and Leipzig where he put a structure into place.
What he did at those clubs was really good and I believe he deserves this chance at Manchester United.
Just looking at how Rangnick works, are there any Man Utd players who should be worried about their futures?
He's wise, shrewd and smart enough to know how to work with these players.
He mentioned Ronaldo in his first press conference and pointed out the work he does for the team.
I don't think any player needs to be worried, but they need to know that they have to work hard.
There will not be any passengers and there will not be any shortcuts with Rangnick.
If you want to be in the team, you've got to hard work regardless of who you are and that can only be good for Manchester United.
Can you see Rangnick going back to RB Leipzig to strengthen Man Utd? Is that something he does – go back to former clubs for signings? Amadou Haidara has been mentioned as a target. Are they better than what United have? Could he make a difference?
I think he's similar to Naby Keita, he hasn't really fulfilled his potential.
I do think in midfield Manchester United are light, they've got McTominay, Matic, Fred and Bruno Fernandes.
These players could do with a bit of guile and a physical presence in the central of midfield.
I don't think Haidara has done enough as a Leipzig player at this minute in time, but he is a very capable footballer.
Overall, what do you make of the appointment to the end of the season? Is there the prospect of the Ole caretaker to permanent manger situation being repeated?
I think he's said it himself already it will depend on results, and he did it at Leipzig when he stayed on as manager for another year.
There's a possibility, but I think it's something they'll take it week by week.
I don't think he is a long-term solution for Manchester United, but you could see improvements for the rest of this season and then there will be a decision to make.
If there's significant improvement, then the club might want him as a manager for the next two or three years if he would take that role.
But for now, I think it's a good appointment for them.
What have you made of Steven Gerrard's start as manager at Aston Villa?
It's been a brilliant start, I've watched them against Leicester and although they were up against it in the first half, they played really well.
They showed a great desire and willingness to get it over the line, so it's been a great start for him at Aston Villa.
They had a couple of big chances against Manchester City to get something out of that game.
He's just taken to management so comfortably, when I last saw him, he speaks so much about what he tries to do as a manager.
As a player, second best was never good enough for him and he always had that desire to be better.
As good as he was, he always used that desire to improve, and you can see that in him as a manager.
The start he's made at Aston Villa is very promising.
Was it quite a risk coming to a struggling Villa side after his recent success at Rangers?
I think a lot of it had to come down to timing, in the Premier League there's a top four or five teams that are big jobs.
But if you look at the rest of the Premier League, there aren't many clubs bigger than Aston Villa.
It's a decision he had to make, and Rangers gave them their blessing to move on.
Aston Villa are a team that were very good last season, but have struggled since they lost Jack Grealish.
But there's a lot of young and exciting players currently at the club and Steven Gerrard will give them a chance to play in the first time.
Overall, I think he's a very good fit for the club.
Was he always destined to be a manager from his playing days? Can you see similarities between Gerrard the player and Gerrard the manager?
Sometimes you play with players, and you think they either will or won't end up in management and majority of the time you get it wrong.
I don't think he was ever somebody who was too focused on tactics or thoughts on the games as much as other players.
So at the time, I would have said no, but from speaking to him since he finished playing, I know that he will be a successful manager.
Is he a ready-made replacement for Jurgen Klopp when he decides to step away from Liverpool?
I think he's said in an interview a few years back that he wouldn't like to take the job straight after Jurgen Klopp.
It would be too big boots to fill, but I'm not sure if he's said anything on the subject since then.
Sooner or later I think it could happen, it is his dream job, but whether it'll be directly after Klopp, I'm not too sure.
Will it be a strange experience for him going back to Anfield trying to beat the club he loves?
It's probably the first time he's been back to Anfield as the opposition player or manager.
It's a big day for him and his family, but I think he'll handle it well.
He's been professional all throughout his career and life, so he'll only have one thing in his mind come the game and that's taking points off Liverpool.
He'll try his upmost to do it, but without a doubt he'll get a great reception from the fans and it'll be a tremendous occasion for him personally.
Who's the one signing Liverpool should make in January and why?
Maybe they need a central midfielder, there's a few players such as Oxlade-Chamberlain and Naby Keita who haven't really cemented their place in the team.
I think that would be it if there's one position you could think about with Liverpool.
But as we've seen they've gone to the league leaders of the Serie A with a much-changed side and they still come away with the win.
They're a tremendous outfit and there's a lot of strength in depth despite what people may believe sometimes with Liverpool.
I believe the Premier League and Champions League titles are well within their grasps with this squad.
Lots of talk about Denis Zakaria moving to England. Could you see him succeeding in a Liverpool shirt?
I think his game is definitely suited to the Premier League.
I think he could be a player for Liverpool, he's a player that has a great engine on him and he could play a more defensive role if Fabinho was missing.
He can also play in a more attacking role, so he could be a player that would be a good fit, but he's definitely someone who could make the move to the Premier League in general.
Are you worried about Liverpool during Afcon? Could they drop off given that they will be without Mane, Salah and Keita for a month?
It will be hard that's for sure, they've been the two outstanding players for so long.
Although Jota has been great ever since he signed, but he won't be able to get through all those games on his own.
The situation has to be managed somehow by Jurgen Klopp, but we've seen that Origi has found some form once again.
Come January they'll need these players to step up, but it will be tough for Liverpool.
I think if Salah and Mane come back and Liverpool are only a few points off the leaders, then they'll still have a fighting chance at the title.
They will have to get through this period somehow, because they will not be able to replace what Salah and Mane bring to the team.
What did you make of Mo Salah finishing 7th in the Ballon d'Or after the season he had last year and his start to this campaign?
I think if you look at his form lately, he is the best player in the world alongside Lewandowski at the moment.
For me, those two should have been first and second in whatever order.
You look at Salah's scoring record compared to past Liverpool legends who he's overtaking or getting close to in the scoring charts, they're all strikers.
We forget that Salah is a winger and still putting up these numbers and he gets compared with out and out number 9s.
Year in, year out he's delivering ever since he signed for Liverpool.
Robert Lewandowski's stunning loss in the Ballon d'Or showed the lack of respect that the Bundesliga has globally. Is there anything Bayern Munich or the rest of the league can do to combat that or is German football going to always be unjustly considered second-rate to England and Spain?
It certainly doesn't help that he's playing in the Bundesliga when it comes to individual accolades.
A lot of people are asking how come he didn't win it and I personally believe he should have won it.
I suppose you have to look at the Champions League, Dortmund were knocked out by Ajax and Sporting Lisbon, Leipzig didn't get out of their group.
I think there's a reason why a lot of people outside of Germany question the Bundesliga and Lewandowski's goal scoring record.
Obviously, I see him play every week and I believe he is the best centre forward in the world at the moment.
He should have won the Ballon d'Or, but I understand why people question what his 41 goals are worth compared to players in other leagues.
Chelsea have had a dip in form, do you think they can still challenge Liverpool and city for the title?
It's still a three-horse race, but I've said in the past that I don't think Chelsea have what it takes to win the Premier League over Liverpool and Manchester City.
I know they won the Champions League, but it's a different competition.
There aren't as many games and you can show no fear in that competition, but the Premier League is a long stretch.
I just think City and Liverpool are one if not two steps ahead of Chelsea and this is why I think they will both have a healthy gap over Chelsea come the end of the season.
Harry Kane has one league goal so far this season, has he downgraded since his failed move away from Spurs and are you surprised his performances haven't been criticised as much as other players?
There's been changes of managers and a lot of unrest at Spurs and I've said before that they are just a top 8 team.
They're nowhere near the quality of top four because the squad simply isn't good enough.
I think for Kane it's been a disappointing time; he was so close in a Euros final losing on penalties.
He had a short break which he had a failed move away from the club and I would defend him until after Christmas.
His form has to pick up at some stage, but I don't think Spurs are anywhere near as good as what people think.
Should Arsenal persist with Mikel Arteta or should they be looking to freshen things up after that defeat to Everton?
I'm surprised they've stuck with him, and I think patience will come to an end at some stage.
The game against Everton was a really bad loss, Everton weren't good, and Arsenal were fortunate to be a goal ahead after Richarlison had one disallowed.
You just have to win these sorts of games and if you don't it brings pressure, which has really been the case for the past 18 months.
I think it'll be difficult to finish in the top six and I am a bit surprised he's still there, but he has history with the club.
I think he's got to start winning games consistently otherwise he time will be up.
Are you happy for Newcastle fans after the takeover? Is there any split loyalty given your Bayern Munich background? Can you see the Bayern brainstrust now taking aim at Newcastle just as they do Man City and PSG? What would be upset be if Bayern Munich chief scout Laurent Busser leaves for Newcastle? Would Busser make a difference at Newcastle?
He's done well at Bayern and recruitment is so important in football.
You need people in charge that can bring in quality players and try to affect the whole dynamic of the squad.
Newcastle are in a tricky situation and they did well to come away with the three points in the end against Burnley.
But they do need to get somebody into place to help this transition period with the takeover, I'm not sure how much he would know about the English market.
It's probably a position after hiring a manager that is going to be vital for Newcastle.
Recruitment is so difficult nowadays because you need to be able to scout younger players who no one else has seen before.
Everybody knows who the top players are, but if Busser was to join then it would be a great pull from Newcastle, but I'm not sure Bayern Munich would want to see him go.
Lots of talk about Florian Grillitsch leaving Hoffenheim for Newcastle in January. Would he be a good addition for Newcastle? Do you think he could hit the ground running given Newcastle's need to get out of the dropzone?
I think he's a very good technical player, the only question marks over him would be if he could cope with the physicality of the Premier League.
It is a different game and it's something that he still needs to work on, but he's a brilliant player.
Technically he's very gifted, so if he was played in the right system, he could definitely help Newcastle.
Is this Bayern Munich deep enough to win the Champions League or does the club need to bolster the roster during the winter transfer window?
They are probably over reliant come March and April, the business end of the Champions League on their key players.
I don't think their strength in depth is quite as good as Liverpool or especially Manchester City.
If they've got most of their key players in that time, then they'll be there at the business end.
At the moment, Bayern Munich, Liverpool and Manchester City are the best three teams in Europe.
Bayern Munich have a strong team, so they've got every chance of winning it if they can keep the key players fit.
They are very open at the back, so that's one area I would look at possibly.
Kimmich has been out for a few weeks, but if you look at Liverpool and Manchester City compared to Bayern Munich, Bayern lack a natural number 6.
Rodri and Fabinho do that job so well for those clubs, so I think it could be a position that they'll need to bring in going forward.
Bayern Munich's formation seems to function more like a back-three than a back-four given the freedoms Alphonso Davies has offensive. Will the club need to re-think the roster composition in the summer to fit what Julian Nagelsmann wants to do?
I don't think they need huge changes to the squad; they've had one or two setbacks, but we shouldn't forget that the partnership of Alaba and Boateng left in the summer.
He will have a say in which players come in, but it will always come down to the club as they buy the players, and they'll have final say on who comes in.
They have to fit into the club's philosophy and the other issue is competing financially with the English clubs, even for Bayern Munich.
Most of the teams in the Premier League are hard to compete with financially, so it isn't easy.
Jude Bellingham made comments about the referee following Bayerns win over Dortmund, what did you make of that?
I think it was mis-timed and wrong and I think he should have been banned.
He got away with a fine, but it was an ill-placed comment.
Somebody must have told him about it because when the incidents happened, he was only very young.
I think he was very lucky to escape without a ban.
I do think it was the heat of the moment, but he's got to learn to control himself.
Sometimes you have to perceive what players say after a game, but in this case, he was very strong in what he did say.
He will learn from it; I was a bit critical of him when he first arrived because I thought he could be ill-disciplined.
But the last 12 months, he has been absolutely phenomenal.
---
Here at Free Super Tips, we cover the entire English Football League. Make sure to check out our Championship Predictions, League One Predictions and League Two Predictions, all covered by our betting experts.