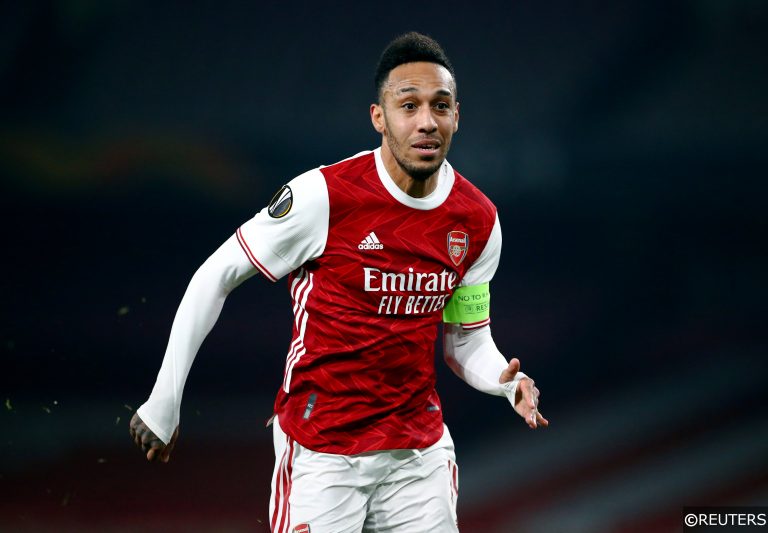 Gareth Freeman
@TheGFreeman
December 13, 2021
Show Bio
Sports Journalist at FST, Gareth qualified as a journalist after graduating from university and spent over a decade as a freelance broadcast journalist, commentator and tipster before joining FST. Now living in Manchester, he is a long suffering Bolton Wanderers fan who also enjoys boxing, the NBA, tennis and rugby league.
FST caught up with Nigel Winterburn this week ahead of Arsenal's clash with West Ham on Wednesday night, touching on hot topics such as Mikel Arteta's decision to strip Pierre-Emerick Aubameyang of the captaincy, the informal return of his old team-mate David Seaman in a coaching role and Wednesday's opponents.
What's your immediate reaction to the news that Aubameyang has been stripped of the Arsenal captaincy?
I'm not surprised because I think it was quite clear from Mikel Arteta's press conference before and after the Southampton game.
He looked to me as if he was pretty livid, he made the statement and didn't really want to digress further.
Obviously we're still hearing snippets of news, apparently he's been to pick up his mum and returned late, but it's not the first time it's happened with him.
Mikel Arteta has made that decision that it's time to find another captain for Arsenal and hopefully we'll get one who can potentially keep it for a long period of time because it seems to have been switching around as of late.
If you have to put anyone forward for the role, then who would it be?
I think it's important at this minute in time to listen to what the fans think and I think they'll have the same thoughts as me.
You want someone in there that's going to be a regular, stays fit and is in good form.
Obviously you can't just base it on that because injuries and lack of form can happen, but it needs to be someone that can command respect in the dressing room and around the training ground.
It's difficult for me to make that judgement because I'm not in and around the training ground, so I don't know who is commanding that respect and seems to be the player that others look to for guidance.
I would think that at this moment in time Tierney would be put forward, Gabriel could be put forward, Ben White and I've heard the mention of Ramsdale.
Another I would throw into the hat would be Saka because he's been the one standout player in this period of time when Arsenal have been trying to progress and close the gap on the top four.
He's been the stand out player, so I think what it will ultimately come down to is Mikel Arteta wanting someone that is vocal and leads by example by on and off the pitch.
Sometimes you don't get all those combinations within a player and whenever I had that responsibility I didn't do anything different, I just tried to lead by example.
It has to be 100% full commitment every single game, you don't necessarily need to be more or less vocal in a game to be a strong leader.
The conundrum will be for the next captain is that we'll all have different opinions of what we like, but actually what are Arsenal and Mikel Arteta looking for.
Obviously discipline is key to that decision, so I would suggest it's wide open and there isn't one nailed on person that might get it.
I think there are four or five choices and not everyone will agree, but that'll always happen.
I don't think at this stage at the moment that it's anybody's for certain.
I'd also suggest that whoever you give the captaincy to, you have to make sure that it doesn't affect their performances.
To be captain of your club is not something you want to worry about, it's something to want to accept, embrace and hopefully keep you at the standards of what the manager expects. 
Is it time for Aubameyang to lose the captaincy? What have you made of him as a leader over these past two years? In your day, if a senior leader kept slipping up as Aubameyang has, how would it have been dealt with? 
It sounds to me that Mikel Arteta is quite clear on the guidelines for the players, there are no excuses.
There are boundaries that are acceptable and if you move outside of those boundaries then you're putting the manager under pressure to leave you out of the matchday squad.
And in Aubameyang's case, this is the second or third time it's happened, so because it's happened again I think he's left Mikel Arteta in a very difficult situation.
I don't know if he's been left out against West Ham because of covid or the disciplinary procedure, but I guess we'll find all this out in the upcoming days.
I don't think he left Mikel Arteta with many options though if I'm being honest.
Lacazette wore the captain's armband on Saturday – has the club been fair with him given there's been no new contract offer? Can you understand the club allowing his deal to run down? Will they miss him?

I said at the start of the season with the talk of Lacazette and Aubameyang leaving, I was quite clear before a ball was kicked that Arsenal cannot afford to let those two players leave unless there was a ready-made replacement.
You cannot go into a season with one striker, it is impossible and we're seeing it with Arsenal with both disciplinary reasons and lack of form.

I thought the Lacazette situation would have been a new contract for him, but if the player doesn't want a new contract or get the length of contract he wants then he'll leave his options open until the end of the season.
It doesn't mean he won't get a new contract, but he might have to consider game time and whether it's time to move on.

At the moment, he's a very important player for Arsenal and Mikel Arteta will say exactly the same thing.

He's been important from the start of the season and we don't need to be drawn into his contract situation right now, that will be resolved by the end of the season.
What have you made of the form of Nuno Tavares since he broke into the team? Would Edu and Arteta be concerned about the rumours that Man City are watching him this season?

I wouldn't be concerned because he's an Arsenal player. He's a young man, he's come in and done very well.
There's still a huge amount of improvement that needs to be done, I think at times there's a little bit of naivety there.
But unless you're playing, making mistakes and learning from those mistakes then nobody knows how good he's going to be.
At the moment I still believe Tierney is the better fullback overall, but Mikel Arteta will tell you it's about competition for places.
Nuno Tavares came in, played well so he's been left in the team.
All of a sudden Tierney is back in, so it's up to Tavares to develop again and put pressure on Kieran Tierney to get his spot back.
There's still a huge part defensively he needs to learn and his decision making, but he is a young man and he's made huge strides already so there will be pressure on Tierney.
To be quite honest, there are always rumours about players and it doesn't worry me.
He's just come to Arsenal, had a lot of game time when maybe he thought it wouldn't be the case, so why would he want to leave.
I don't see it as an option at all at the moment.
What have you made of David Seaman's return to the club in an informal coaching capacity? Does the club need a stronger connection to your era and the pre-Emirates days?
Personally I love it.
Dave is a big character and was a terrific goalkeeper in his time, from my period him and Schmeichel were the two best goalkeepers around.

Even if Dave is just a mentor to Ramsdale, someone that's performed at the highest level, produced the saves he's produced and won the medals he's won.
Why wouldn't you want to have someone around you that could be a great mentor that could just be talking to you.
Ramsdale might pick up one or two things that a goalkeeping coach hasn't picked up on, so that combination and presence to me is perfect.
I do a fair bit of work for Arsenal on matchdays and I love seeing the ex-players around the ground because I love to see that strong connection between the club and ex-players.

I wish it was even stronger, but I love being there on matchdays and being associated with the club.

I'm proud of the teams I played in and what we achieved and I'm hoping eventually teams in the future can go on to emulate the teams I played in.

I would love to be around if that happens.
What should management do with Maitland-Niles? Should they sell or can you see him becoming a first choice under Arteta?
Do I think he's going to be first choice at this moment in time? No I don't.
He would be first choice if he was going to be and it looks as if his game time is going to be limited.
He was man of the match against Watford and he came on off the bench in the next game, but we haven't seen a lot since.

For whatever reason it's happened, and Mikel Arteta will feel that Xhaka and Partey will be the combination he likes.
It looks as if Lokonga would then come in and Maitland-Niles if they need to make those substitutions.

In saying that, there's the Christmas period which is really busy and I'd be surprised if all of those players don't get some game time.
It will come down to, at the end of the season, how much he's played and whether he pushes for a move away if he thinks it's not going to work for him at Arsenal.
If he feels he's just going to be a squad player for the next few seasons, then it may be time to move on.
We'll just have to watch and monitor that.

What is realistically a good season for Arsenal? What should the club be aiming for at this minute in time?
I've said for the last three years that it needed a huge turnaround in players, I thought players were too comfortable and the level wasn't high enough.
It's started for me this season, we've seen the start of this turnaround with Arsenal bringing in young players to develop looks to be the way forward.
At the start of the season I said I thought they'd finish between 5th and 8th.
To me there is an opportunity to finish in the top four, the other three teams are way ahead of the rest, so I'd readjust it slightly.
I think Arsenal will finish between 4th and 8th.
I know it's a wide analysis, but they're good enough to go on a run of form, but they're also still susceptible to losing games as they did at Everton and Manchester United.
It's going to be and continue to be a roller-coaster season for Arsenal and it will come down to the consistency of the team.
I genuinely think with a good run of results they could finish 4th, but if they're inconsistent they will finish lower.
I would think the aim would be to try and get Champions League and if that doesn't happen, get back in Europe.
For me, there's a position wide open and it's 4th.
 Will Aaron Ramsdale be England's number one by the end of this season? Should club form be taken into consideration despite Pickford's performances for England.
I think Southgate does take club form into consideration, but I also think that he's very loyal.
Raheem Sterling was out of form for his club, but for England Southgate played him all the time and he produced.
I think you'll get the same in this situation, unless Pickford is having a complete and utter nightmare Everton.
It'll most likely be the same scenario that Southgate will stick with Pickford, but he will get huge competition, particularly from Ramsdale if he continues this form.
I have to say he's in sensational form and even I have to admit that he is way ahead of level of performance that I was expecting from him when he first joined.
The way he's playing, he's a couple of steps above Leno at Arsenal and that's huge because I didn't think Leno did a lot wrong.
Ramsdale seems so pumped at the moment and the vibes he gives off to his defenders, it's propelling him to the next level.
It's incredible and he should be so proud of what he's produced so far.
How critical will the January market be for Moyes and West Ham? Can you see a top four finish for this squad?

I don't see them losing any players, especially the players they want to keep.
They have a slight issue at centre-half at the moment, but they're in a great position as they were last season.
Last season I felt they should have finished 4th, they put themselves in a great position and just came up short.

They need to get through this Christmas period and have another look afterwards, but they're in a fantastic position and can they go out in January and strengthen in the areas they feel they need?
I don't think they'll buy for the sake of it, but can they get somebody in who can give them another lift to get 4th place.

Is that player going to be available for West Ham in January?

A lot of the time it is impossible because those players are already in European football so they don't want to move and aren't interested.
It'll be difficult, but there may be one or two options that springs up for them.

Do you rate Nat Phillips? Would he make a difference at West Ham?

With him he's had limited experience, some game time, but you're asking whether he'd be a step up to what West Ham have.
You could also say Declan Rice can drop back into that position.
If it's the right decision for West Ham to go ahead, then they will push for it because there's a possibility to get that player with him not being first choice.
I think it's a tricky situation because January deals are hard to do, and you have to question whether they'd be brought in as cover or to strengthen the squad overall.
That's the difficulty, will he feel he would be coming in as a stop gap because there's a couple of injuries.
But West Ham could possibly look at loan situation in that case.

Do you think there's regrets for Moyes not persisting with Sebastien Haller? Where would West Ham be if Haller was still with the club producing his Ajax form? Why did it work at Ajax and not West Ham?

I think the supporters will be asking questions because he doesn't look the same player.
It happens all the time, you get situations where players come in and for whatever reason it doesn't work.
Maybe they haven't settled, maybe it's style of play, moving country, doesn't suit them and unfortunately they go somewhere else and they're a huge success again.
We shouldn't be surprised because it does happen a lot, West Ham made the decision as it didn't look like it was working out for them.

All of a sudden he moves and looks a different player.
I think sometimes you hold your hands up and say it didn't work out, but we don't know why.

They would have kept him at the club if it was working and continued to work with him, but maybe he pushed for a move.
Thoughts on Ben Johnson at West Ham?
I think he's done well, but it's all about progression, getting game time and playing at a level where you're asking the manager to make a decision to leave you out of the team.
It's similar to Saka at Arsenal, he was playing at such a level that wherever he played he couldn't be dropped.
The fans pick up on these things, the player might be young but if he's playing well you can't leave them out.
That's what will happen at West Ham, they'll get opportunities these younger players because they're good enough technically.
It's how they react mentally in front of those supporters and some players thrive on it whilst others find it difficult.
We'll find out when he gets more game time whether he can be a regular or in and out of the team.
It's what professional football is all about, making a name for yourself and it's the best job in the world.
If he continues to play well it'll put pressure on the manager to leave him out and that's how all young players should view it.
What do West Ham need to succeed in Europe this season?
I think they have an unbelievable chance in this competition.
They've swept through the group, yes there's Champions League teams coming down, but I don't think West Ham at this minute in time are going to worry about whoever they play.
They won't be favourites for the competition, but I don't think they'll be far away.
People might say there's a lack of experience, but they're there because they're good enough.

I think there will be more teams afraid of playing West Ham, or David Moyes looking at teams and looking to avoid them.
I would suggest it's the other way round and teams will be thinking they don't want to play West Ham at this minute in time.
Last season and this season they've been on an absolute roll.

Predictions on Arsenal vs West Ham and what it will mean for both teams to get a win?
I had three years at West Ham, but everyone knows the work I do at Arsenal and I don't hide away from the fact I'm an Arsenal man.
It's a tough game, Arsenal have got to be at a high level and I personally think Arsenal need this three points for their consistency and their belief.
I think it'll be a close game and an intriguing contest.
For Arsenal it'll take them into 4th ahead of West Ham and it may make a difference psychologically coming up to the halfway stage.
Three points for West Ham will take them further away from Arsenal and cement that position.
It's a huge game for Arsenal, I don't think they can afford to lose this game.