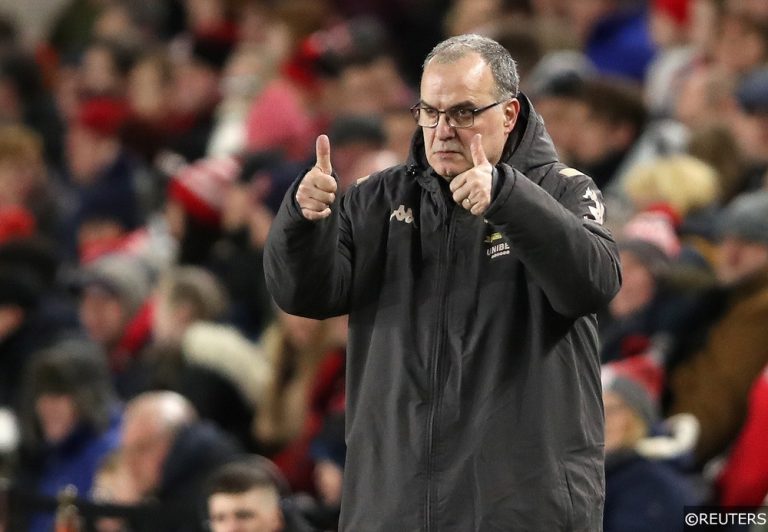 Content Editor at Free Super Tips, Alex was born in the shadow of Old Trafford and is an avid Man Utd fan. After graduating from university he combined his love of football, writing and betting to join FST and now closely follows goings-on in all of the top European leagues.
FST had a chat with Don Goodman this week ahead of the latest round of Premier League and EFL action and the Sky Sports pundit had plenty to say on Leeds United's slow start to the season, Wolves' prospects under Bruno Lage and the myriad of hot-topics in the ever-exciting English Football League.
---
Do you think Marcelo Bielsa/Leeds will regret not bringing in more recruits in the summer window considering the injury problems they seem to be having this season?
I think hindsight is always a wonderful thing.
Since he's arrived at the football club, they've been so physical and they've always coped with quite a small-ish squad, even in the Championship it was relatively small.
They've always been able to manage the injury list, but I think the difference this time is that it's injuries to key players.
There's been two injuries to the two most crucial players that really make a difference when Leeds don't have them and that's Patrick Bamford and Kalvin Phillips.
If you take those two out of that Leeds United side and what they try and do with their brand of football, it can become very difficult.
They haven't got another Patrick Bamford at the football club, and they certainly don't have another Kalvin Phillips.
As I said, hindsight is a wonderful thing, but they have brought in Dan James and Junior Firpo, but there wasn't many.
At the moment it's having a negative impact on Leeds United with these injuries, but I don't think they're one of the three worst teams in the division, so I have no worries about them.
The sooner the lads are back and fully up to speed then the better and January is only around the corner, so hopefully that'll bring two or three more in.
As we saw with Sheffield United, the second season in the Premier League can be difficult, do you see Leeds falling into that trap and should they be worried about the prospect of relegation?
I think sometimes the second season thing can be more psychological and if you're the club people are talking about.
In Sheffield United's case, it's about how you get through the tough periods and there wasn't any point last season that they got through the tough periods.
I don't categorise Leeds in the same bracket, I really don't.
I've been covering the Championship for Sky Sports for about 15 years now and Leeds and Wolves are two of the best teams to get promoted out of the Championship.
I don't really hold the same fears for Leeds as I did for Sheffield United, but they need wins, and they need them soon.
Leeds have got Norwich next and although it's away and Norwich haven't been as bad as they've been made out to be so far, it's a must win.
There aren't any easy games, but they're not one of the worst three teams in the division.
I think once they add two or three signings in January then they'll be ok and I don't have any relegation fears for them.
What have you made of Wolves' start to the season and life under Bruno Lage?
The irony about Wolves is that they were magnificent in their first three games against Leicester, Spurs and Man United.
You could argue they were the better team in all three, but against Spurs and Man United they were, but they lost all three games.
I think the fans were ok with that because they like the front foot, attacking style of football that Bruno Lage has brought to the club.
I don't think managers, players and coaches should be judged on last season, but I think that's what happened with Nuno unfortunately.
There were no crowds in there, his was away from his family for a year and I urge anybody to think about how they would cope under that circumstance.
I don't judge Nuno on last season, but the hierarchy did, and they weren't happy with the football, so they changed to a more attack minded coach in Bruno Lage.
I think they like what they've seen, but the irony is that the best three performances so far were the first three that they lost.
It shows that they're competitive and the players are looking up rather than down, so they've found a way to grind out some wins.
The only bad game they've had was that performance against Brentford, but everyone is finding Brentford difficult to play against at the moment.
In general, I think the fans are pleased with what they see so far, it was important that Raul Jimenez scored because he looks a different player.
He hasn't scored since that first goal, but he's been heavily involved, and I like the look of Wolves this season.
I would be disappointed if they didn't finish in the top half, there's a lot of good teams in the Premier League, but Wolves should be finishing in the top half.
Are you surprised that Nuno Espírito Santo landed the Tottenham Hotspur job? Do you think he's a 'stop-gap' for the club or will he have a long-term stint?
I think Tottenham have had their cake and eaten it.
You read the reports that there's a clause in his contract if he doesn't make top four, they can sever the contract at the end of the season.
We all know how shrewd Daniel Levy is and it was an opportunity for Nuno.
He knows he wasn't first or second choice really and going in under those circumstances, you've got to have self-belief and he has plenty of that.
I don't think they've quite found their rhythm yet and some of the wins they've had have papered over the cracks a little bit.
I thought they may have turned a bit of a corner with those wins over Aston Villa and Newcastle, so the West Ham game was a real blow.
They've got Man United and Everton next, so it doesn't get any easier and Nuno will know the pressures on him as Tottenham manager.
They're currently in that top six, but they need to improve if they want to stay there.
Norwich have been bouncing between the Premier League and Championship in recent years, why do you think the club struggle after promotion, is it a mental block and is Daniel Farke under pressure?
I kind of like what Stuart Webber, the managing director at Norwich, is doing, the philosophy or aim is to be a top 26 club.
What they're saying is even if they get relegated from the Premier League, they expect to be in the top six and shooting at promotion the following season.
There's a part of me that likes that attitude, but it doesn't mean that every time they go into the Premier League that they should be coming back down at the first attempt.
The juries out really and Norwich's recruitment has been spot on in recent seasons.
I actually think they had a better team last season than the last time they got promoted before that.
At that time, they hardly invested anything, but this time they have, and they've bought for the future.
Norwich City can't buy young players for the future, on mass, who haven't played in the Premier League and expect to compete.
I think that's a mistake they've made, I'm full of praise for them as a club and how they've gone about it.
I was critical of them for not spending enough the last time they were promoted, but this time I have to be critical of them in terms of the recruitment.
I don't think they've got the balance right, some of these players may turn out to be fantastic players in the future, but to throw them in the deep end in the Premier League was a mistake.
I do worry for them because I'm struggling to see how they survive, and I don't think they've spent their money wisely.
How do you asses Valerien Ismael's start at West Brom? Do you think recruiting a new striker in January is paramount to a promotion push?
It's a tough one, I think Valerien Ismael would have loved to have got Daryl Dike who he had at Barnsley.
He got Jordan Hugill instead and although Hugill may lack the pace of Dike, he matches every other attribute at this level in terms of goal scoring ability, physicality and power in the air.
I don't think they need another striker with the options they have and there's plenty to supply the ammunition in other areas.
When I watched Stoke demolish them, it was only 1-0 but it was a demolition job, that set alarm bells ringing for me.
When they come up against teams who want to pass through the press and can be successful at doing that, it's a worry.
The other thing to throw in the mix is Bournemouth, whilst I expected them to be in the top four, I didn't expect Bournemouth to do what they've done and be clear at the top so early.
On paper, they're as good as anyone in the league, but based on last season, they're a team that have put the cats amongst the pigeons for West Brom.
Fulham are there as well and Sheffield United will get better, I've always said those four would be up there, I just didn't know in what order.
I thought West Brom would finish in the top two, but now I find myself questioning that because of how good Bournemouth and Fulham look.
I'm really confident that West Brom will finish in the top four, but top two I'm not as confident.
Coventry, Luton and Huddersfield are currently in and around the playoff positions, maybe as a surprise to some, can they maintain that level throughout the season?
I don't think any of them will gate-crash the top four, provided Sheffield United continue their resurgence.
I think Sheffield United have been a slow burner and sometimes Slaviša Jokanović's teams take their time to get themselves to the place he wants to take them.
Ultimately, they end up having success as he's both before at both Watford and Fulham.
You only expect Sheffield United to get better and then there's two spaces available for anybody to replicate what Barnsley did last season.
They shouldn't have been there, but this year you look at Coventry and Luton who are 4th and 5th at the moment and then Huddersfield who are level on points with Luton.
I do think there are two spaces in that top six for anybody to fill.
I don't think it's overly surprising with Coventry, they drew 0-0 with Watford last season and were the far better team, so they showed their capabilities.
A few weeks later they beat Brentford, so we got some glimpses of what Coventry can do and they've brought people in to improve their team, so I'm not too surprised at them other than the fact they're 4th.
Luton are similar and with Middlesbrough, Neil Warnock wants that ninth promotion which is why he stayed another year.
Make no mistake about it, he believes there's a chance and based on what I've seen they're an excellent side.
Stoke beat West Brom and then lost a couple, so there are no easy games in the Championship.
Blackpool struggled to get going but have certainly warmed to it, so there are a lot of potential fairy tale stories.
Can Neil Warnock mastermind another promotion push at Middlesbrough?
This Neil Warnock team probably play more football than most of the Neil Warnock teams I've seen in the past.
He would acknowledge that himself, but eight of the 11 signings he brought in against Cardiff have been his signings.
He's brought technical players in and decided to go a different way, he's still got that out-ball and lads willing to work and run.
There's a lot of technically quality players who aren't just going to play long-balls and hit the channel.
I really like what I see from Middlesbrough and even before the wins started to come in, statistically they were playing better than the results suggested.
I'm a believer of that if your performance levels are high, then you are going to win more games than you lose.
That seems to have turned for Middlesbrough now, they're playing well and picking up positive results.
Anybody that rules out Neil Warnock getting a promotion for me is a fool.
Should Wayne Rooney stay at Derby County if they're relegated into League One this season?
It all depends on how they go down.
At the moment, if they keep playing the way they are doing and they come up short, then it'll end in glorious failure.
I think there would be cause for optimism and for Wayne a lot comes down to what happens off the pitch.
Who ends up being the new owners, are they ambitious? Do they want the club promoted back into the Championship and beyond?
That's what Wayne Rooney will want; he will be as ambitious as a coach as he was as a player.
Once you have that ambition inside you, it never leaves, and I think he's done a brilliant job.
I love the dignity he's shown and how he's handled everything that's gone on at the football club.
At this current moment, we're wondering if there will be another points deduction and how much that will be.
I think they can bridge the gap if they didn't have any further deductions, but if they were to have another nine points docked then I think it becomes a really tall order.
Ultimately, it'll come down to the ambition of the owners and whether that ambition matches Wayne Rooney's.
I certainly think his stock has risen over the past two or three months.
Aleksandr Mitrovic already has 15 goals in the league this season – is he the best player in the Championship? If not, who is?
He's the best goal scorer in the Championship, I don't think anyone can dispute that.
There are some good players in the Championship, but at the moment you'd be hard pushed to say there was a better one.
There are better players technically and players who can influence games, but when you're the one sticking the ball in the back of the net, that's the biggest influence anyone can have in a football match.
At Championship level he just seems to be able to do it at will.
I'm a bit baffled to why, not that he didn't score in the Premier League, but he didn't play as often.
There was clearly something going on between him and the coaches and maybe other stuff off the pitch that we don't know.
There was something stopping his performance levels and he's shown in the past he can perform and score goals in the Premier League.
He does it on the international stage and I just don't see any reason why he doesn't do it in the Premier League.
He signed a long deal and maybe if Fulham make it, next season will be the season for him to show he can do it in the Premier League.
Who would you put as favourites for promotion from the Championship right now?
There's a reason I try to avoid predicting the Championship because it can make you look very silly sometimes.
I really like the look of Bournemouth and they've given themselves a bit of a cushion.
The next six games will dictate whether or not if they stay where they are.
On paper, they'll fancy taking a lot of points from that run of games, so I'll say Bournemouth now, but I wouldn't have said it before a ball was kicked.
I think Fulham are the next best team, but they have shown little streaks where they're not quite at it and they get exposed.
They don't hit the heights in every single game, but I'd say them largely thanks to Mitrovic.
I wish I could be as confident as West Brom because it is a team close to my heart, but I'm not sure whether if they end in the playoffs if it'll be seen as disappointing.
At the start of the season, they would have been aiming for top two, but they have to be seen as favourites and I would say that with a tinge of hesitation.
Thoughts on Nigel Adkins' Charlton sacking and the potential of Johnnie Jackson landing the job?
Johnnie is Mr Charlton; he's been around and about as a player and as a coach in the academy and first team set ups.
I think he wants the job, the start he's made by beating Sunderland who had won every home game before Charlton turned up.
Nigel has been in the game long enough to know that those kind of results for Charlton Athletic in League One is only going to lead to one thing and that was losing his job.
It's a shame because I thought he was the right man, and I was really optimistic for Charlton.
They finished last season strong and only lost one of the last 15 games which was against Peterborough.
To finish that season so strong was a cause for optimism going into this one and having a pre-season to work with the players.
They just haven't kicked on and results haven't been good enough so for Charlton in League One striving for the top six just isn't good enough.
He'll hold his hand up, it's never nice seeing a manager lose his job, but it wasn't a surprise in the end.
It's all there for Johnnie, he knows the players very well and he's tweaked a couple of things which worked well for him, and he'll know for any manager it's about getting results.
He needs two or three positive results and then the owner will assess the situation and I think he'll get the job.
The only way is up for Charlton, let's not beat around the bush, they've hit rock bottom so the only way is up.
But I have no doubts that Johnnie Jackson can take them forward.
Sunderland suffered a setback when losing against Charlton last week – can they bounce back this weekend against an in-form Rotherham United? Do you think their squad looks stronger than previous years at this level?
I think the squad looks stronger, the manager is the right man and the owner is a genuinely ambitious owner who wants the best for the football club.
I think it's a club that's in the best place it's been in some years, but this has to be the season that they get out of that league.
It's been far too long that a club like Sunderland have been in League One.
I know we say this a lot about other teams; Sheffield Wednesday, Leeds and Wolves who have been there and shouldn't be.
They've been there for a reason, but it's unacceptable for clubs like that to be in that position.
They aren't a million miles away and they have a lot of good players in that squad.
League One is tough, there's a lot of pedigree and it's a tough league to get out of.
It's as hard as it's ever been at that level, but I believe Sunderland can do it as long as they don't dip below a certain level.
They have to be at it from now until the end of the season in every single game and I would be disappointed if they weren't in the top two.
Bradford City were amongst the favourites in League Two for promotion at the start of the season but they're languishing down in 11th spot – what seems to be going wrong for them at the moment?
It's a difficult one because they're one of the big cheeses that have been in the Premier League along with Swindon and Oldham.
Everyone expects them to be at the top of this league and the fact they persuaded Derrick Adams to leave a League One project with Morecambe shows something.
Derrick's done that because he sees the project and that isn't to get promoted to League One, it's to go again and get into the Championship.
They believe they are a Championship level sized club, but it needs to start happening on the pitch.
They started the season really well and then went on a horrible run of form.
They've got the top three in their next three games and some other teams doing well up and amongst it, so it'll be a tough run of fixtures.
I think we'll have our answer whether they can be promoted in three games time, but the ambition is there from the club to get promoted.
They're not a million miles away and they haven't hit the levels Derrick Adams would have wanted yet, but I do think he'll get it right and they'll start moving up the table.
---
Free Super Tips covers every division in the EFL in fantastic detail, so whether you're looking for Championship Predictions, League One Predictions or League Two Predictions, we've got you covered.