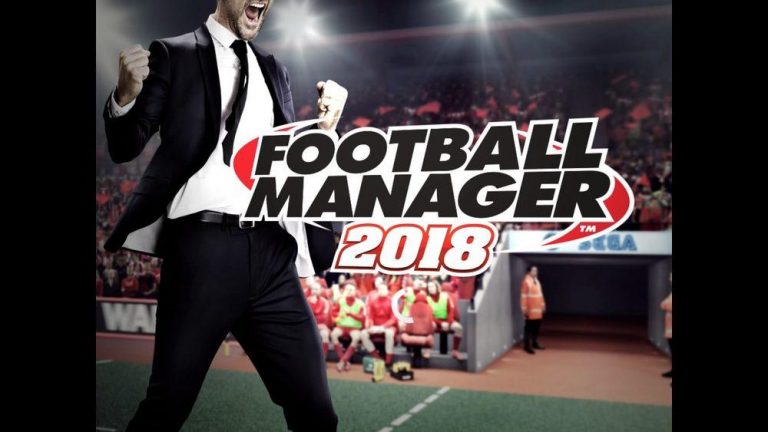 Content Editor at Free Super Tips, Alex was born in the shadow of Old Trafford and is an avid Man Utd fan. After graduating from university he combined his love of football, writing and betting to join FST and now closely follows goings-on in all of the top European leagues.
This is Part 3 of our Road to Moscow Football Manager series. You can read the previous instalments below:
Okay, so our draw against Slovakia wasn't ideal, but it's nothing to be overly concerned by. We had already qualified top of the group, so it was natural that the players slacked off. Maybe I overreacted.
If that happens in Russia I'm going to burn Wembley to the ground.
Anyway, it's nearly time for the group stage draw. First up is a friendly against Chile though, so it's time to shake off the rust brought on by four weeks of relaxation.
Read More: England's Potential Starting XI in Russia
England vs Chile
It's a friendly, and while there is the fear of losing the players with another poor performance I feel like now is the time to experiment. If it doesn't work out then at least I have a few international breaks to repair the damage before we head off to Russia.
Three at the back is the plan. I've heard murmurs that Southgate was planning to try it out before his kidnapping, so I'll take up the mantle.
Harry Maguire has had a terrible time at Leicester this season, so he's dropped in favour of the in form James Tarkowski. Ross Barkley gets a call up too, as does Adam Lallana after recovering from the gruesome injury inflicted upon him by Jurgen Klopp's criminal training methods.
Daniel Sturridge is the other new inclusion. I'm terrified of him slipping over in the dressing room and snapping all his ligaments, but his excellent club form demands a call-up. Fortunately Phil Jones is injured, probably from another reckless last ditch challenge, so that saves one awkward conversation.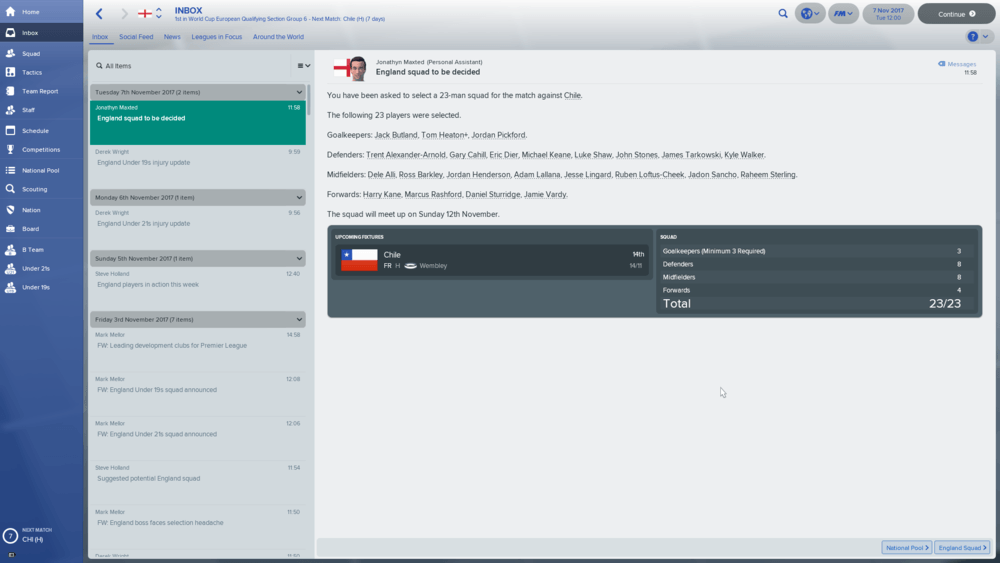 I hold a team meeting once all the players turn up and warn them to avoid complacency just because it's a friendly. Once again Kyle Walker is in disagreement and seems to think that complacency is fine. I'm beginning to dislike Kyle.
My scouting report of Chile comes back with some useful information, although why my scout thinks that Arturo Vidal is an excellent choice at centre back eludes me.
I set up for three at the back, pushing Alli back into the centre of midfield despite my fears that I'm wasting his ability. I can't leave Sterling and Rashford out after their performances though.
To my feckless scout's surprise, Arturo Vidal is not playing at centre back. Overall they look beatable – Walker will have a tough job keeping Sanchez quiet (don't get complacent Kyle) and I've got Eric Dier keeping an eye on Vidal. Defensively they're lacking in pace, so it could be another day to prosper for Rashford and Sterling.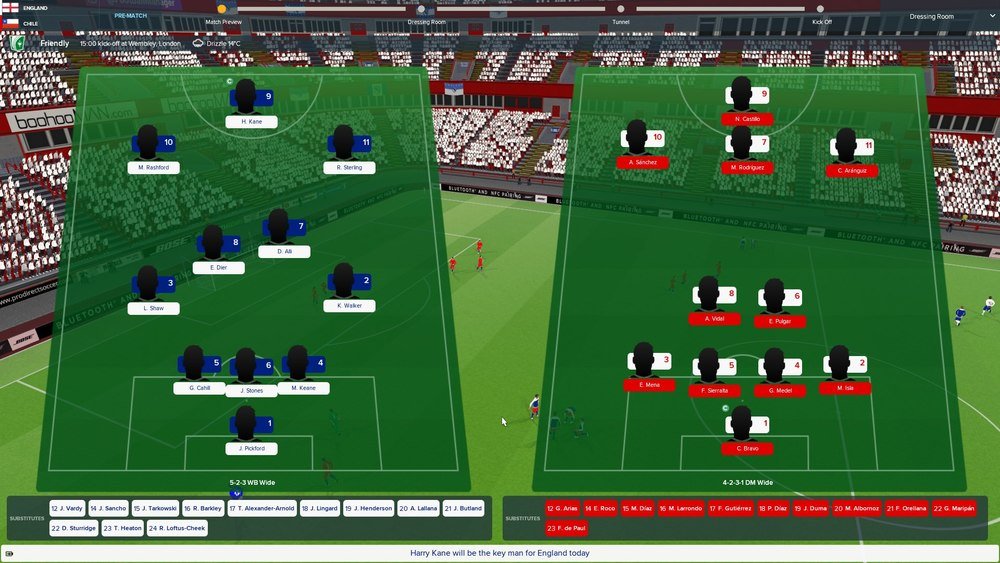 Terrible start! Chile win a corner five minutes into the game, and Kyle Walker loses his man, allowing Nicolas Castillo to head in completely unmarked at the near post. Complacency?, thy name is Kyle Walker.
Seven minutes later and it's 2-0. Sanchez driving a free kick through the chocolate wrists of Jordan Pickford. This is not going well. The rest of the half passes with barely a sniff on goal for us, so I decide to revert back to my tried and tested formation for the second half. Walker's coming off as well, the useless bugger.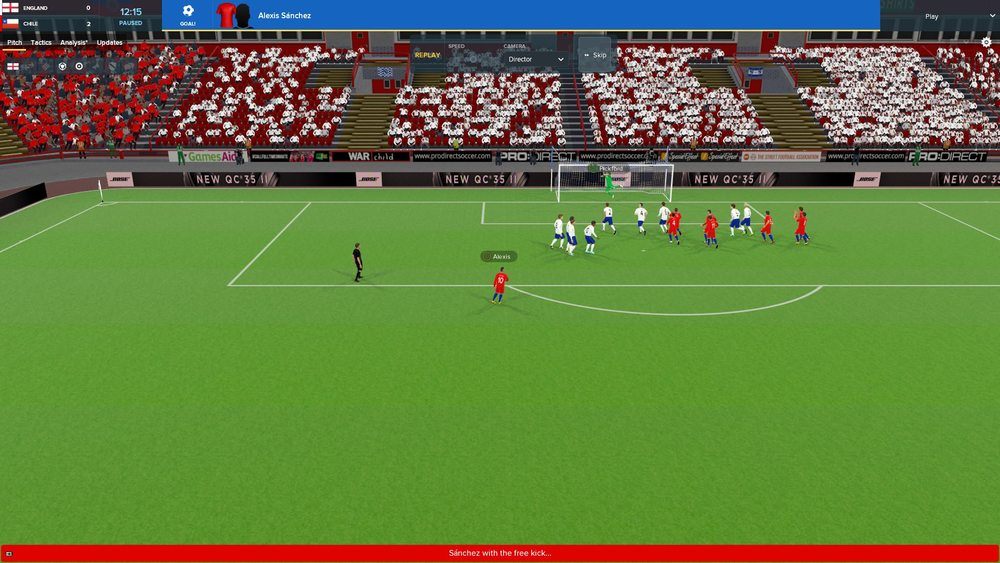 I make a host of changes at half-time. Hauling off the useless Walker, Dier, Alli, and Kane to make way for some players who look like they actually want to be there. Nothing changes. I bellow cliches out from the touchline and tell them to get forward more. Nothing changes.
Rashford misses two sitters and Ross Barkley (Morale: Abysmal) nearly takes down a weather balloon with a long range shot. The game ends 2-0, and my unbeaten start to managerial life comes to an abrupt end.
We'll call that a failed experiment and switch back to our usual tactics before the next match.
World Cup Group Stages Draw
I've had a couple of weeks to cool down now, and Jamie Vardy has invited us all round to his house to watch the World Cup draw. Everyone's invited, and guess who shows up on crutches? That's right, Daniel Sturridge. I don't know why he bothered showing up to be honest, he's out for four months and doesn't have a hope in hell of making my World Cup squad. Everything else is going well until Dele Alli starts winding Ross Barkley (Morale: Abysmal) about the recent London derby. Barkley's in no mood for it. Steam pouring out of his ears, he flies off the handle and has to be dragged out of the house by Gary Cahill. 'Glassman' Sturridge almost got caught in the middle of that; I dread to think what would have happened. The cracks are beginning to show.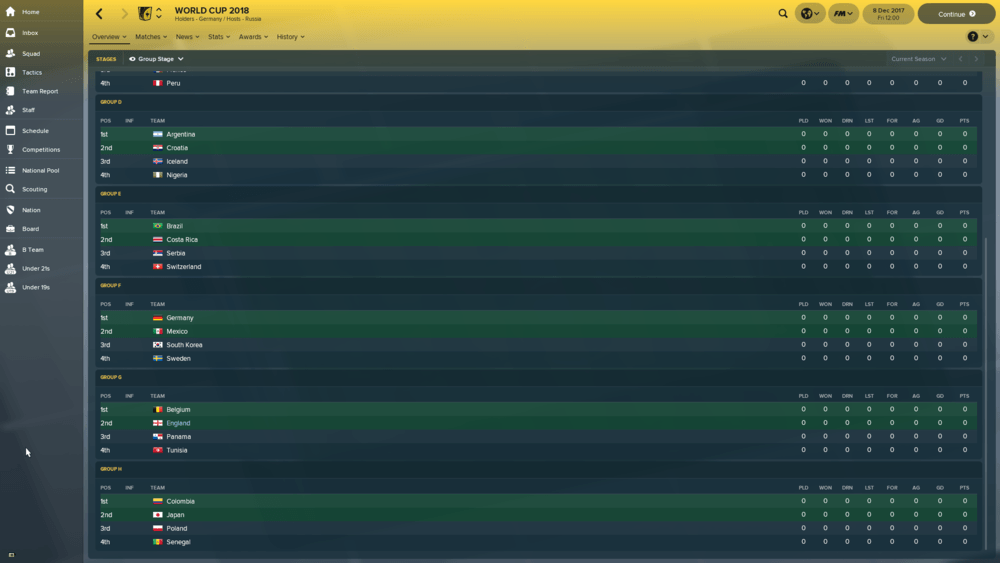 We all settle down in time for the draw, and it all goes precisely as we expected. Belgium, Panama, and Tunisia in our group. I had told the players that I had a premonition that this would be our group, and I hear a few of them muttering that I'm a witch.
Read More: England's Potential Timeline in Russia
World Cup Preparations
Completely of my own volition I arrange some pre-tournament warm up friendlies, independently deciding that Nigeria and Costa Rica will be perfect opponents to prepare for the challenges of Tunisia and Panama.
Now, time to make myself look busy for the next four months. I think a scouting trip to the Bahamas is in order.
I'm lying on the beach, working hard obviously, when I receive an ominous looking email. Klopp's been at it again – What the hell does he put his players through!? Hopefully by the time the season ends my stricken players will have time for Klopp's gaping wounds to heal before the World Cup. I hate him.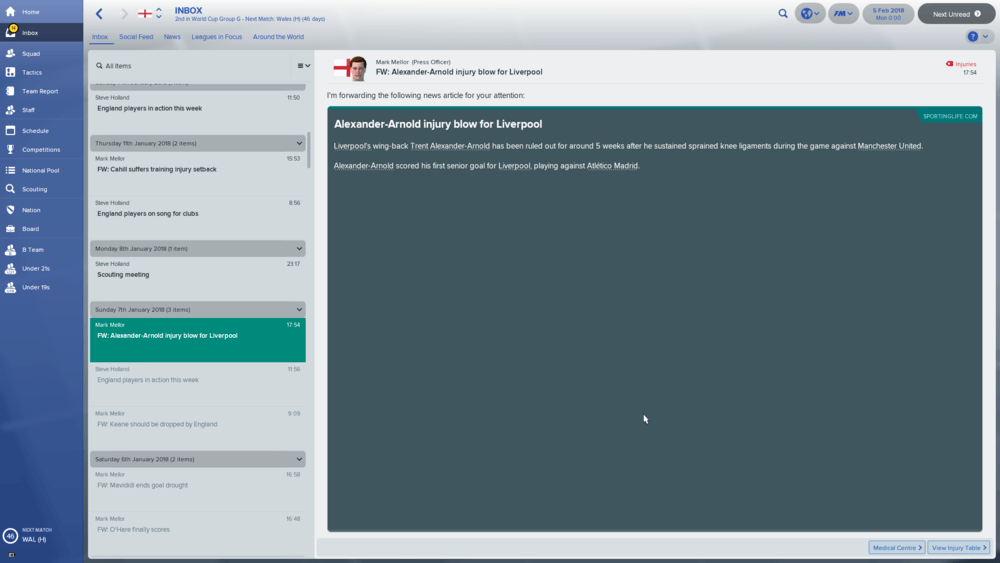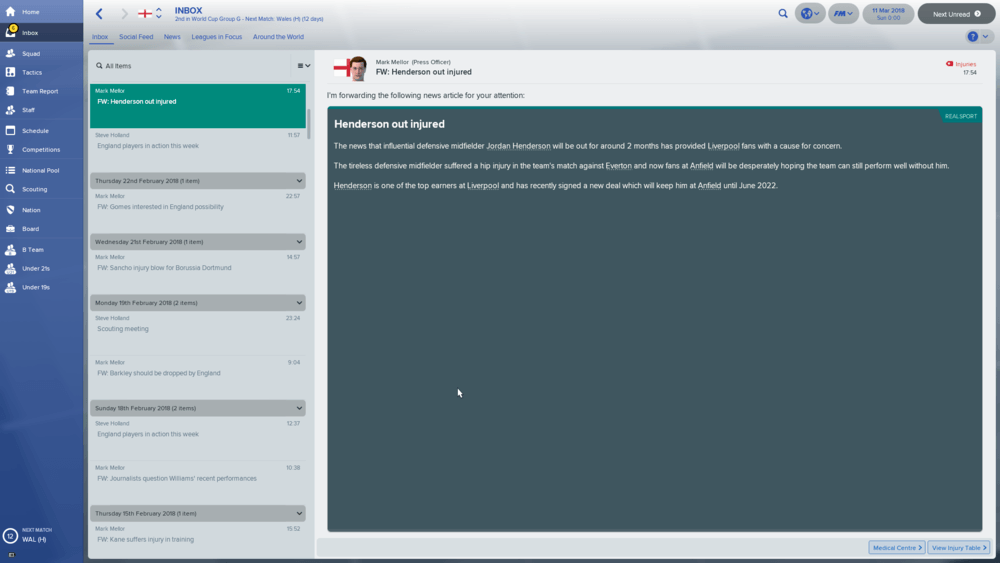 Anyway, a friendly against the Welsh dragons awaits, and I could really do with righting this ship before our real World Cup preparations begin.
Read Part 5 of our Football Manager journey here.
Follow Free Super Tips on Twitter to stay up to date with our daily tips and predictions or browse more football content on our website: