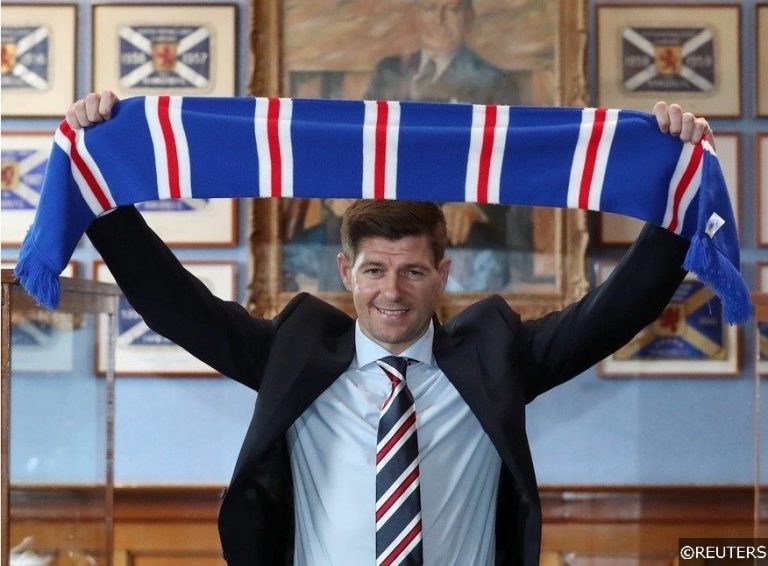 Rangers' loss to Aberdeen in Sunday's League Cup semi-final means that Steven Gerrard now has one less trophy to fight for. It's been a rocky ride for the ex-Liverpool legend in his first ever season as a manager, and his most recent defeat now begs the question: is he actually doing that well?
The pre-Gerrard Era
In a word: yes. Gerrard has managed to steady an ever-sinking Rangers ship since taking over back in June. The club has never been the same since they went through their financial troubles way back in 2012, as they were forced into liquidation and sent to the depths of Scottish football. It was a dark time to be a Rangers fan, and it was tough during their first years in the lower tiers of the country.
However, the Gers were able to achieve automatic promotions in almost every season, except when they debuted in the Championship in the 2014/2015 campaign. Rangers were unlucky to also share the division with both Hearts and Hibs, as both Edinburgh clubs took the top two spots, meaning that Stuart McCall's side had to challenge for a place in the top flight against Motherwell, who had ended up in the relegation play-off. The Premiership club thrashed Rangers 6-1 on aggregate, delaying the club's return to the top flight.
Read all of our Scottish Premiership match previews, betting tips and predictions here
The appointment of Mark Warburton for the next season was the right call to make, as it proved to be a fruitful one when the Englishman led his side to automatic promotion, ending Rangers' stint in the lower leagues once and for all. Rangers fans would be in for a surprise upon their return to the big league, as it turned out they weren't as much of a powerhouse as they used to be. The Gers' first two seasons back in the Premiership have seen them finish 3rd on both occasions behind Aberdeen and Celtic, who have established a monopoly since their rivals were kicked out of the picture.
Gerrard Revolution?
Brendan Rodgers has done an incredible job at Celtic Park since taking over in the summer of 2016. The Northern Irishman's success has also shown against Rangers time and time again, as he boasts an undefeated record in the Old Firm, winning a whopping 10 times in the 12 occasions he's come up against the Gers. Gerrard hoped to change that record when he came in, and there was no better candidate to finally break the Hoops' monopoly on the fixture than one of Rodgers' ex-players.
However, it was Gerrard himself who lost the 12th Old Firm match since Rangers' promotion, and he failed to get the better of his old manager. Despite Celtic being their biggest rivals and the match against them being the most important one on the fixture list, the ex-Liverpool legend has shown that it doesn't all just boil down to one single game.
Rangers suffered one of their worst ever starts to a season under Gerrard after being defeated by Rodgers, as the Ibrox club had a mere 5 points in just 4 games. But questions weren't raised, and rightfully so- it's harsh to judge a debutant after such little time in charge. Rangers' domestic record wasn't the best, and it could have been worse, but their European adventure is what really had everyone going.
It was really easy for Rangers fans to stand with Gerrard, even after a disappointing result at Celtic Park. The Gers fans knew that he was, and probably still is, a relative rookie. That being said, Rangers have picked themselves up beautifully since that defeat, and they boast a discreet- but impressive- record ever since. The only hiccup was a loss to Livingston at the Tony Macaroni Arena at the end of September, and the Gers were hopeless against the hosts, especially as they had scored and impressive 13 goals in their previous 3 domestic games.
After that defeat, Rangers would go on another good run of games in their domestic matches, beating league leaders Hearts and Hamilton before and after the international break, respectively. The win over the Edinburgh club was possibly one of the Gers' better results, as it meant they handed the Jambos their first defeat of the season and impeded them from extending their lead at the top of the table.
But after Sunday's defeat to Aberdeen by a mere goal 10 minutes from the final whistle, Rangers fans must be asking themselves what must be done for their managers to find some success in these huge games. The club's last 5 matches at Hampden have seen them fail to score a single goal, which is nowhere near good enough for their fans. Should Gerrard be given more time, or is his time up?
Gerrard to get the sack?
To put things in perspective, let's talk about Pedro Caixinha and the reasons he was dismissed from the club. The Portuguese manager definitely shook things up at Ibrox after some relatively boring managers before him- and not just on the field. He oozed confidence and some of his press conferences were somewhat controversial, as he kept on trying to translate sayings from his home country to describe the situation at the club.
PC: I will use a Portuguese phrase "The dog barks and the caravan keeps going." We will keep going.

— Rangers Football Club (@RangersFC) August 25, 2017
He wasn't a Liverpool legend, nor a Champions League winner, and not even a professional footballer, but he and Gerrard do have something in common: their managerial records at Rangers. When Caixinha was sacked, he had just suffered a last-minute draw to then bottom of the table Kilmarnock- which isn't such a bad thing when you consider just how far Steve Clarke has taken the club since-, but Rangers still maintained a respectable 4th place position.
Granted, Gerrard has only been in charge for nine league games, two less than when Caixinha lost his job, but the Gers boss' situation is vastly similar to that of Portuguese's. They both were knocked out of the League Cup semi-final and the same stage, and Caixinha got the boot shortly after when he failed to overcome Kilmarnock.
To make matters even more interesting, Gerrard's next game is precisely against Kilmarnock, at Ibrox and on a Wednesday evening. Exactly the same as Caixinha's last match. Despite sharing a near-identical situation, Steven Gerrard does have the status of a legend, Champions League winner and professional footballer to back him up, hence why he will most likely not get sacked should he fail to move his side further up the table after Wednesday's match.
#RangersFC announce today that Pedro Caixinha has left the Club: https://t.co/gMUCGAZonI pic.twitter.com/vrHiKYeyT9

— Rangers Football Club (@RangersFC) October 26, 2017
Another important point is the fact that Rangers are doing so well in Europe, something that Caixinha failed to do after his side was knocked out by Luxembourg's 4th best team in the first qualifying round. The Gers are joint-top in their group with five points after their first three games. They gained a very impressive draw at Villarreal, where Gerrard's men would come back from behind twice. Further points came after a comfortable win at Ibrox when they hosted Rapid Wien, as well as a 0-0 draw with Spartak Moscow almost two weeks ago.
All to play for in @EuropaLeague Group G with three matches remaining. pic.twitter.com/guILDjZlDH

— Rangers Football Club (@RangersFC) October 25, 2018
Gerrard has also given off a great vibe right from the get go, taking his squad out to Spain for an intense training camp almost as soon as he took over at the club. He also made his intentions very clear and what he expected from his players, which was a good way to get rid of those who lacked the characteristics the new boss was looking for as well as a great way to connect with the fans and gain their support, so much so that the grand majority of Rangers supporters still back their manager, despite their questionable performances of late.
There's also no denying that Gerrard has, in a certain way, revolutionised Rangers. His status as a player has played a big role in his relative success with the Glasgow club, using his influence at Liverpool to bring in young talent from the Merseyside club's youth ranks, including the likes of Ovie Ejaria or Ryan Kent, who have slowly crept into the starting XI and becoming regular starters.
Conclusions
The chances of Steven Gerrard getting the sack after the Kilmarnock game is relatively low, as losing such an iconic footballing figure would definitely lower any other manager's intentions of going to the club. Gerrard also made some controversial statements after the League Cup semi-final, as he appeared to initially take the blame for the loss only to then pin it on his players mere seconds later, which could come back to haunt him in the near future.
"If these players don't step up, it's very simple at a big club: the manager goes and finds better quality", Gerrard said to BT Sport- which could well be directed at the likes of Umar Sadiq, who had a terrible game on Sunday as he failed to impress his manager on his debut with the club.
Read our  free predictions and betting tips for Rangers v Kilmarnock here.
All in all, the most likely scenario is that Gerrard will keep his job for the foreseeable future, as long as he manages to maintain Rangers' brilliant start to the Europa League group stages, keeps them in the title race by not dropping any more points against inferior opposition and aims towards winning the Scottish Cup, which begins in January.
Follow Free Super Tips on Twitter to stay up to date with our daily tips and predictions or browse more football content on our website: