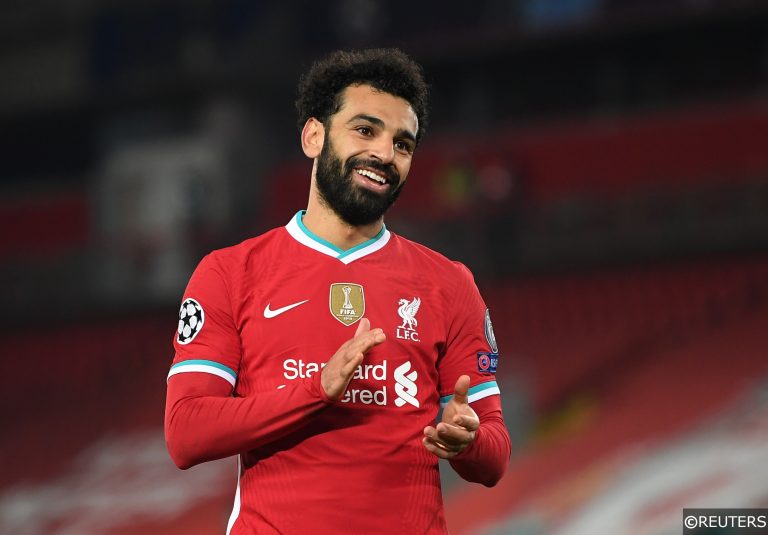 Gareth Freeman
@TheGFreeman
Sports Journalist at FST, Gareth qualified as a journalist after graduating from university and spent over a decade as a freelance broadcast journalist, commentator and tipster before joining FST. Now living in Manchester, he is a long suffering Bolton Wanderers fan who also enjoys boxing, the NBA, tennis and rugby league.
In The Mixer is FST's weekly column where we catch up with seven experts in football betting and get their opinion on the hot topic of the week.
This week we've asked our teams of experts for their early thoughts on the 2022 Ballon d'Or award. There are two names that stand out, and surprisingly neither of those players are called Lionel or Cristiano.
---
The case for Mohamed Salah
Dan Childs
Sports journalist at Racing Post
Goalscorers – particularly Lionel Messi and Cristiano Ronaldo – have dominated the award in recent years and 2022 could be no different with Mo Salah and Robert Lewandowski looking the strongest contenders.
The World Cup doesn't conclude until mid-December, so club form could be the key and much could depend on how well Liverpool and Bayern Munich fare in their domestic and European competitions.
Fitness could also come into play and I would have a slight preference for Salah, who has missed just seven Premier League matches since signing for Liverpool in the summer of 2017.
Chris Rivers
Sports journalist at Racing Post
International success counts for a lot in the Ballon d'Or with Lionel Messi unlikely to have collected his seventh prize had he not dragged Argentina to Copa America glory. With that in mind, next year could be a golden opportunity for Mohamed Salah to achieve the recognition he deserves, if the gong is handed out before next winter's World Cup.
Salah enters the new year in blistering form – he's had a hand in 28 goals for Liverpool in 20 appearances this season – and will shortly depart for the Africa Cup of Nations with Egypt.
The seven-time AFCON winners are forecast to be in the mix for the top prize again and if Salah is part of a victorious Pharaohs team, coupled with the potential of a domestic honour or two with the Reds, he'll be tough to ignore.
Aidan Perkins
Sports journalist at ICS
If Mohamed Salah maintains his blistering form then he will surely be a main contender after only finishing seventh this time around.
Salah is rightly in the conversation to be considered the best player in the world on current form and it would seem logical that winning a Ballon d'Or will follow at some point for the Egyptian. Robert Lewandowski must also count himself unlucky not to have won it this year so he will be a likely contender again if he maintains his prolific form for Bayern Munich.
Is it finally Robert Lewandowski's time?
Liam Flin
Sports journalist at Racing Post
I anticipate the Ballon d'Or ceremony will take place before the conclusion of next year's World Cup in Qatar so, with that in mind, I would go for Robert Lewandowski.
Had Lionel Messi not won the Copa America with Argentina this year, the prolific Pole would have easily won the accolade and he has made a red-hot start to this term's Bundesliga with 16 goals in 14 matches.
Bayern Munich are on course for another top-flight title and are again serious contenders for the Champions League, meaning Lewandowski should have the silverware to strengthen his claim, so I would back the world's greatest out-and-out striker to finally land the award he should have won in both 2020 and 2021.
Liverpool's Mo Salah is another great contender but his side are arguably less likely to win a trophy in 2022 than Bayern while this year's Ballon d'Or could prove to be Messi's last.
Ian Wilkerson
Sports journalist at Racing Post
As if betting on a competition that is voted for by football dignitaries wasn't complicated enough, the winter World Cup in Qatar throws another issue into the mix so it is difficult to decide who is likely to be in the running.
Age will surely start to count against Lionel Messi and Cristiano Ronaldo soon, and there are some notable pitfalls that are easy to fall into, primarily to put too much emphasis on what is happening right now and, as all those people who complained Mo Salah should have won it this year, be too Premier League centric.
So while Salah could be there or thereabouts if Liverpool win the Champions League and Egypt have a good Africa Cup of Nations, it is questionable whether he represents great value.
The outrage about Robert Lewandowski not winning was perhaps even more justified and he is likely to go close if his goalscoring figures reach anywhere near the levels they have over the last couple of years.
As he plays for Bayern Munich the only plausible reason for them not doing so is if he is injured, but it would be a tentative selection.
Alex Wrigley
Sports editor and journalist at Free Super Tips
Lionel Messi's success with Argentina and a stellar first-half to the year made the difference in this year's award but he's been underwhelming at PSG and that opens the door for the Polish striker to finally get the Ballon d'Or he deserves.
Lewandowski has shown no signs of slowing down this season, scoring 12 goals in his last eight games for club and country at the time of writing. Assuming he maintains the level he has held over the last two seasons nobody should stand in his way come the 2022 awards ceremony.
Gareth Freeman
Sports journalist at Free Super Tips
Surely it has to be Robert Lewandowski's time next year. Last season he scored 41 goals in just 29 games in the Bundesliga but that was, somehow, deemed not enough. Mohamed Salah could be a contender too, but if Lewandowski was playing in another era he would be a multiple Ballon d'Or winner and if he can carry on his fine form in front of goal this season it just has to go to him.
World Cup adds element of doubt
Rob Eddy
Sports journalist at ICS
It would depend on the prices but a potential spanner in the works is the World Cup next year and whether the award is given after the World Cup final or not, with the showpiece pencilled in for December 18.
I would look for players who are more likely to do well in Qatar and that would mean leaning away from the likes of Robert Lewandowski and Mohamed Salah.
Lionel Messi is a contender I guess having finally won something with Argentina but Kylian Mbappe might be worth a shout as he could win everything with PSG and France, while something similar could be said of Neymar.