In The Mixer: Experts have their say on Ralf Rangnick at Man Utd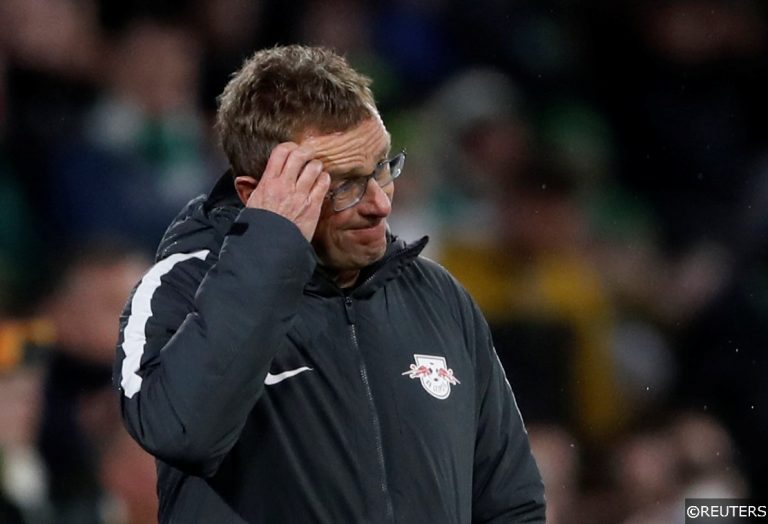 November 30, 2021
Show Bio
Content Editor at Free Super Tips, Alex was born in the shadow of Old Trafford and is an avid Man Utd fan. After graduating from university he combined his love of football, writing and betting to join FST and now closely follows goings-on in all of the top European leagues.
In The Mixer is FST's weekly column where we catch up with seven experts in football betting and get their opinion on the hot topic of the week.
It's been a hectic few weeks at Old Trafford but the dust is finally beginning to settle and the scene fans are presented with has the highly-rated German manager Ralf Rangnick taking charge of the team for the rest of the season.
But how will the 63-year-old former-RB Leipzig boss cope with the demands of Manchester United? Can he turn their fortunes around and make this season a success or will he become the latest managerial flop at the Theatre of Dreams?
Our experts have had their say on the matter:
---
Cup run possible but real success lies in consultancy role
Aaron Rogan
Sports journalist at Free Super Tips.
It's hard to see where Rangnick can take United before stepping away at the end of the season, but he's a steady hand at the wheel. He'll get the Red Devils in the top four mix and if he settles quickly they could make a run in Europe.
However, Rangnick's real success or failure will come down to how his consultancy role pans out beyond this season. For once United will have a football mind picking the manager and working alongside them to develop the squad. He fills a role United have left open for almost a decade and his work in that position is where the German's impact should really be judged.
Gareth Freeman
Sports journalist at Free Super Tips.
Bringing Ralf Rangnick in has to be a great move by Manchester United in the long-term. The 63-year-old German has done good things virtually everywhere he has been as a coach and then in various executive roles.
Whether or not he is the right man to take charge as manager for the remainder of the season is less clear, as he strikes me more as a big projects man rather than the type who can bring instant success.
However, United couldn't be doing much worse as it is anyway – and even if he can't oversee an improvement in results his spell as the boss should set him up well for his upcoming consultancy role in Manchester.
James Mason
Sports journalist at ICS.
Manchester United is no easy job for Ralf Rangnick and no matter how great his footballing brain is, there is no guarantee he will guide the club to a top-four finish.
One positive for Rangnick is the easy-looking start he potentially has. United face Arsenal, Crystal Palace, Brighton and Burnley at home in the league in December, while they face away trips to Norwich City, Brentford and Newcastle.
This presents the opportunity to get off on the right foot, but ultimately Rangnick's consultancy role beyond this season is where the English giants will get the best out of him and that is where he will be judged for me.
---
Expectations should be tempered – Rangnick needs more time than he has
Joe Casey
Sports journalist at Racing Post.
The juxtaposition at the heart of the appointment of Ralf Rangnick to Manchester United is that he is a long-term, project building coach. His success has not come overnight and has required significant buy-in from players.
Where Rangnick is strong is creating teams that are more than the sum of their parts, something Man United arguably haven't been since Sir Alex Ferguson departed.
If he is given time and the players buy into it, he could be successful but the timeline seems rushed, with the German supposedly moving to an advisory role after six months.
Rangick is also known for his single mindedness and clashes with top brass, which could cause issues with the Glazers and Ed Woodward.
All in all, this is the most interesting appointment in the Premier League this season and as football fans, we should appreciate the number of influential and innovative coaches currently working in the English top flight.
Aaron Ashley
Sports journalist at Racing Post.
I personally think he's going to need time to implement his ideas because he brings a style of football similar to what Jurgen Klopp has deployed at Liverpool and I'm not sure United have the personnel, particularly in the midfield area, to adopt that high-energy pressing.
Ralf Ragnick also likes to feel in total charge of the club and with the legendary figure of Cristiano Ronaldo spearheading his attack, that may not be completely possible.
That said, the German couldn't have asked for a much softer schedule over the Christmas period to put his plans in place.
After their clash with Arsenal at Old Trafford on Thursday, the Red Devils face Crystal Palace, Norwich, Brentford, Brighton, Newcastle and Burnley before the New Year, which are the perfect games to reinstall some confidence to those who need it most.
Ian Wilkerson
Sports journalist at Racing Post.
This is a fascinating appointment by United but I can see it working only as a long-term arrangement.
Rangnick has gained his reputation as a football theorist, working at a number of clubs that weren't particularly glamorous when he took over and he didn't have a glittering playing career, which makes me wonder if he is sexy enough for the United shareholders.
Having said that, though, the team need someone to introduce some intensity to their play and we saw it at times in their draw at Chelsea on Sunday.
For him to be considered successful this season, you have to think what success would actually look like.
They haven't got a cat-in-hell's chance of winning the title, which surely has to be the measure for a club of United's size, but Rangnick has to turn them into a team that looks as if they could in the next couple of years.
You cannot install a new philosophy and culture in the space of a few months and United have been searching for short-term solutions since David Moyes was sacked.
It's going to take time so they may not shine that much this season, but this is definitely a step in the right direction.
Chris Rivers
Sports journalist at Racing Post.
A lot has been made of Ralf Rangnick being the father of the gegenpressinng, rock-and-roll style of football that's been such a success for his compatriot in charge at Anfield. However, it's worth remembering it took Jurgen Klopp some considerable time and money before Liverpool became the masters of Rangnick's creation.
The Reds finished eighth and without a trophy in Klopp's first season at Anfield and while Rangnick has inherited a more talented squad than the one Klopp found on Merseyside, expectations at Old Trafford need tempering.
The knowledge that Rangnick's appointment is just a short-term solution might not help his cause in getting the United squad to buy into his high-energy approach and getting back into the top four just because Ole's no longer driving is no guarantee.
Rob Eddy
Sports journalist at ICS.
If it's a top-four finish that is deemed a success this season then it looks a tall order, with a Europa League place a more realistic target, although an FA Cup run is not beyond the realms.
There just appear to be too many issues to sort out with United's defensive set-up looking weak against most sides, let alone the better teams, while a Champions League exit will come sooner rather than later.
Ralf Rangnick also has relatively little time to get acquainted with the squad, the Premier League etc, and the short-term nature of his appointment may not work in his favour.
---
A browse through our famed Football Betting Tips wouldn't be complete without checking out our previews for individual matches, with our Premier League Predictions and Champions League Predictions among our most popular hubs.