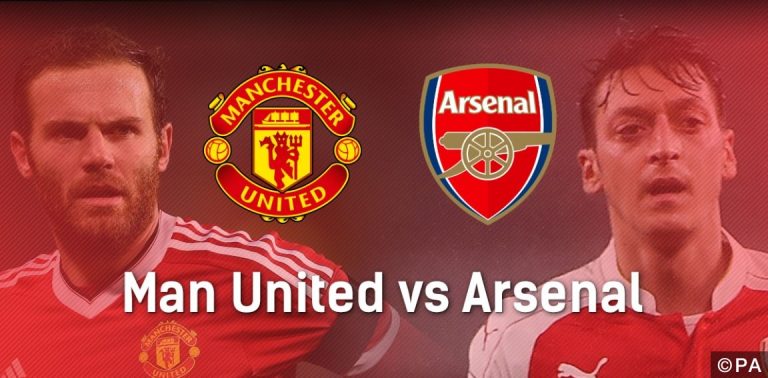 It's not quite as fierce and emotional as years gone by, (although we don't think we'll see pizza on the menu for a long time yet) but United vs Arsenal is still one of the most eagerly anticipated fixtures of the EPL calendar and we should see a closely contested, cagey match this Sunday.
United were well and truly humbled in the previous match at the Emirates, going down to a 3-0 reverse in the first 20 minutes. But they should be a little more water tight at home where although they haven't scored many (just 15 in the EPL), they haven't conceded many either. Their record against the current top 4 is not actually that bad, the haunting at the Emirates is their only loss against the top 4 so far this season.
But it's the awful form and turgid, almost sleepy football at Old Trafford against the lower teams which is a major cause for concern for the fans. Van Gaal simply cannot hide from the critics calling for his head despite impressive wins against minnows Shrewsbury Town and FC Midtjylland. It seems only a matter of time before a change is made at the helm whether it be before or end of the season.
United's injury concerns keep coming like a relentless trolley full of shopping at the till at Christmas, and fans will be praying Martial's hamstring tweak isn't too serious. With their top two performers so far this season De Gea and Smalling touch and go for the game and back to form Rooney missing for at least a month, Arsenal should just edge this one and bounce back after their defeat mid week in the Champions League.
Arsenal look good for the title in our opinion, their class shines throughout the team and on their day they can blow away anybody (expect Barcelona). A tough fought win against Leicester City further adds to the cause that the Gunners can go all the way this season and three points at Old Trafford will be a huge confidence booster ahead of the colossal battle against high flying Spurs in the North London derby next week.
If Ozil can produce a display that we all know he's capable of, (we saw it last time out against United, but he has been known to go missing in the toughest matches!) and Sanchez turns up the heat then we feel 'almost' sorry for poor little Devils as we'll no doubt see an away win.
United fans need not worry too much though, they will enjoy better times ahead with Mourinho looking ever more likely to take charge in the summer. But this season is all about London, it's Arsenal to edge it for us, setting up an almighty clash next weekend against Poch and the gang at the Lane.
Take a look at all the key stats for United v Arsenal in our handy infographic and let us know who your money's on?
Click image to expand on mobile

Fancy a cheeky flutter on this weekends footy? Take a look at our latest football accumulator tips today and let's get bashing the bookies.
Add this infographic to your website by copying and pasting the following embed code: