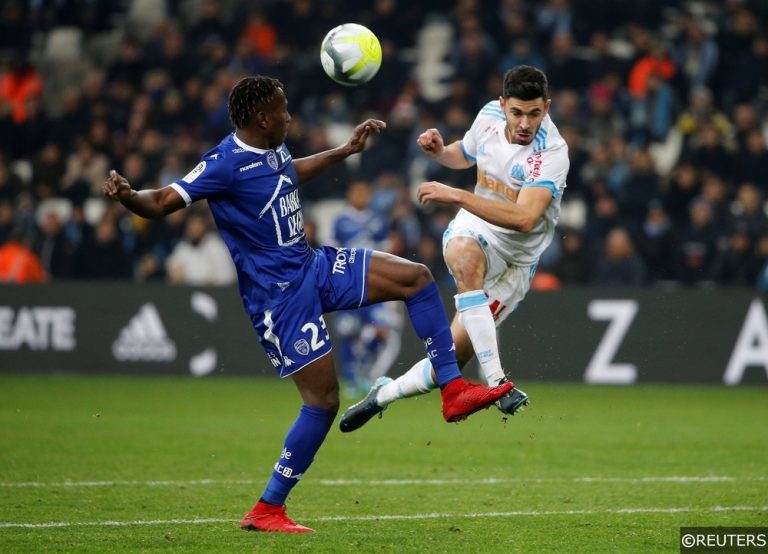 It hasn't exactly been the most desirable first season of management in France for World Cup winner Patrick Vieira as it's clear he is still learning the ropes on the Riviera. The Eagles finished 8th last season and while Vieira has managed to match the same standing that much loved manager Lucien Favre achieved last year, there has been some discontent over the quality of performances
Vieira has a great chance to get the fans back on his side though if he can come out of the latest Derby du Sud victorious. This game always has an edge to it though so we're pointing out some of the best alternate bets to look at here.
You can find all of our Ligue 1 previews by clicking here.
Value for Corners
This fixture has always been known for its high-scoring history and potential for excellent viewing and with that corners have followed. The last three clashes between these teams have all seen at least twelve corners, as was the case when the teams last met in October. Marseille have vastly improved their attack recently with Mario Balotelli scoring for fun in Ligue 1, more on him later, they should be creating quite a few chances that a top 'keeper like Walter Benitez will be expected to parry out for a high number of corners.
You can find our full match preview of the game where we go into much more depth about both teams by clicking here.
Nice's last twelve league matches have averaged 10.08 corners while Marseille's have averaged 10.16. Both teams show great value for this market and that's what we're backing in this match in this match. With the added incentive of Balotelli playing his former club Nice for the first time and the derby element of this fixture, we're predicting a rather feisty affair and the over ten corners market seems a good value bet with both sides wanting to go for the jugular in this match.
We've also compiled some great matches to look out for in the Premier League when it comes to cards and corners so check it out by clicking here.
Goals? Not really. First Half Goals? Oh yeah.
Nice haven't been great for scoring goals recently with none hitting the back of the net in their last three away games but the first half goal market has been a very fruitful one for the Eagles in the past few weeks. Ten of their last eleven games have seen a goal scored in the first half and with them conceding 16 goals in their last seven away matches and facing one of the league's most in-form sides (13 points picked up from their last possible 15), we're backing Marseille to get on the scoresheet early. 
90% of Marseille's last 20 games have seen a goal scored in the first half and with five netted in their last three first halves, we're backing this market to win, which could be a great addition for an accumulator on this match.
The Return of Mario Balotelli
The controversial Italian made it into yet another headline last week as his first goal against Saint-Étienne was celebrated with a very strange selfie video, which he of course uploaded straight to Instagram – straight from the pitch. Balotelli has struggled to get out of the papers this season with his reaction to the appointment of Patrick Vieira sparking a number of events.
The internet was broken with this one…

…And we've got it from every angle. There's only ☝️ @FinallyMario, and he's an Olympien 👇 pic.twitter.com/AmX19lLs5d

— Olympique de Marseille 🇬🇧 🇺🇸 (@OM_English) March 4, 2019
Balotelli sometimes had a rough relationship with previous manager Lucien Favre but it is without question that the Swiss got the best out of him as the Italian scored 33 goals in 51 league appearances under Favre. Therefore, you can understand his disappointment when Favre moved to take over at Borussia Dortmund, but not many expected Balotelli to spit his dummy out as much as he did.
Balotelli turned up late and overweight to pre-season train and this caused him to barely feature in much of the early stages of the season. This resulted in a rather poor start to the league campaign and the relationship between Balotelli and Vieira never really mended. Eventually the club made it clear that they were willing to let him go on a free due to the disruption he was causing and this triggered his January move to Marseille. 
In typical Balotelli fashion, he has pretty much been an instant hit, scoring on his debut and in four of his six appearances so far despite not bagging a goal all season for Nice. There is evident bad blood between the club and Balotelli and with them coming up against each other this weekend, it's written in the stars for him to score. 
He has been on a great run of form and with the added incentive of coming up against Vieira and Co., we're backing him to get another goal to continue his fantastic start to life in Marseille and stick a couple of fingers up at his former club.