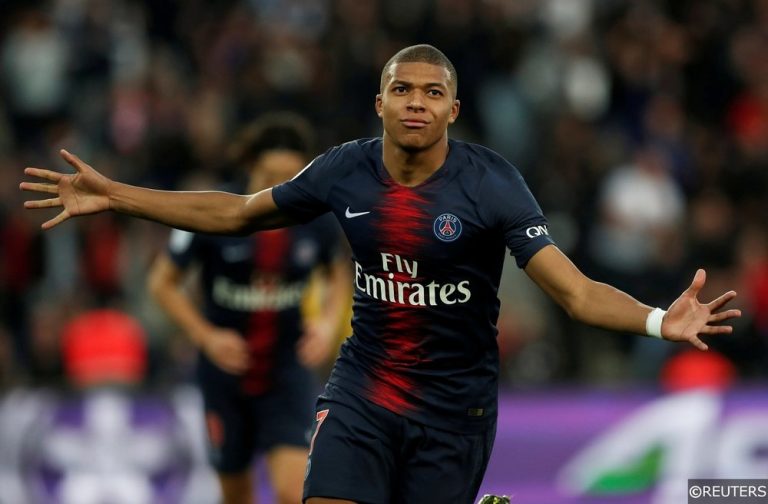 With just 13 weeks to go until the curtain comes down on another exciting Ligue 1 season, the top scorer award is really hotting up. Neymar probably considered himself as one of the main competitors for the trophy before his injury but with the Brazilian starlet out until April, we're ruling him out of the running. 
We're going to take a look at the three players currently leading the category and analyse their chances of finishing as top scorer.
Kylian Mbappé, Paris Saint-Germain, 19 Goals
The French wunderkind has been at it again with another stellar season as PSG's number seven. He has 19 goals to his name and his longest drought this season has been just two games; incredible numbers for the twenty-year-old. He has such high standards that it's okay to say that last year wasn't his best for league goals as the Parisian scored 13 but that hasn't been the case this season as he currently sits top of the tree. It's important to also keep in mind that all these fantastic numbers have been achieved by Mbappé in just 14 starts and four substitute appearances. 
19 – Kylian Mbappé 🇫🇷 is the first French player to score 19 goals in his first 18 games of a Ligue 1 season over the last 45 years. Unsane. @PSG_English pic.twitter.com/fJRQgL0AyB

— OptaJean (@OptaJean) February 17, 2019
Mbappé has an incredible 74% shot accuracy, the highest of any player on more than eight goals. This fine precision really just outlines his talent as while he has hit the second highest number of shots of any player on more than nine goals, he still has the best accuracy by quite a large amount. 
He takes on average 3.8 shots per game and that combined with his 38 successful dribbles this season makes him such a handful for defenders. PSG still have some difficult games on the horizon, Marseille, Lille, Montpellier twice, which won't offer many potential goal gluts to the Frenchman but with Paris having two games in hand on the majority of the league, we rank him as our favourite for the award. 
Nicolas Pépé, LOSC Lille, 16 Goals
Nicolas Pepe was a bright light in last year's struggling Lille side but he has taken it up a notch and is now the leading spark that gets this prospering Lille team going. His team have also joined him in this upwards motion of form with manager Christophe Galtier squeezing every ounce of quality out of this side. 
Jonathan Bamba, Jonathan Ikoné and Rafael Leão have all excelled under Galtier but Pépé has been the standout performer. He has missed just 11 minutes of football for Lille this season and averages a goal every 140 minutes, no slouch on Mbappé's 74 minute record but still a fantastic statistic for the 23-year-old. 
With him being a natural winger, his runs inside from either side have been deadly and so many teams have been put to the sword by this technique. He hasn't scored in his last two games which is rather worrying but with him playing so many minutes generally, and still putting in fantastic performances, he should get back on track in midweek against a down-on-their-luck Strasbourg side but he could see himself out of the running if he fails to score for a third game in a row. 
Florian Thauvin, Olympique Marseille, 12 Goals
Our final suggestion is somewhat a more off-the-wall selection but with Marseille's recent upturn in form, the attacking midfielder could see himself right in amongst the goals again. Even in Marseille's horrible run of form that saw them go winless between November and mid-January, he was still putting in great performances, him being one of only two or three players who didn't completely capitulate in form. However, due to the lack of support goals were few and far between.
Marseille have got right back on form recently though with three consecutive wins and with them facing a vert beatable Rennes side next week, the potential is there for a fourth victory on the bounce. 
The Frenchman joined Mario Balotelli on the scoresheet against Amiens but he could have had quite a few more in truth. He has a solid 52% shot accuracy and that should bring him a lot more goals as the team soars back up the table. He netted 22 times last year and we don't see why he can't get close to that with 13 games to go.