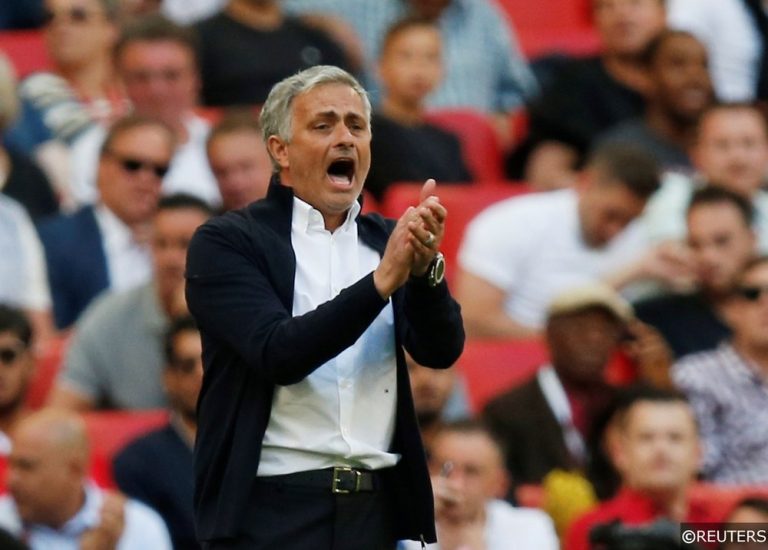 Simon Winter
@simonjwinter
Born in the south east of Ireland, Simon put his life-long love of football to good use when he started a successful independent blog in 2010. That opened up an alternative route to a career in journalism, and having had work published across a number of sites and publications, Simon joined the staff at Spotlight Sports Group in 2018.
Jose Mourinho's Manchester United future is teetering on the edge of the precipice. The Portuguese boss has been misery personified for most of 2018 and his demeanour has been reflected in his team's dour and unenthusiastic performances.
Chuck in some fractured dressing room and board room relationships, along with a healthy dollop of supporter unrest and it's easy to see why Mourinho is the bookmaker's favourite to become the first managerial casualty of the season.
Club chief executive Ed Woodward is notoriously ponderous when faced with making big decisions. His indecisiveness has cost United in the transfer market and his aversion to proactivity has seen successive poor performing managers hold on to their jobs for much longer than they should have.
Things feel a little different this time around however and you get the sense that Mourinho could be one more public outburst or poor performance away from being axed.
Check out our expert Premier League betting tips, predictions and match previews here.
Undoing the damage inflicted by Brighton
Retrospective analysis in a few years could pinpoint Manchester United's 3-2 defeat against Brighton as the defining moment of Jose Mourinho's Old Trafford career.
United's performance was so deplorably abject that any shred of early season optimism left at the club had dissolved completely by the final whistle.
It was the kind of display that couldn't be brushed off as "one of those days" or as a typically unpredictable Premier League second week fixture. From root to tip, the team looked disorganised, unmotivated and disinterested.
Damningly, it was United's second defeat at the AMEX in a little over three months and after a summer of disengagement, followed by the clean slate that comes with a pre-season, United fans justifiably expected some improvement. However, if anything, it looks as though the team, both collectively and as individuals, has regressed.
Can Tottenham take advantage of the negativity at United?
Jose Mourinho's ever loosening grip on his job means that Manchester United's clash with Tottenham Hotspur on Monday night suddenly takes on huge extra importance.
The frustration felt privately by fans has yet to be fully externalised in the stands, but if United start slowly and retreat into their shell against Spurs, the murmurs of discontent could turn vitriolic screams.
Within the sphere of negativity at United lies a massive opportunity for Tottenham Hotspur. But If Spurs are to succeed on Monday, they will have to do something that they have only done twice in the league since 1989 – beat Manchester United at Old Trafford.
Spurs had gone 23 years without taking maximum points at Old Trafford before the 2012/13 season, though with Gareth Bale's help, Tottenham carved out a 3-2 win in Manchester that year. As luck would have it, Spurs won for the second season running at Old Trafford the following season in 2013/14, edging out their hosts 2-1 thanks to goals from Emmanuel Adebayor and Christian Eriksen.
Those back-to-back victories remain Spurs only league wins at the Theatre of Dreams in 29 years. United are currently on a four-game winning streak against Spurs at Old Trafford and they beat them 1-0 in the corresponding fixture last season.
Marginalised Frenchman Anthony Martial was United's match-winner last October, though the winger is likely to miss out on Monday if Mourinho favourite Alexis Sanchez wins his race for fitness.
The landscape is has changed immeasurably since last year however and with United in disarray, Monday's fixture represents a huge opportunity for Tottenham to boost the number in their Old Trafford win column.
Read More: Manchester United vs Tottenham Hotspur predictions, betting tips and match preview for Monday night's Premier League clash at Old Trafford
Conquering their demons
If Tottenham are to capitalise on the unrest at Old Trafford, they will first need to exorcise some of the mental demons that have traditionally haunted them in big away games.
Spurs record from their fixtures at United, Liverpool, Arsenal and Chelsea is a continued source of embarrassment for the club. Tottenham have only won five of their last ninety collective visits to Old Trafford, Anfield, the Emirates and Stamford Bridge.
It's a curse that's proven hard to lift, though Spurs will hope that their 3-1 win away to Chelsea on April Fools Day will signal the end of one of the Premier League's longest running jokes.
Where can Tottenham hurt United?
The short answer – everywhere. Using the teams' most recent performances as a basis for comparison, Spurs look physically and tactically superior to United in all departments.
Jose Mourinho could choose to dismantle the nervy central defensive partnership of Eric Bailly and Victor Lindelof, but every conceivable combination of United's options in defence still look ill-equipped to deal with Harry Kane and Deli Ali.
In the absence of Nemanja Matic, United's midfield is without a player capable of nullifying the influence of Christian Eriksen. The Danish international should be able to utilise his intelligent runs and use of space to find numerous gaps in the already disjointed United centre.
Against Brighton, none of United's midfield trio of Andreas Pereira, Paul Pogba and Fred could plug the gaps or track the runs made by their Brighton counterparts.
Wherever they look, Spurs will identify weaknesses in the United team to exploit. But while they look to have the edge, in technical terms at least, they must find a way to break free of the mental shackles to play with the conviction and bravery required to push home their advantage.
More: Premier League Video: FST vs Racing Post Week 3 Predictions, Betting Tips, Match Previews
What another defeat could mean for Mourinho
Should United lose, the manner of the defeat could have further reaching implications than the result itself. If United's players up their effort but ultimately lose, the final result would be softened somewhat by the increase in commitment.
Supporters and pundits have already postulated that United's horrendous showing at Brighton was an indication that the players were no longer playing for Mourinho. A repeat performance against Spurs would see that train of thought gather considerable momentum.
Even if United's industry and application improves, you get the sense a fast start from Spurs would cause the thin veneer of zeal to crack, releasing toxic fumes from the fissures that are likely to choke the Old Trafford crowd into action.
If Tottenham can ride the turbulence and go on to win convincingly, Jose Mourinho might have to start clearing out his room at the Lowry.
Follow Free Super Tips on Twitter to stay up to date with our daily tips and predictions or browse more football content on our website: