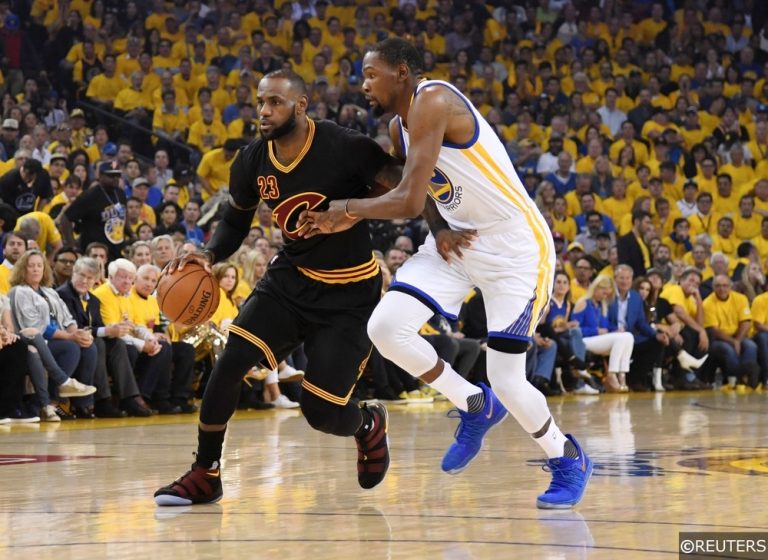 Making it to the NBA Finals, or finals of any sport for that matter, is never an easy feat. Doing it four seasons in a row as a team puts you in select company… doing it 8 straight times is unheard of!
That's exactly what LeBron James accomplished last night with his Cleveland Cavaliers beating the Boston Celtics in Game 7 of the Eastern Conference Finals.
35 points, 15 rebounds, 9 assists on 12/24 shooting and 48 minutes played… all that in his 100th game of the season while playing in his 15th professional season.
Those were LeBron's numbers in the elimination game last night. But, LeBron is much more than just numbers. With his teams "whatever it takes" motto in this year's Playoffs, he has once again showed his committment to the game of basketball and proven his doubters wrong by sticking to what he does best and because of that he is arguably one of the best to ever play the game of basketball.
The Cavaliers have joined the Boston Celtics (twice), Los Angeles Lakers and Miami Heat as the 5th team in NBA history to advance to 4 straight NBA Finals.
We take a look at Lebron's impressive run:
Miami Heat (2010-2014)
It all started back in 2010 with his infamous "decision" to leave the Cleveland Cavaliers and team up with Dwyane Wade and Chris Bosh in a Miami Heat uniform. The switch didn't go all to well with the Cavs fans who were infuriated and during the time it was believe nothing would ever repair that relationship.
The Miami Heat Super Team didn't get off to the best of starts. Winning just 9 of 17 games to start their first season raised questions, but as time went on they sort of figured it out.
The highlight of that season happened on December 2nd when Lebron faced his team for the first time back in Cleveland. The atmosphere in the building was very hostile towards Lebron, but as usual he brought his best when it mattered the most and got himself a win in that game.
Miami made it to the NBA Finals fairly easily through the East. In that Finals series against the Dallas Mavericks, Lebron didn't live up to the expectations and averaged only 17.8 points, 7.2 rebounds and 6.8 assists as Miami 4-2.
The following season was a lockout-shortened one and Lebron finally captured his first ring. He raised his game to a completely new level and performed far better in the finals against the OKC Thunder and Kevin Durant earning himself Finals MVP honors with averages of 28.6 points, 10.2 rebounds and 7.4 assists as the Miami Heat won in 5 games.
In 2013, the Heat won 66 games in the regular season as Lebron James won the MVP going into the Playoffs as the clear favorites to repeat. After a minor scare vs Indiana in East Finals, Miami needed all 7 games to overcome San Antonio in the final round. James once again provided us with a couple of legendary performances and his 25.3 points, 10.9 rebounds and 7 assists got Miami over the hump!
The Heat once again made it to the finals in 2014, but against they faced a well oiled machine seeking for revenge in the Finals. The San Antonio Spurs gave them no chance, despite Lebron averaging 28.2 points, 7.8 rebounds and 4 assists, he didn't have much help from his teammates and Miami was defeated 4-1.
Cleveland Cavaliers (2014-Present)
After a disappointing 4th season in Miami, Lebron decided to go back to his hometown team and try to win an NBA Championship for the Cavaliers for the first time in almost 50 years.
He teamed up with two great players in point guard Kyrie Irving and Kevin Love. Despite winning only 53 games in their first season together, the Cavs big 3 went through the East only losing two games in the process and Lebron was back in the Finals for the 5th straight season.
In the finals though, without an injured Kevin Love and Kyrie Iriving, James simply didn't have enough help against the highly favorited Golden State Warriors. He carried his team with 35.8 points, 13.3 rebounds and 8.8 assists per game but it wasn't enough.
The 2015–16 season was a special one for Lebron. His team finished with the best record in the East and just like in the year before dropped only two games on their way to the Finals. In that finals series though, they were up against a historic Golden State team that won 73 games in the regular season (NBA record). Lebron & Co. went down 3-1 in the series and all hope was lost.
But, what followed was one of the greatest comebacks we've ever seen in the NBA. No team ever came back from a 3-1 deficit in the NBA Finals, but the Cavaliers were able to somehow do it! At the end of the series Lebron's numbers read 29.7 points, 11.3 rebounds, 8.9 assists, 2.3 blocks per game and he was deservedly the Finals MVP for the 3rd time in his career!
Lebron returned to the Finals for a 7th consecutive year in 2017, but the Golden State Warriors, who added Kevin Durant to a 73-win team in the offseason, were too much even for Lebron and the Cavs lost in 5 games.
What happens after the NBA Finals?
In short, nobody really knows. But, the speculation about Lebron's future has been well documented ever since his return to Cleveland. Him signing 1-2 year extensions on his deal only adds to the mystery of where he will play next season.
Teams like the Los Angeles Lakers, Houston Rockets, LA Clippers, Philadelphia 76ers have all shown interest in him, but it is very difficult to predict what will happen. The outcome of the NBA Finals might give us an idea or two where Lebron might go.
One thing is certain though, whichever team gets Lebron this summer will be in the running to win the NBA title next season.
Head over to our NBA predictions page where you can find the latest tips on the NBA Playoffs!