Currently managing Tottenham Hotspur and Everton respectively, Jose Mourinho and Carlo Ancelotti are two of the most decorated managers in history, and they have followed eerily similar career paths.
Both have managed in London, Madrid, Milan and the north west. Both have had stints in charge of Chelsea and troubled periods at Real Madrid, and while they managed at opposite ends of the Milanese spectrum both enjoyed extremely successful times in Italy's most fashionable city.
It goes without saying that Ancelotti and Mourinho have presided over plenty of exceptional talents throughout their careers, and they were recently asked by Marca to name a best XI from players they have managed. As you might expect, these lineups would strike fear into opposition hearts, but a few huge names have been left out:
Mourinho's Best XI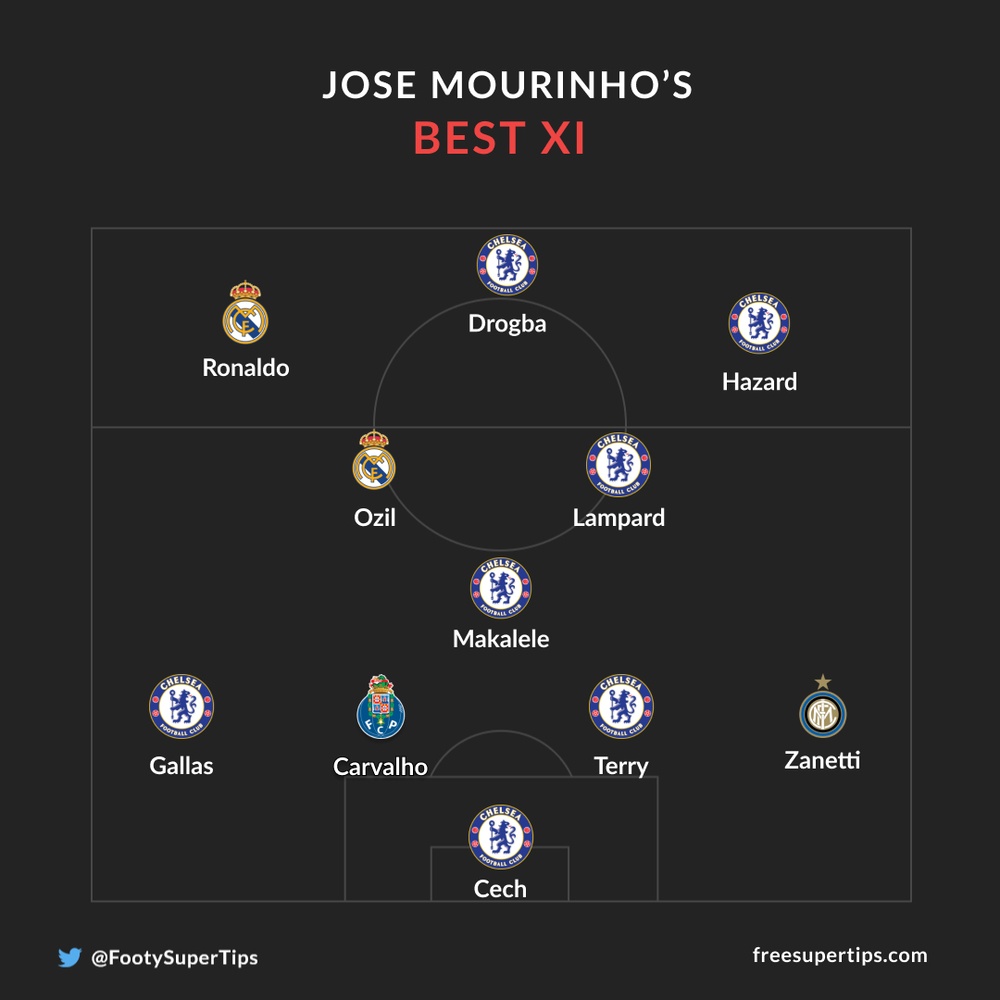 Can you guess which days Jose Mourinho looks back on most fondly? A massive eight of his Best XI spent at least some time at Chelsea during his two reigns at Stamford Bridge,  which is perhaps unsurprising considering he won a trio of Premier League titles and went unbeaten in a massive 77 home Premier League games.
Despite winning a treble at Inter Milan, the only player from that side that makes the grade is Javier Zanetti (in fairness, that was one of the worst Champions League Finals of all time). It was a side built on a formidable back line, but they still weren't good enough to pip the likes of William Gallas, Ricardo Carvalho or John Terry to the post, who were all part of the team that conceded just 15 Premier League goals in 2004/05.
Claude Makalele played a huge role in that defensive effort too, and that earns him a spot beside Frank Lampard in Mourinho's Best XI. The appearance of Cristiano Ronaldo, Didier Drogba and Eden Hazard isn't exactly unexpected, but Mesut Ozil is a surprise inclusion in a three man midfield.
The Arsenal playmaker plied his trade under Mourinho for three years at Real Madrid, scoring 27 goals in 157 appearances and helping Los Blancos win La Liga, the Copa del Rey and the Spanish Super Cup.
Mourinho's Missing Stars
It's clear that Mourinho values his time at Chelsea above everything, and his turbulent few years at Manchester United has seen their rather limited squad overlooked entirely. Paul Pogba, the catalyst to many of Mourinho's problems at Old Trafford, was never going to make the cut, while the extraordinary goalkeeping talents that the Portuguese manager has nurtured meant that competition was fierce for David De Gea. Let's not forget that Iker Casillas was overlooked as well.
Perhaps more surprising is the choice of Mesut Ozil over a peak-performance Wesley Sneijder at Inter, while Sergio Ramos has been excluded in favour of Terry and Carvalho, who followed Mourinho around for most of his career.
Other notable absences are Zlatan Ibrahimovic and Luis Figo from his successful time in Milan, while Ballon d'Or winner Kaka and striking mainstay Karim Benzema also missed out from those turbulent years in the Spanish capital.
Ancelotti's Best XI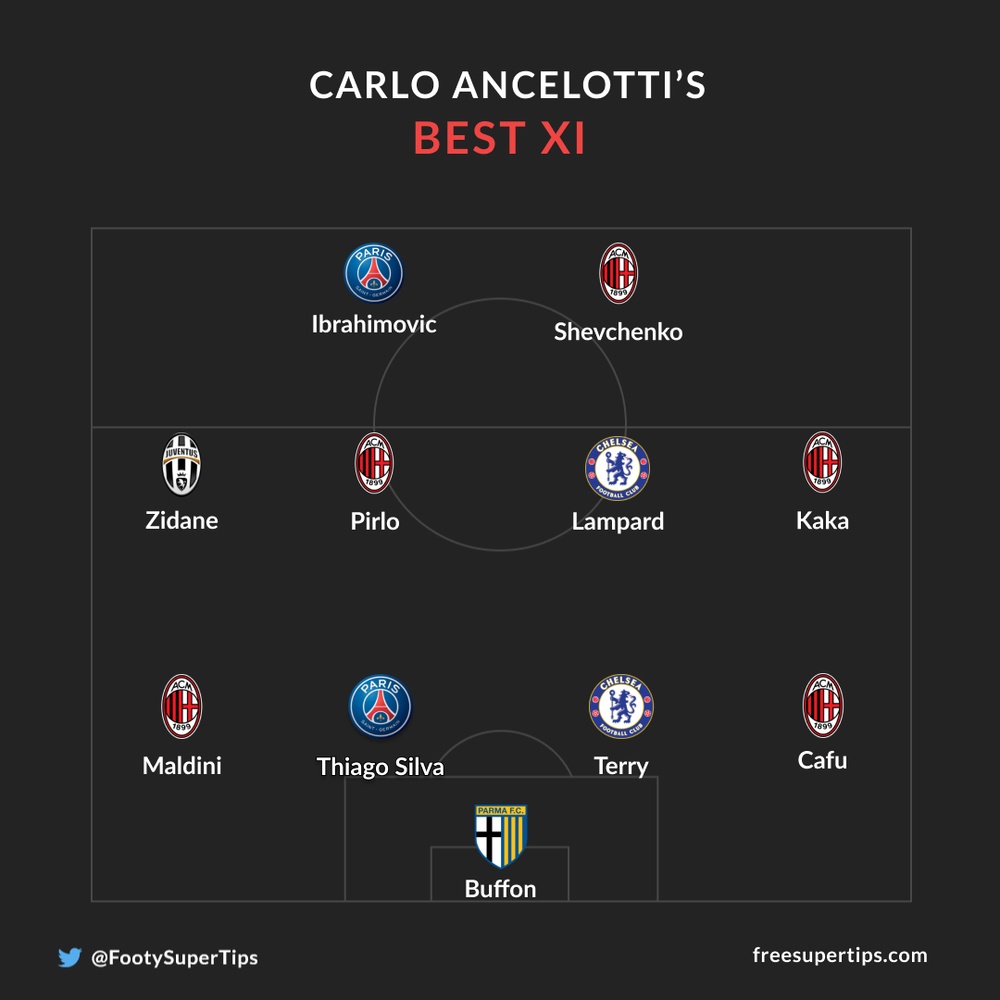 Carlo Ancelotti clearly didn't spend a second worrying about how journalists would cope with this. He's named four predominantly central midfielders and forced us to push Kaka and Zidane out wide, not to mention the glaring lack of any defensive attributes among the midfielders.
Still, who needs defensive midfielders when you have a back line like that? John Terry forces his way into Ancelotti's Best XI after helping him to a Premier League and FA Cup double at Chelsea in 2009/10, while Paolo Maldini is an obvious inclusion after leading AC Milan to Champions League triumphs in 2003 and 2007, the latter of which also included Cafu.
This period at Milan is obviously Ancelotti's most fondly remembered time in management, with the likes of Andrea Pirlo, Kaka and Andriy Shevchenko also making the grade from that stint. The remaining midfielders include Chelsea legend Frank Lampard and Zinedine Zidane, despite the fact that Ancelotti only won the Intertoto Cup (Juventus), Premier League, FA Cup and Community Shield in his combined three and a half years at Juventus and Chelsea.
Andriy Shevchenko may be remembered more for his failed transfer to Chelsea in England, but there's no denying that he was a beast in front of goal on Italian soil. Shevchenko played under Ancelotti at Milan for five seasons, scoring an impressive 115 goals in 213 appearances. He partners up with Zlatan Ibrahimovic, who scored 30 goals in 34 Ligue 1 appearances in PSG's title triumph in 2012/13.
Ancelotti's Missing Stars
I mean, there's one blindingly glaring omission here. Cristiano Ronaldo, who scored an incredible 112 goals in 101 appearances and won two Ballon d'Ors under Ancelotti at Madrid, has been inexplicably left out of his Best XI. And that's not even mentioning the omission of Dominic Calvert-Lewin…
There are some other stars sitting on the sidelines too, with Clarence Seedorf a major casualty in that ridiculously talented midfield battle. But if you thought the midfield competition was fierce, just look at the defenders that were left out: Phillip Lahm, Sergio Ramos, Alessandro Nesta and Ashley Cole were all overlooked – those players could make up a world class back line of their own, and not one of them made Ancelotti's grade.
Iker Casillas was also overlooked, but that's less of a surprise considering he was competing with possibly the greatest goalkeeper in recent memory. Gianluigi Buffon plied his trade under Ancelotti in his formative years at Parma, before heading to Juventus the very same summer that Ancelotti moved from Turin to Milan.