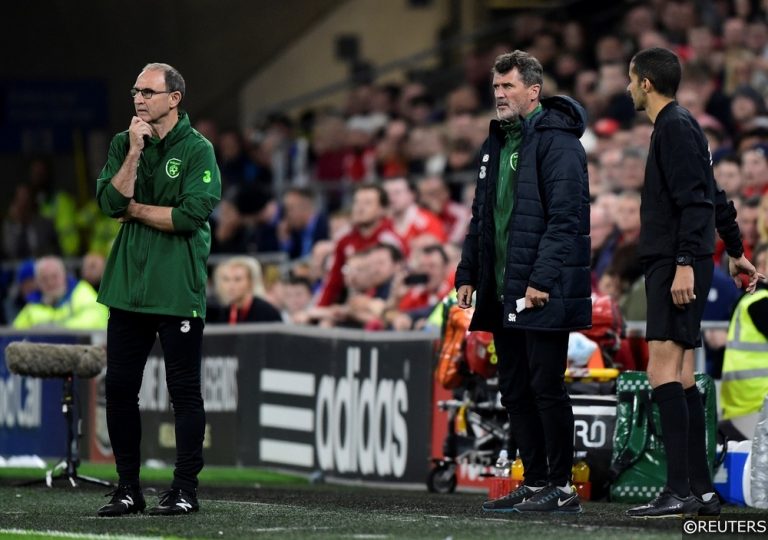 Before becoming a Sports Journalist for Free Super Tips, Aaron spent three years studying Sports Journalism at the University of Sunderland while taking in the Black Cats' 'glory years' under Martin O'Neill. Now back in Northern Ireland he turns niche stats into predictions for FST, while he's one of the few people on this island who is equally comfortable at Windsor Park and the Aviva.
This international break is massive for the Republic of Ireland. It's potentially even bigger for Martin O'Neill and Roy Keane, who will see their tenure tested by two old enemies of the past. October and November last year brought mixed emotions in meetings with Wales and Denmark. Now the pair visit the Aviva Stadium across the next few days, and that could have dire consequences for the hosts.
The next few days will impact the Irish on two fronts, while giving us clues about the future of the current managerial duo. Will the infamous double act stick around long enough to see the Euro 2020 qualifying campaign, or will these clashes prove that they're past their best? Here we're examining what exactly is at stake during this Nations League double header, and what those in charge need to prove.
Read More: Republic of Ireland vs Denmark Predictions
Crunch Double Header with Old Foes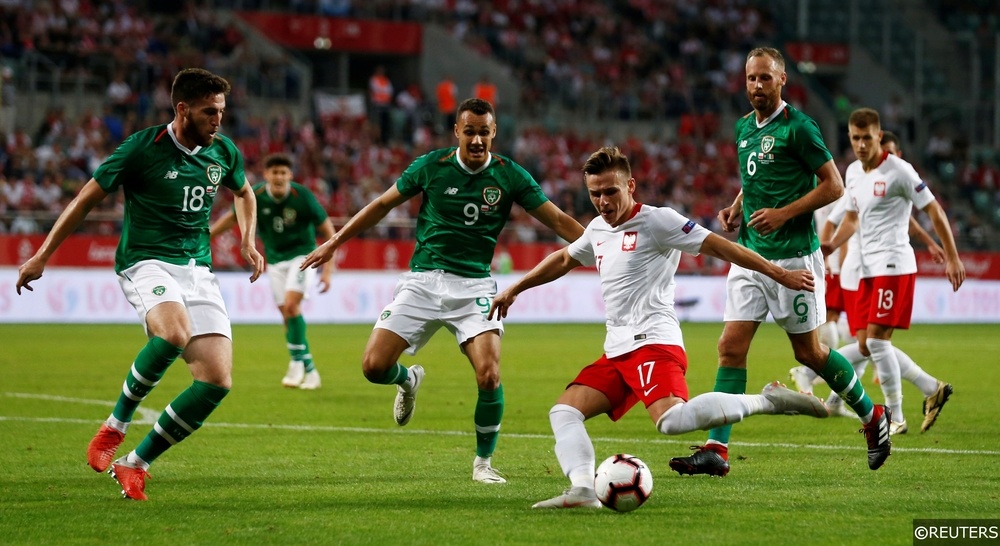 As far as international double headers go, it's not likely to get much tougher for the Irish. Their last two competitive games brought a 4-1 loss to Wales, and a 5-1 defeat at the hands of Denmark. They are two top sides with strong squads, and their recent history puts the Irish at a mental disadvantage.
There is a slight bonus for the hosts, they're unlikely to meet either of their opponents' talismanic talents. Christian Eriksen has already been ruled out for the Danes. Meanwhile, Bale is seen as a doubt for Tuesday's meeting, and it seems like he's going to miss out according to Ryan Giggs. As a result, it's not quite as big a challenge, but the clashes are crucial for their Nations League hopes.
Martin O'Neill kicked off the campaign aiming for top spot in their group, and a place in the Euro 2020 play-offs. However, a heavy loss to Wales twinned with Denmark's opening game win puts the Irish bottom. They're currently looking at relegation, and losses in these two matches would confirm a drop to the third tier of UEFA's new competition. Not only would it put them out of the running for a play-off spot, it would impact their seeding for the qualifiers next year. That would put huge pressure on whoever is in charge by that point.
Republic's Keane Deserters
Since taking over four years ago, O'Neill and Keane have brought consecutive tournament challenges. They guided them to the last 16 at Euro 2016, and to the World Cup play-offs. That was all part of a solid first three years, but the last 11 months have been much more of a challenge. Since the 5-1 loss to Denmark in November, it's felt like the pair are on the decline.
There have been numerous in-game issues, and constant failures to change or renew. However, their problems spilled into dangerous territory when a voice note from Stephen Ward was leaked last month. The audio described aggressive behaviour from Keane towards some of their most experienced players. That included the reliable Jon Walters, and Harry Arter – one of the squad's few Premier League talents. The Cardiff midfielder pulled out of last month's squad due to his row with Keane.
In an era where strained relationships with players have turned Jose Mourinho from Special One to Endangered One, that kind of attitude from Keane is worrying. Bellowing leadership worked when he was Man United captain, but now players demand more respect and a different kind of leadership. O'Neill and Keane don't seem to be moving with the times.
Keane's outspoken nature has been a problem in press-conferences, but now it's becoming a bigger issue. It gave James McClean the prompt to criticise Arter in his press conference. The winger also went in for Declan Rice; as the Republic try and tempt the West Ham star into what seems like a basket case squad. It's snowballing into a major issue, all from Keane's outbursts. It's not a good look for any professional, never mind one who walked out on his country on the eve of the 2002 World Cup.
Options Limited Across the Board
A lack of responsibility from the bosses is an issue in itself, but it comes combined with the prospect of diminishing returns. A run at Euro 2016 was followed up by last November's Danish thrashing. However, that was still a World Cup play-off. The prospect now as a drop to the third tier of the Nations League, which would leave them third seeds for next year's qualifiers at best.
With no chance of a play-off, a top two finish would be needed. That would be a massive challenge, unless the Irish get a lucky group for the second time in a row. Their task is getting even tougher, as established names depart the squad, and average replacements follow. Their latest squad has just eight Premier League players, over half are playing in the Championship. Getting them to match Wales and Denmark has been hard, never mind the likes of Germany and Spain in the qualifiers.
O'Neill's rigid style did get the best out of his first squad, but just three players remain from the first 27 he selected four years ago. The likes of John O'Shea and Robbie Keane are gone, but no major changes have been made to their approach. There was a time when putting men behind the ball was enough, but O'Neill and Keane are doing little to develop their approach. They rely on experience that the squad no longer has, while the talent drain is obvious.
Decisive Days Lie Ahead
At the moment, it feels like all of Irish football is in a holding pattern. The lack of talented youngsters is being hidden with average call-ups who have hit their peak and barely featured internationally. The bleak looking future is excused because of past successes. Roy Keane is simply building a CV for his next job, after hinting that he's ready to take a Championship club. Meanwhile, it's a disappointing encore to O'Neill's managerial career.
It's easy to be negative about the FAI and the current side. A single win in a year has made sure of that. With few improving players and limited managerial options, the future is almost certain to be bleak. However, this week's huge home games could be shining lights in these dark days for Irish football. Two big injuries have brought an opportunity, and two wins could change the story. For the first time in 12 months, Irish football could move forwards, rather than backwards.
Eventually the FAI will have to look to someone with new ideas. However, a strong week could delay that thorny issue, and raise hopes of a last hurrah for the squad. The old dogs may lack new tricks, but this week should show us just how far their old ways can go.
Follow Free Super Tips on Twitter to stay up to date with our daily tips and predictions or browse more football content on our website: