After a wild offseason, the 74th season of the NBA finally gets underway on Tuesday 22nd October and below you will find our NBA predictions for the 2019/20 season.
From Anthony Davis joining up with Lebron James and the purple & gold of the Los Angeles Lakers to Russell Westbrook strengthening the title hopes of the Houston Rockets, the 2019/20 NBA Season is sure to be an exciting one!
2019/20 NBA Championship Winner Predictions
Houston Rockets
High expectations were made of Houston after finishing 1st in the West two seasons ago, but they failed to compete in the 2018/19 season after dropping to 4th in the conference. James Harden continued his dominance of the league after dropping 30+ points in 32 consecutive games while Swiss star Clint Capela had a standout debut season with a double-double average in points and rebounds. Houston's season ended in a repeat of the 2017/18 Western Conference finals against Golden State Warriors, although this time they were knocked out in the Quarter Final stages. The Rockets averaged 113ppg last season while giving up an average of 108.7ppg.
As we look forward to the new season, Houston fans have a lot to be excited for. Despite having zero picks in the draft, Houston massively strengthened their squad after trading for Russell Westbrook in the off-season. Westbrook remains the only trade addition for Houston with Chris Paul heading to Oklahoma City. Alongside Westbrook, 8 players joined the Houston Rockets in the off-season, most notably Tyson Chandler after one season with the Lakers. There is no doubt Houston will pose a massive threat in the West this season and they will surely be ones to watch when the playoffs come around in April.
17/2
Houston Rockets To Win Outright
NBA Championship (including play-offs)
BET HERE
New bet365 customers can
join here
Milwaukee Bucks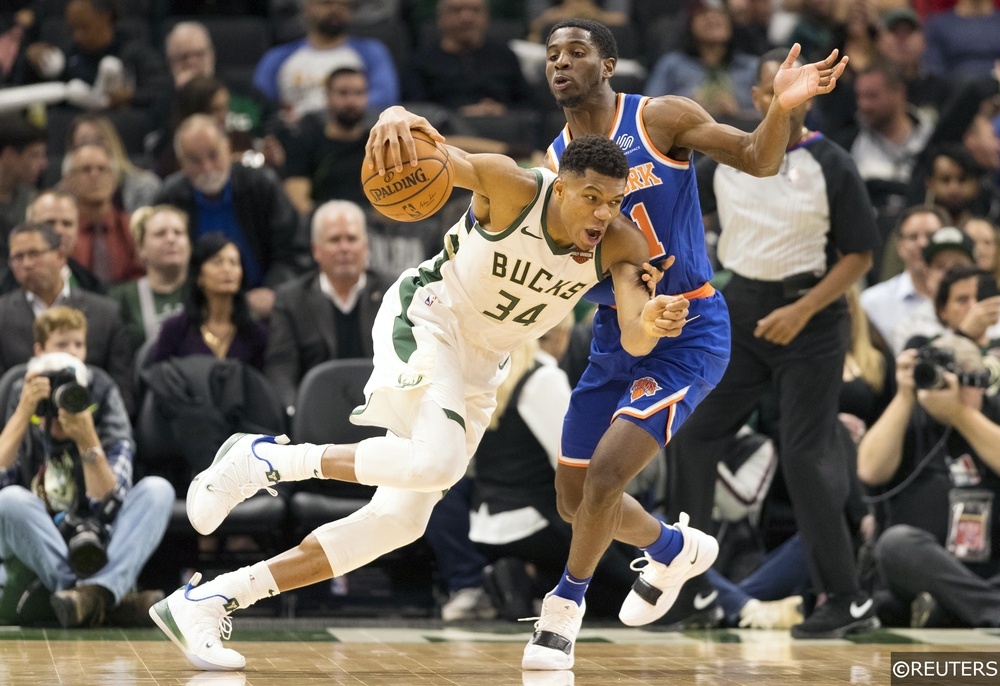 After dominating from start to finish last season, Milwaukee will have high hopes after a devastating 4-2 loss in the 2018/19 Eastern Conference finals, after leading the series 2-0.
While many teams around them have strengthened, Milwaukee have played it cool with minimal roster changes ahead of the new season. Giannis Antetokounmpo will be raring to go after an incredible MVP season last year and will be joined by older brother Thanasis for the first time in their NBA Careers.
Giannis dominated the league averaging a second consecutive double-double with 27.7 points and 12.5 rebounds on average per game. While Giannis has taken the majority of the headlines, a lot of credit should also fall in the hands of the four other regular starters. Bledsoe, Middleton and Lopez were exceptional for Milwaukee last season and keeping these players together was a must for the Bucks to challenge again this season.
Personally, I think Milwaukee are still the team to beat in the East with Toronto losing Kawhi and the teams around them not making any drastic improvements.
5/1
Milwaukee Bucks To Win Outright
NBA Championship (including playoffs)
BET HERE
New bet365 customers can
join here
Dark Horses
Boston Celtics
Boston are currently priced at 25/1 to be crowned 2019/20 NBA Champions and they are very much underrated in terms of what they can achieve under Brad Stevens. They played the majority of last season unsure where Kyrie Irving's head was at and now that he is out of the picture, the Celtics can start fresh under new point guard Kemba Walker. The team have also done extremely well to bring in Enes Kanter with the Turkish star playing well for the Portland Trail Blazers. While he does not offer the same as Al Horford, it is still a very suitable replacement. With Jaylen Brown, Jayson Tatum and Marcus Smart all remaining in the green and white jersey, Boston are definitely still in with a shout in a wide-open Eastern Conference. If you like rooting for the dark horse, Boston should definitely be up for consideration.
25/1
Boston Celtics To Win Outright (Each Way)
NBA Championship (including playoffs)
BET HERE
New bet365 customers can
join here
Who to avoid
Brooklyn Nets
While the Nets have strengthened with Kevin Durant and Kyrie Irving, it will take a whole lot for them to lift the trophy in June 2020. They no doubt have the potential to do well, but 7 games against the likes of Milwaukee, Philly and Boston may be too much with KD ruled out for the entirety of the season. Should KD return for the playoffs, it could be a very different story.
Weekly NBA Predictions, Picks & Betting Tips
Follow Free Super Tips on Twitter to stay up to date with our weekly NBA predictions, picks and betting tips or browse more NBA content on our website: