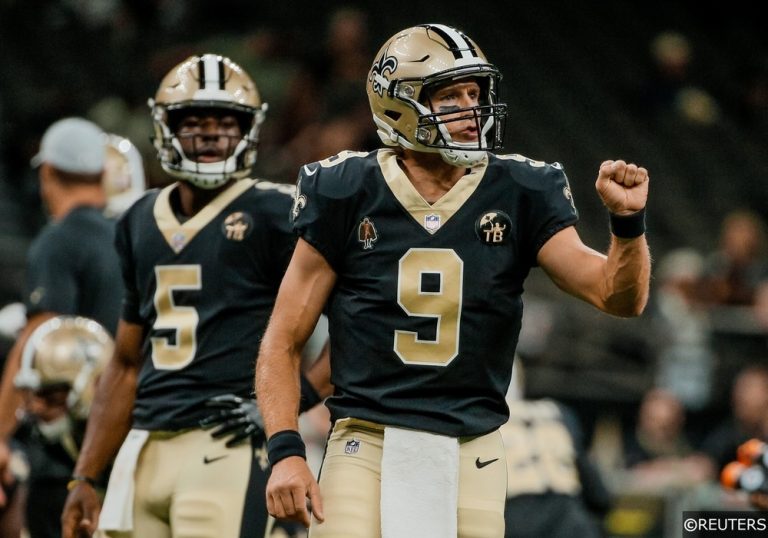 The Philadelphia Eagles took home the prized Vince Lombardi trophy last year after a roller coaster of a season. Will they become the first team since the 2003-2004 Patriots to win back-to-back Super Bowls? Or will other teams make it out of the pack to get their share of the trophy? Read our predictions below to find out!
2018/19 NFL Season
It feels like centuries ago that the Philadelphia Eagles lifted the Lombardi trophy in celebration of their Super Bowl LII victory, the first in their franchises' history. NFL fans around the world have been waiting patiently the last seven months, but starting Thursday, the wait is over. The NFL will start up its 99th season with a rematch of last year's NFC Divisional playoff game as the defending Super Bowl champion Eagles host the Atlanta Falcons.
What has been an unbelievably busy NFL offseason might go unnoticed by many because of the plethora of sporting events that grabbed the world's attention over the past couple of months. The Warriors won yet another NBA title, the Blues of France lifted the prized World Cup trophy, and the MLB postseason chase has been firing on all cylinders. But now it is time to start what should be one of the more exciting NFL seasons in recent memory, building off of an absolutely crazy offseason. Many teams, like the Los Angeles Rams and San Francisco 49ers to name a few, will be looking to take that next step to being considered in the top tier of the league. Others, like the Dallas Cowboys and Oakland Raiders, will be looking to bounce back from disappointing seasons last year. All in all, it seems like it will be quite a difficult journey to the top, but we have some ideas we would like to share regarding who will be crowded the champions in February.
Super Bowl Winner Predictions
New Orleans Saints
Starting down in New Orleans with our highest confidence pick, QB Drew Brees has the Saints looking like they will be Super Bowl contenders yet again. Don't be nervous about the production decline – Brees still threw for over 4,000 yards and 23 TDs in an offense where he can now take some of the weight off of his shoulders. The Saints have the best running back duo in the league with Mark Ingram (suspended for the first 4 games, however) and Alvin Kamara, and have added WR Cameron Meredith from the Bears to line up across from stud wide-out Michael Thomas. With plenty of offensive firepower, the focus shifts to the offensive line, which remains mostly in tact after last season. Led by talented edge blockers Terron Armstrong and Ryan Ramczyk, the tackles on this offensive line do a great job of creating space for Kamara and Ingram, but it remains to be seen whether the interior guards can handle their share of pressure this season. If the line can stay healthy and protect an aging Drew Brees, then things are looking up for the Saints.
It feels a bit odd to be talking about the Saints defense in a good light, as it has been the downfall of their team for years on end. But as we saw last year, the Saints defense can make an argument of being a top 10 defense in football. Led by studs CB Marshon Lattimore and DE Cameron Jordan, the Saints had a great season last year defensively, and if it weren't for one missed tackle, then they could've been playing for the Lombardi trophy. New Orleans brings back a good defensive line, a solid linebacker core, and an improved secondary. One player to watch will be DE Marcus Davenport, who is a supreme raw talent that can start to have an impact early because of the advantages he'll gain playing alongside Cameron Jordan.
All in all, the Saints have a great, balanced team, and are our favorites to bring the Super Bowl trophy back home. At 18/1 odds, they have great value for us as well. Although they do have some weaknesses regarding the interior of their offensive line and their special teams coverage, they are led by a great quarterback in Brees, have great skill position players, an improving defense, and a great Head Coach in Sean Payton. Watch out, because the Saints are marching in.
Los Angeles Rams
Next we take a trip to Hollywood for the team formerly known as the St. Louis Rams. Things seem to be going well at Rams camp nowadays, as they had one of the most productive off-seasons in the league. LA shelled out big money for names like WR Brandin Cooks, DT Ndamukong Suh, and CBs Marcus Peters and Aqib Talib. All are great players and can prove to be fantastic signings for the Rams, but one does have to point out that the Rams possibly overspent on an aging Suh and an aging Talib.
Moving back to their returning players, the young core is great with QB Jared Goff and RB Todd Gurley, and now with another year under their belts in HC Sean McVay's offense, they should see even more improvement. The addition of a downfield threat in Cooks could prove to be the difference maker that takes an already good offense to the next level. Along with returning receivers Robert Woods and Cooper Kupp, Goff has plenty of options to throw to. The offensive line is very good, but it is worth noting that LT Andrew Whitworth and C John Sullivan are aging fast. For Rams' fans, hopefully the production drop-off doesn't happen this season.
The defense is led by a player who many consider to be the best in football: DE Aaron Donald. With the new addition of Suh to the defensive line, it will be a nightmare for teams to try and double team Donald or Suh, because unless you bring in extra blockers one of them will have an exploitable 1v1 matchup. The additions of Talib and Peters are much needed for a secondary that struggled last year. Both Peters and Talib are big time ball-hawking corners, so it'll be interesting to see if they leave their safeties over-exposed by being too aggressive at times. Lastly, the linebacker core sticks out as the weak spot on this talented Rams roster. Losing Alec Ogletree and others in the offseason leaves a ton of inexperienced linebackers that will have to be the glue for an otherwise great defense.
In the end, we think the Rams definitely do have enough in the tank to get to and win the Super Bowl trophy. There are some concerns, with the LB corps and the departure of OC Matt LaFleur, but the pure talent on this team is undeniable. HC Sean McVay is proving himself to be one of the next great coaches in football, and we trust him to gel together this squad of All-Pros into a serious Super Bowl threat.
Green Bay Packers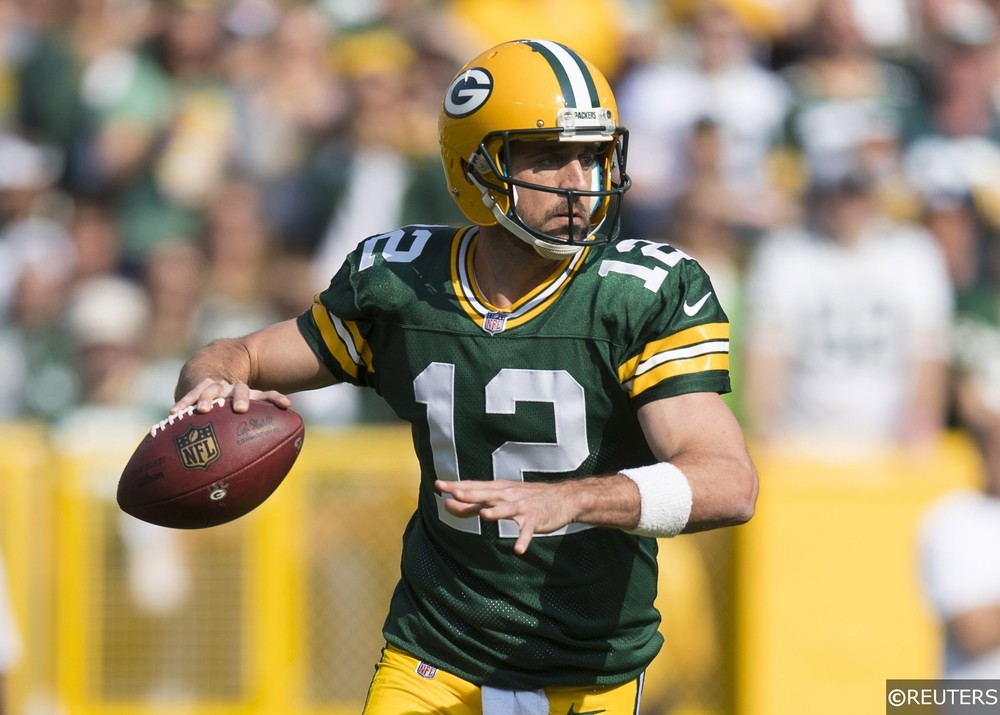 Aaron Rodgers. That is all you need to know. The former Cal QB and Super Bowl winner just signed the biggest QB contract in NFL history and is ready to get back on the field after missing an extended period of time last year with injury. First things first, the Packers have to keep Rodgers healthy. When he plays a whole season, he is an automatic MVP candidate and the Packers are immediately in the conversation for a Super Bowl ring. But if Rodgers falls to the injury bug again, then the Packers are looking at another mediocre season.
Besides from Rodgers, the offense is looking solid. They added star TE Jimmy Graham, who could have an absolute monster year if Rodgers and him are on the same page. Add WRs Randall Cobb and Davonte Adams into the mix and now you can see why defenses are scared of the Packers' offense. Losing WR Jordy Nelson to the Raiders could hurt, as he proved himself to be one of Rodgers' favorite targets and one of the better receivers in the league, so Cobb and Adams will have to step up and produce. The offensive line is decent at best, and will really have to step up this year if Green Bay wants to get to the postseason. T David Bakhtiari is great, but others will have to do their part if Rodgers wants to play all 16 games. One concern is the running game, which has haunted the Packers for years now. The talent is definitely there with RBs Jamaal Williams and Aaron Jones, but they will need to move the chains consistently to take pressure of Rodgers and the aerial attack.
Moving to the defensive side of the ball gets a little tricky. The Packers' front office made some good singings, bringing in DE Muhammed Wilkerson and CB Tramon Williams, but they still have to try and change up the worst secondary in the NFL. The Packers have some returning players like S Ha Ha Clinton-Dix, but also have lost some talent like S Morgan Burnett who left in free agency. It'll be a lot of guess and check when it comes to the secondary this year, and hopefully for the Green Bay faithful they can find a mix that works. But until then, they will have to rely on their defensive strength which is stopping the run. The defensive line is really good this year and the LB corps is improving, which means that Green Bay should continue to try to make teams one-dimensional by taking away their running game. If the secondary can improve, then this defense is capable of giving Rodgers enough support for a Super Bowl run, and at these odds, we think it is worth the risk.
Houston Texans
Rounding out our picks are the Houston Texans at 25/1 odds. This represents great value for a team that has a tremendous upside, as both sides of the ball have loads of talent and potential. Also if you look at the AFC playoff picture, besides the Patriots and Steelers it seems the race is wide open between teams like the Texans, Jaguars, Chiefs, Chargers, etc. This gives the Texans a pretty good road map to the AFC playoffs and beyond.
The biggest question for the Texans this year is how will QB Deshaun Watson look after recovering from his season-ending ACL tear last year? If he plays like he did in his couple of games last year, then the Texans could be a force in the AFC. Watson played surprisingly well for a rookie in a new offense, and has great weapons to work with. RB Lamar Miller, WR Will Fuller, and newly acquired TE Jordan Akins all supplement a great offense that is centered around a top 4 WR in football, DeAndre Hopkins. Hopkins played great last year even under Tom Savage, so if he is able to establish a connection with Watson this season, then he will force defenses to double team him if they want any shot at competing. One scary weakness of this Texans club is their offensive line, which was bad last year and did not get much better. They will be crucial in both getting RB Lamar Miller going on the ground and protecting a freshly recovered Watson. If they can't support what can be a great offense, then the Texans are doomed for mediocrity. Bill O'Brien is going to have to do some of his best work to get Watson in good protection packages where he has time to deliver in the pocket and while still having enough threats going down field.
As good as the offense can be, the backbone of this Houston team is their defense, one that was ravaged with injuries last season. Led by DEs JJ Watt and Whitney Mercilus, the defensive line is terrifying. Watt and Mercilus are practically unblockable, and will open up gaps for fellow D-linemen like DJ Reader and Christian Covington. Moving to the linebacker corps, McKinney and Cunningham can handle the loss of Brian Cushing, and should be more than capable of helping in blitz packages and stopping the run. But where the Texans saw extreme improvement is the secondary, where they signed S Tyrann Mathieu. The "Honey Badger" is still of the top defensive talents in football, and when motivated can be a real difference maker because of his raw talent and ball-hawking abilities.
Although there are some weaknesses in the offensive line (which might lead to problems in the running game), the Texans have studs at virtually every position. If Watson and the defense can stay healthy, then the Texans will have a great shot at not only taking the Super Bowl spot in the AFC, but  lifting the trophy as well.
Weekly NFL Predictions, Picks & Betting Tips
Follow Free Super Tips on Twitter to stay up to date with our weekly NFL predictions, picks and betting tips or browse more NFL content on our website: