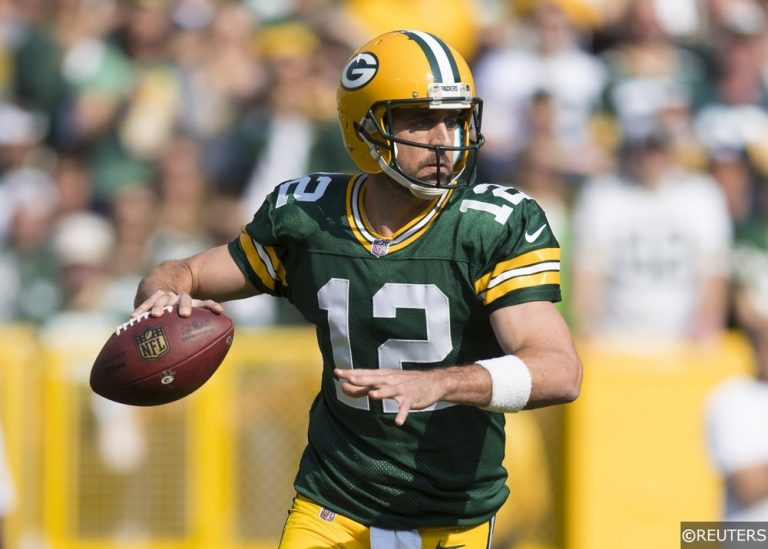 Obviously the most sought after trophy in the NFL is the Vince Lombardi Super Bowl trophy. But, there are plenty of opportunities for individual talents to get their hands on other silverware. The NFL gives out a variety of awards at the end of each season, and you can place wagers on who will win each award as a futures bet. In this article, we will let you know our favorite picks and who to avoid if you are interested in the season awards futures market.
NFL MVP Predictions
The most valuable player award goes to the player who is considered the best player in the league. All positions are eligible for the award, but as of late the MVP has basically turned into the "Best Quarterback Trophy".
2017 Winner: QB Tom Brady (New England Patriots)
Who we like: QB Aaron Rodgers (Green Bay Packers) and QB Tom Brady (New England Patriots)
It might seem boring to roll with the two odds-on favorites to win the award, but it is the smartest approach to making money on MVP futures this season. If you look back on history, the award has been given to either Brady or Rodgers in four of the last eight seasons. If you look across the league, it is hard to find QBs that carry the offensive loads for their teams quite like these two do. Brady and Rodgers practically run their own offenses at the line of scrimmage, and with the amount of control they have over play-calling, it is hard to see either of them lowering their usage rates. As bland as it may sound, look for Brady or Rodgers to bring home the silverware again as their consistency and talent are simply levels above every other QB in the league.
Who to avoid: QB Drew Brees (New Orleans Saints), QB Jimmy Garoppolo (San Francisco 49ers), and all non-QBs
The Drew Brees avoid pick is in no way a shame on the future Hall of Famer. The fact of the matter is that Saints' HC Sean Payton has been very vocal about trimming down Brees' workload as his age increases. Brees just isn't asked to do nearly as much as he used to for this offense, and with a balanced backfield now in Kamara and Ingram, the ball will in Brees' hands less and less. Brees should have a great year, but his decreased role won't give him the chance to compete with Brady and Rodgers.
Everyone just needs to take a break on the Jimmy G train. Yes, he looks to be a great talent that will succeed for years in the NFL, but putting him at the lower odds than QBs like Matt Ryan is just ridiculous. Garoppolo has still thrown under 300 passes in the NFL, and has a lot of things to work on if he wants to jump into the category of elite QBs. Add in the fact that his numbers weren't even that great last year, and Jimmy G looks like a prime candidate to avoid in this market.
Lastly, as ridiculous as it sounds, avoid all non-QBs in your MVP selections. Last year, RB Todd Gurley had absolute monster year, with over 2,000 yards from scrimmage and 19 total TDs, but still fell short to Brady in the voting. Not to say that it impossible, but there is just an advantage to being a QB – 10 of the last 11 MVP winners have been quarterbacks.
NFL MVP Betting Tips
Read More: NFL 2018/19 Outright Predictions, Picks & Betting Tips
NFL Defensive Player of the Year Predictions
The defensive player of the year award goes to the best defensive player in the NFL. Recently, the award has been won by defensive linemen and linebackers far more often than cornerbacks and safeties. 
2017 Winner: DT Aaron Donald (Los Angeles Rams)
Who we like: DE Joey Bosa (San Diego Chargers) and DT Aaron Donald (Los Angeles Rams)
The Chargers and Rams are both showing promise on the defensive side of the ball, led by Bosa and Donald, respectively. For the Chargers, Bosa represents tehir best pass rusher as he has a lethal bull rush and a very effective spin move. Bosa wrecked opposing offensive linemen last year, and this year looks to be promising as well playing in an AFC West division that lacks great offensive lines. For Donald, he should have a great year playing along Suh, because it means that Donald will face substantially less double teams than he has faced in the past. If Aaron Donald is given a 1v1 against any lineman in the league, he will win almost every time. Look for Donald to have a monster season, especially now that he has help along the line, and repeat as Defensive Player of the year.
Who to avoid: DE JJ Watt (Houston Texans)
This avoid pick is based mostly off of injury worries. Watt is probably the most fascinating physical specimen the league has seen in a while, and when healthy, is considered on the best DEs in football. But lagging injury concerns hold us back with Watt – his last season playing in all 16 games came way back in 2015.
NFL Defensive Player of the Year Betting Tips
NFL Offensive Rookie of the Year Predictions
The offensive rookie of the year award is given to the best offensive rookie in the league. A rookie is someone who is participating in the NFL for the first time this season.
2017 Winner: RB Alvin Kamara (New Orleans Saints)
Who we like: RB Saquon Barkley (New York Giants) and QB Baker Mayfield (Cleveland Browns)
Barkley is the odds-on favorite and for good reason. As long as he stays healthy, the Giants RB will be getting an excessive amount of touches both in and out of the backfield. If Barkley's production lives up to the hype, then even at 7/4 he presents great odds to bring home the award.
Travelling up to Cleveland, we have Baker Mayfield at generous 8/1 odds. Given that Mayfield won't be the starter for Week 1, it is fair to question how early he will even see the field. But, if Mayfield gets his chance early on, then these odds provide great value for a talented dual-threat QB with solid offensive talent to work with. Gordon and Landry are probably the most talented 1-2 punch in the league, and the RB position has some depth to help Baker out. All in all, Mayfield could have a fine rookie season both with his arm and his legs, and this 8/1 value is too good to pass up on given his potential once he gets the reigns.
Who to avoid: QB Josh Allen (Buffalo Bills)
The first problem with betting on Allen is that he isn't even the starting QB on his team yet. Nathan Peterman will be starting at least the first game, which takes away from Allen's possible production. And even when Allen gets his opportunity, his accuracy doesn't seem to be ready for NFL defenses and he doesn't have many skill players to work with in a lame Bills offense.
NFL Offensive Rookie of the Year Betting Tips
NFL Defensive Rookie of the Year Predictions
The defensive rookie of the year award is given to the best defensive rookie in the league. A rookie is someone who is participating in the NFL for the first time this season.
2017 Winner: CB Marshon Lattimore (New Orleans Saints)
Who we like: LB Roquan Smith (Chicago Bears) and LB Rashaan Evans (Tennessee Titans)
Roquan Smith's skillset appears to be a perfect fit for Chicago's needs. His lateral speed is incredible and should result in plenty of tackles, especially when plugging gaps during run plays. It appears that Smith is going to get a lot of freedom to move around the formation as he pleases, so it will be fun seeing the rookie get to work.
Evans is an intriguing pick because he opened originally at 18/1 odds and is now available at 10/1, which is a sign that many are high on the Alabama tackling machine. Evans is NFL-ready and should have an immediate impact for a Titans' defense that desperately needed a LB. Evans provides good value considering he should be a focal point of the Tennessee defense right away.
Who to avoid: Cornerbacks and Safeties
Although there are some talented players from the secondary in this draft class, it is usually hard for them to get enough press to win the award. Only 3 of the past 25 winners have been from the secondary (CB/S), which is enough for us to stay away from that defensive group.
NFL Defensive Rookie of the Year Betting Tips
Weekly NFL Predictions, Picks & Betting Tips
Follow Free Super Tips on Twitter to stay up to date with our weekly NFL predictions, picks and betting tips or browse more NFL content on our website: