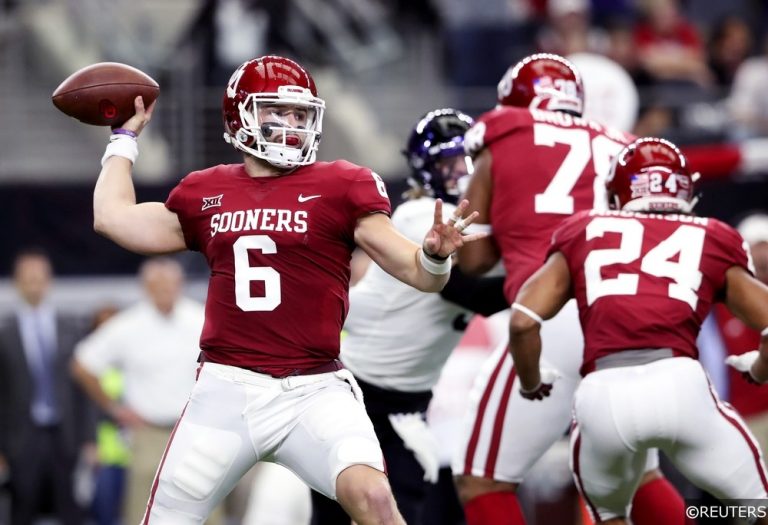 The 2018 NFL Draft gets underway on Thursday night at 8 ET from Arlington, Texas. 32 teams will have 7 rounds to make a total of 256 picks from a pool of exceptional college football talent. This years draft is quarterback heavy and five signal callers are expected to go in the top 10 picks. We take a look at the top 10 players in the draft.
Baker Mayfield, Oklahoma – Quarterback
The Heisman trophy winner has the arm strength, accuracy and playmaking ability to be the best quarterback in the draft. He's a fierce competitor who has the ability to make big plays downfield. He completed 53 percent of his throws of 21+ yards or more over the past two years. ESPN have reported that Baker Mayfield is definitely in conversations for the number one overall pick in the Cleveland Browns war room. He was 6/1 with Coral to go first off the board earlier this week and currently sits as 4/9 favourite.
"There are those people who are in your corner no matter what, you can't do any wrong, even when you do wrong. And then there are those people that no matter what you do they're going to dislike you and that's not going to change." – Brett Favre #DraftEve #MMO pic.twitter.com/6bCE9SxqI6

— Baker Mayfield (@bakermayfield) April 26, 2018
Sam Darnold, USC – Quarterback
Darnold also has the skills to make big plays down the field, he sits at number two  in the percentage of big plays down field behind Baker Mayfield. He is many people's 'safe bet' to be successful in the pro game. He's probably the most complete quarterback in this draft with the best makeup to be a good pro. A worrying stat is that he has 20 interceptions over his last 20 games which is something he'll need work on.
Josh Allen, Wyoming – Quarterback
A raw talent out of Wyoming who is physically gifted with fantastic athleticism. However, the track record for quarterbacks in the NFL with low college completion percentages isn't great. Allen's was 56.2% in college which doesn't fill me with joy seeing him go in the top ten.
Josh Rosen, UCLA – Quarterback
Rosen isn't afraid to portray his political views in the media which is why he is off the boards for a couple of teams in the early stages of the draft. The Californian is a smooth pocket passer with precision accuracy. His weaknesses are he has poor mobility and lacks the ability to extend plays, he also makes too plays which have a high turnover frequency. A good prospect but he will need to learn a lot in the big time if he is to make it.
Lamar Jackson, Louisville  – Quarterback
Compared to Michael Vick by the man himself. The 2016 Heisman trophy winner has frightening play making ability and incredible athleticism. He can make big plays with his legs which is highlighted by his 21 rushing scores in 2016. He has a pretty low completion percentage at 55% but should a team be willing to give up a bit through the air to have a mobile quarterback in a RPO system then Jackson is your guy.
Louisville QB Lamar Jackson Career Highlights #L1C4

If you've ever wanted to watch 20 minutes of @Lj_era8 highlights, I got you 💯

Full Video 🎥: https://t.co/rn89uXIYj3 pic.twitter.com/Hc44HzOjI4

— JustBombsProductions (@JBP_Official) April 21, 2018
Bradley Chubb, NC State – Defensive End
Widely considered the best pass rushing prospect in the draft. He uses his size, explosiveness and hand usage to make life miserable for quarterbacks. He won the Nagurski trophy last season which is awarded to the best defensive player in college football. You wont have to wait long to see Chubb on the NFL field in 2018.
Derwin James, FSU – Safety
One of the best safeties in college football since his rookie since in 2015. Big playmaking ability and his size and athleticism allows him to make big plays against the run and rush the passer. A very impressive combine with a vertical jump of 40 inches, broad jump of 11ft and 4.47 seconds in the 40 yard dash.
Saquon Barkley, Penn State – Running Back
Many believe Barkley is the best player in the draft, including head coach of the New Orleans Saints Sean Payton who said Barkley is the best running back prospect in the last 25 years. A dynamic receiver out the backfield who has explosive speed. In his combine he was faster over 10 yards than DeSean Jackson and faster over 40 yards than Odell Beckham Jr.
Ready for the #NFLDraft and beginning the next chapter in my football career. Thanks @PlayersTribune and @Gatorade for letting me share my story. #ad pic.twitter.com/eNGAU3cpxS

— Saquon Barkley (@saquon) April 26, 2018
Quenton Nelson, Notre Dame – Guard
Standing at 6ft 5, 330lbs Quenton Nelson will look to make a big impact in the first round of the 2018 draft. He was a cornerstone part of the Fighting Irish O-Line and has the talent to become an All-pro guard for many years to come. It takes a pretty special prospect to crack the top ten as a Guard and that is exactly what Nelson is.
Roquan Smith, Georgia – Linebacker
The best of this years linebacker crop, Smith is outstanding against the run and pass. He has the speed and athleticism to play sideline to sideline and could become a defensive match up weapon in the NFL. Smith won the Butkus award in 2017 which is awarded to the best linebacker in college football.
Minkah Fitzpatrick, Alabama – Cornerback
A versatile corner rounds off our top 10 who many think should move and play safety. He's one of the few plug and play talents in the draft according to NFL Network's Mike Mayock. There is a rumour that Green Bay are looking to trade up in this draft and it could be to take Fitzpatrick who would be a welcome addition to a struggling secondary.
We'll have weekly NFL predictions, picks and betting tips come week one of the NFL 2018 season!