With the NFL season kicking off next week, we wanted to give out some of our favorite bets to win the Super Bowl. This is going to be one of the more competitive races we've seen in the past couple of years, which means there are plenty of big money value plays that are worth taking a shot on. We will outline our 'best bet' along with two other value plays of teams that we think have a much better chance at taking home the Lombardi trophy than their odds suggest.
Best Bet: Kansas City Chiefs to win Super Bowl LIV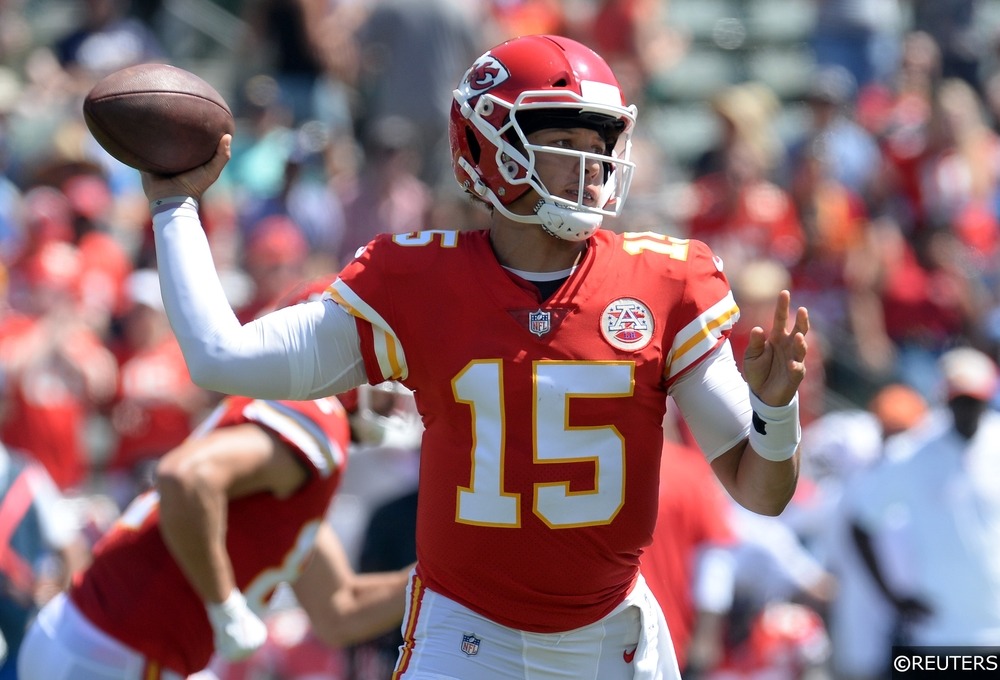 Team Summary: The Chiefs are one of the favorites to bring home the Lombardi trophy this season and for good reason. The offense is returning most of its talent from last season and will again have the reigning MVP Patrick Mahomes under center. Teams are going to adjust and scheme differently to try and slow down the Kansas City attack, so this is also a big year for head coach and play-caller Andy Reid to show that he can add more creativity into the offense to keep defenses off -balanced. Losing RB Kareem Hunt is a big loss, but the duo of Damien Williams and Carlos Hyde should be enough to produce similar production out of the backfield. The Chiefs also had some changes on the defensive side of the ball, as they lost both safety Eric Berry and top pass rusher Dee Ford. Thankfully for Chiefs' fans, the team's front office brought in ample replacements in safety Tyrann Mathieu and pass rusher Frank Clark from the Seahawks. The sky is the limit for a Kansas City team with one of the best offenses in the league, especially now that they have addressed some issues on defense. Add in a great special teams unit, and the Chiefs definitely have what it takes to come out on top. They are heavy favourites to win their AFC Conference Division and we think they can go one further and win the Super Bowl.
Biggest strength: The chemistry between HC Andy Reid and reigning MVP quarterback Patrick Mahomes, who are leading one of the fastest and most talented separation-creating skill position groups in the leauge
Biggest concern: Linebacker corps and nickle and dime package corners (3rd and 4th string CBs)
Strength of schedule (based on 2018 records): T-5th hardest
8/1
Kansas City Chiefs to Win Super Bowl LIV
BET HERE
New bet365 customers can
join here
Value Bet: Houston Texans to win Super Bowl LIV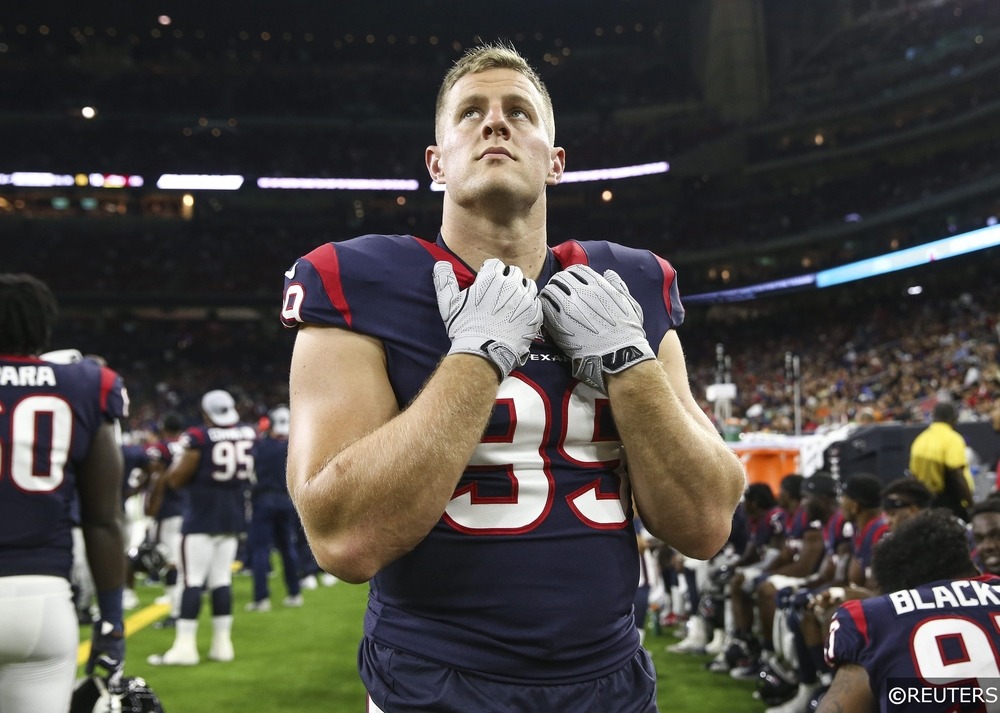 Team Summary: The Texans had a pretty quiet off-season, as the only major news was the departure of the aforementioned Tyrann Mathieu to the Chiefs. But there still should be excitement for Texans fans because they are getting back multiple players from injury, including WR Will Fuller V and a couple of offensive linemen. The offense should have a great year if QB DeShaun Watson stays healthy, and a lot of that depends on the offensive line stepping up and Watson being smart about when he takes hits from defenders. RB Lamar Miller is going to miss this season after tearing his ACL the other day, so the rest of the backfield is going to have to step up to prevent the offense from becoming a one-dimensional aerial attack. On the defensive side of the ball, Houston should have one of the best front sevens in the league if everyone stays healthy. The trio of DE JJ Watt, LB Whitney Mercilus, and DE/LB Jadevon Clowney is the best trio of pass rushers in the league and that will take pressure off an inconsistent secondary.
Biggest strength: WR DeAndre Hopkins is practically unguardable and will be able to bail Watson out of tough scramble situations. He will also draw attention from multiple defenders which should allow the other wideouts on the roster to have more favorable matchups.
Biggest concern: The offensive line being able to not only protect Watson but also open up running lanes for their plethora of running backs.
Strength of schedule (based on 2018 records): T-4th hardest
18/1
Houston Texans to Win Super Bowl LIV
Each Way
BET HERE
New bet365 customers can
join here
Value Bet: Green Bay Packers to win Super Bowl LIV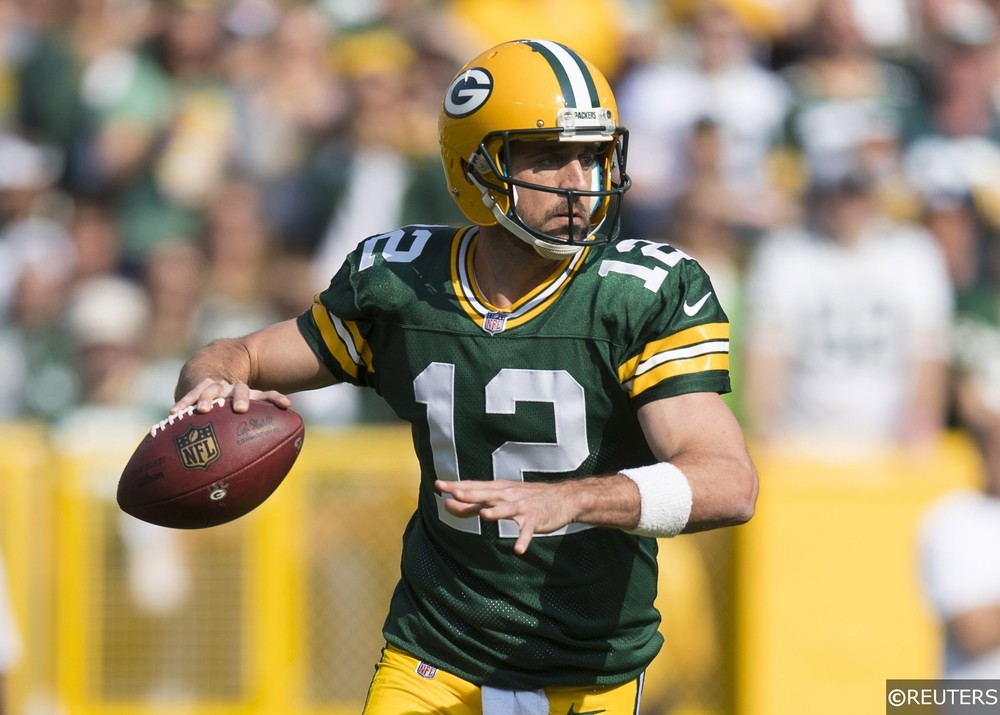 Team Summary: Green Bay has finally moved on from the Mike McCarthy-era and appointed former Titans offensive coordinator Matt LaFleur as their new head coach. LaFleur comes from the Sean McVay coaching tree but leans on the running game more than one would expect from a McVay pupil. This means RB Aaron Jones should get a lot of work out of the backfield, but its crucial that LaFleur doesn't put too much emphasis on the run because Rodgers doesn't enjoy passing out of play action too much. The wideout group is solid and has the most underrated receiver in the league in Devante Adams, who should have a monster year if teams don't double team him too often. The offensive and defensive lines are both solid, but the defense needs to improve from being pretty mediocre a year ago. They added some new talent at all three levels but it is yet to be seen if they are going to be effective in the Packers' scheme. Overall, this is an incredibly talented Packers team that is led by one of the greatest quarterbacks to ever play and his success should increase now that he has an aggressive offensive-minded coach. The defense should be good enough to keep them in games and has the potential to really break out if the new signings play well in the system. They are a tasty 19/10 to win their NFC Conference Division and should they get through that they have every chance of winning the Super Bowl.
Biggest strength: The Packers wideouts are some of the most skilled in football at creating space and separation on routes, which will make Rodgers job a lot easier.
Biggest concern: LaFleur and Rodgers don't get along and the defensive signings underperform.
Strength of schedule (based on 2018 records): T-14th hardest
20/1
Green Bay Packers to Win Super Bowl LIV
Each Way
BET HERE
New bet365 customers can
join here
Remember, you can keep up to date with all the latest NFL news, betting tips and predictions on our NFL Homepage here.